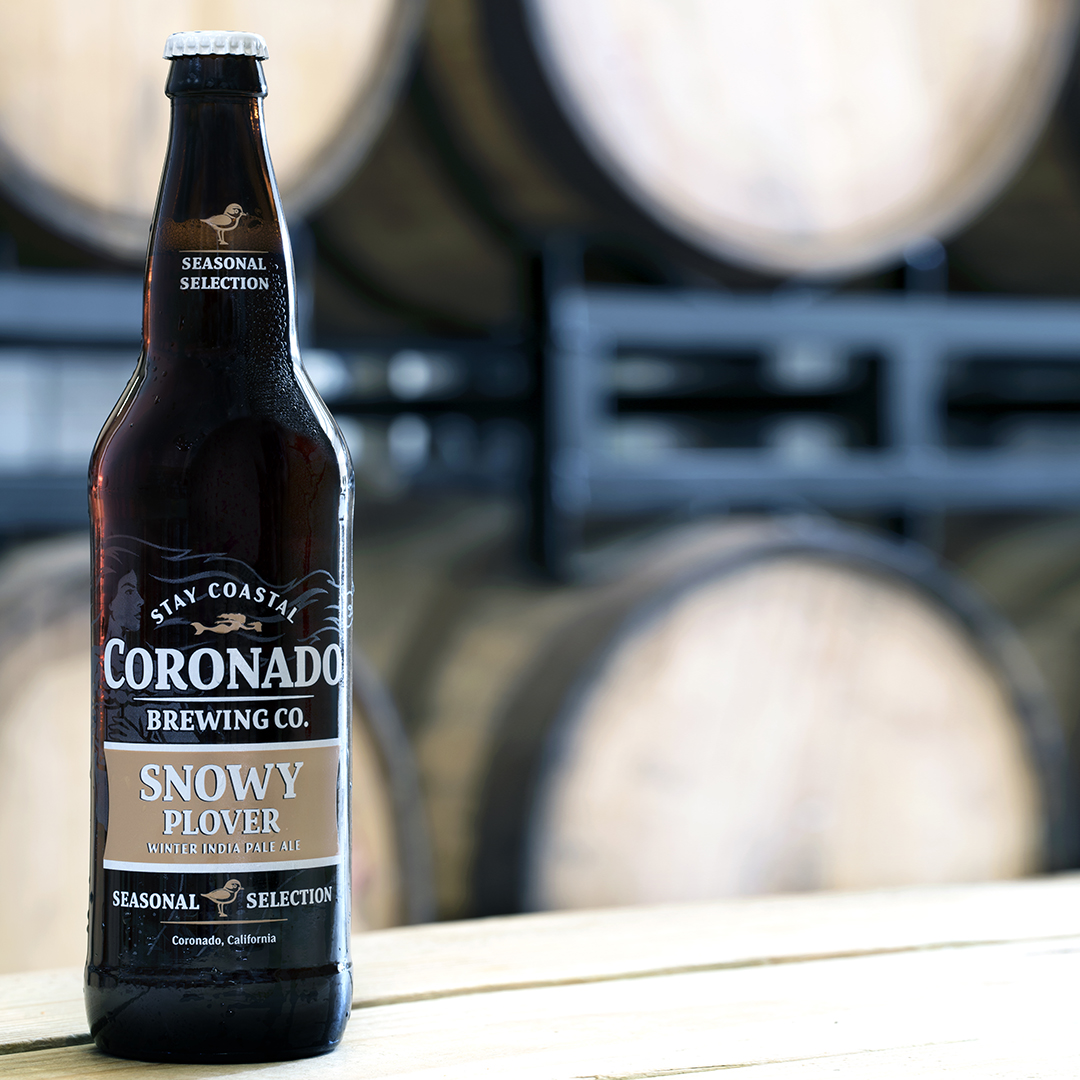 Coronado Brewing Company Celebrates Winter with Two Limited Edition Seasonals
San Diego, CA – October 26, 2016 – Winter is coming, and the crew at Coronado Brewing Company is preparing for the frosty San Diego winter with the release of two limited-edition seasonals. The company is debuting a new winter seasonal 6-pack, Snowy Plover Winter IPA, and bringing back an old favorite, Stupid Stout Imperial Stout. "While we don't get extreme winters here in San Diego, we do appreciate a good winter warmer," says Ryan Brooks, Brewmaster, Coronado Brewing Company. "We're excited to introduce our take on a winter IPA, and we know fans are eagerly awaiting the return of Stupid Stout."
Named for the endangered local shorebirds, Snowy Plover is a classic West Coast IPA brewed with additional caramel malts for a red hue and richer malt profile. The beer is medium-bodied, 6% ABV, and bursting with bright pine and citrus notes from copious amounts of Simcoe, Centennial, and Chinook hops. Snowy Plover's rich malt profile stands up to the assertive hoppiness and makes it an excellent pairing with a wide variety of holiday foods, including roasted turkey, stuffing, and grilled meats. "Snowy Plover is the perfect holiday celebration beer," says Brooks. "It has a ton of hop flavor and the caramel malts make it extremely balanced. It's a great go-to option for holiday gatherings." Snowy Plover is available in six-packs, 22oz bottles, and on draft.
The company is also releasing its much anticipated Stupid Stout Imperial Stout. "This is one of my favorite beers because it's so complex and I love to see how it evolves over time," says Brooks. "When the beer is fresh, it has ton of coffee notes with a moderate amount of hoppiness. Over time, the hops give way to smooth espresso and cocoa notes," says Brooks. Stupid Stout is a true winter warmer at 9.0% ABV, with a smooth, roasty finish. The beer is an excellent pairing with grilled steaks and a wide variety of desserts, including chocolate cakes, crème brulee, and tiramisu. Stupid Stout Imperial Stout is available in 22oz bottles and on draft.
For more information about Coronado Brewing and its seasonal releases, visit www.coronadobrewing.com. Stay coastal. Cheers.
Snowy Plover Label Copy:
Like the San Diego shorebird flying in and out of the waves, you too will keep coming back for more of this hardy winter IPA. Medium-bodied and slightly red in color from the use of caramel malts, this IPA is filled with bright pine and citrus notes, balanced by a firm malt backbone.
Specs:
6.0% ABV
50 IBU
Release Date:November 1, 2016
Packaging:22oz, 12oz 6-pack, draft
Stupid Stout Label Copy:
Deep, dark and heft, this Imperial Stout delivers chocolaty coffee and caramel notes with a hint of hoppy freshness. Its robust flavors mellow with time for a sipper that's smooth and smartly balanced. It doesn't take a genius to see this brew is built to last.
Specs:
9.0% ABV
42 IBU
Release Date:November 1, 2016
Packaging:22oz, draft
###
About Coronado Brewing Company
In 1996, when craft beer was still a foreign term and San Diego County was home to only a handful of breweries, the Chapman brothers Ron and Rick opened a brewpub in their hometown of Coronado. Today CBC stays true to their San Diego roots, brewing abundantly hoppy West Coast-style ales, which are available today in 19 US states and twelve countries. In addition to the long-established pub in Coronado, the company opened a tasting room inside their newly built San Diego production facility in early 2013, and a tasting room and restaurant in Imperial Beach, California in 2014. Coronado Brewing Company was honored in 2014 with one of the brewing industry's most prestigious awards—World Beer Cup Champion Brewery and Brewmaster for a Mid-size Brewing Company.
Links:
Website: http://coronadobrewing.com/ 
Facebook: https://www.facebook.com/coronadobrewingcompany
Instagram: @CoronadoBrewing
Twitter: @CoronadoBrewing
#MermaidSighting
#StayCoastal
Contact Info
Company: Coronado Brewing Company
Contact: Melody Crisp
Email: MelodyC@CoronadoBrewing.com