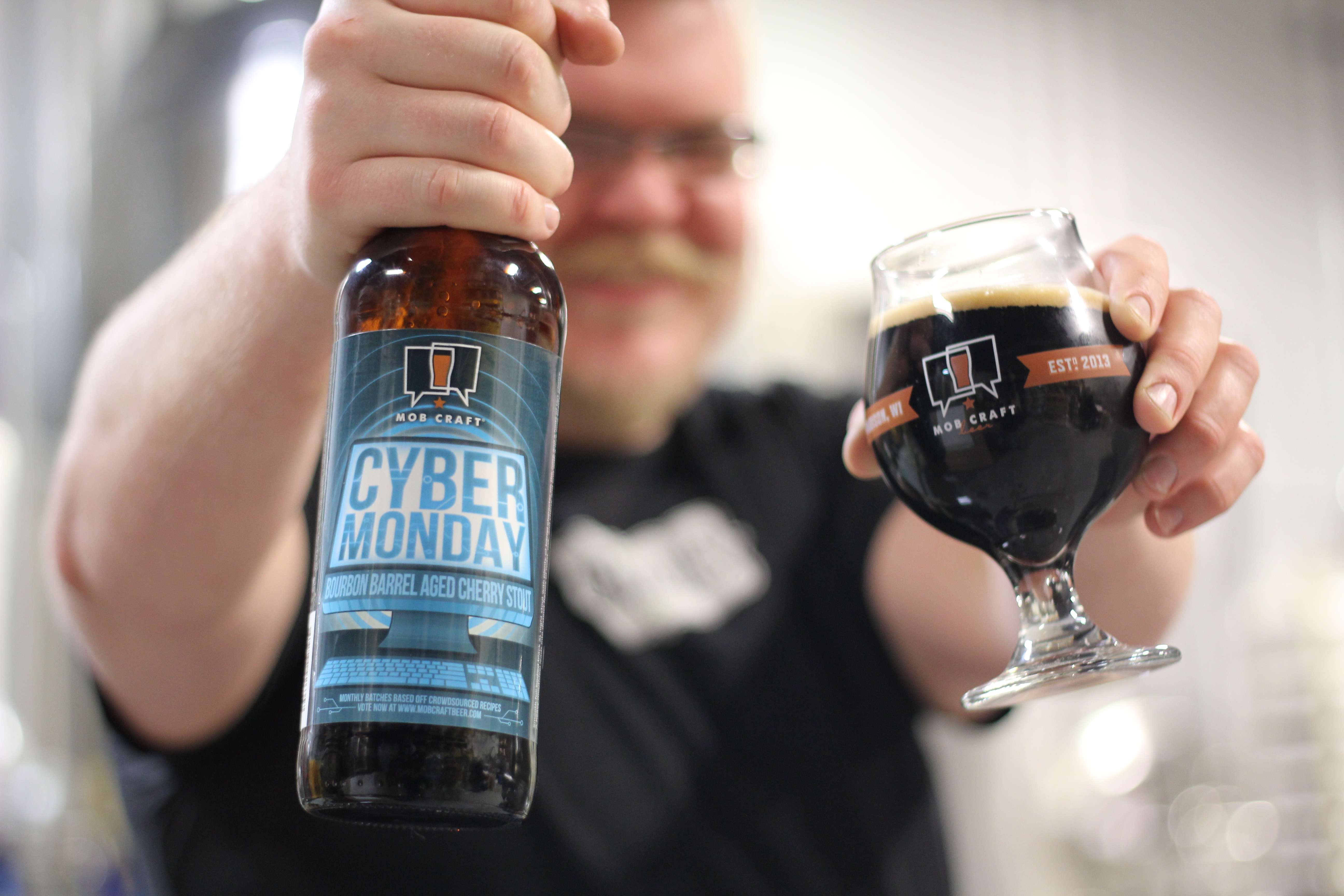 Limited Barrel Release: Cyber Monday Beer
MobCraft Launches Cyber Monday Beer
Barrel Aged Russian Imperial Stout On Cherries
Wisconsin Brewer MobCraft Beer is launching a Cyber Monday exclusive beer only available online Monday, November 30th! Check it out at http://blog.mobcraftbeer.com/cyber-monday-beer/
Cyber Monday is a smooth, full bodied, black as night stout with plenty of bourbon on the nose and hints of tart cherry. It's heavy mouthfeel leads into distinct flavors of whisky and cherry that ends with a nice long toasty finish. This Russian Imperial Stout with cherries was aged for 10 months in 12 year bourbon barrels.
The Cyber Monday Beer Sale starts at 12:00am Monday 11/30/2015 and run until this limited batch sells out. Beer can be ordered for pickup at the brewery or shipped to your door through an online liquor store.  Just for Cyber Monday, the beer is 33% off retail price!
"We're all about doing things different here at MobCraft. We brew a new beer every month voted on by our fans, so when it came time to launch a barrel aged stout we thought, hell yeah, it should be a cyber monday beer" – Henry Schwartz President MobCraft.  
About MobCraft: MobCraft Beer is the world's first crowdsourced brewery. Each month, visitors to MobCraftBeer.com submit their ideas for a new craft beer. The best ideas with recipes are posted on the website to solicit online pre-orders. The beer with the most pre-orders is then produced and made available for delivery or pickup at the brewery in Madison, WI.
"We're on monthly batch 26 right now! It has been a blast brewing off the wall ideas of the crowd, we've made everything from No Stout About It – Jalapeno Stout to Night & Day – Vanilla Black IPA, to even a Durian Cashew Pilsner called Don Durio's Filthy Mustachio!" – Andrew Gierczak MobCraft Head Brewer
Contact Info
Company: MobCraft Beer
Contact: Henry Schwartz
Email: henry@mobcraftbeer.com