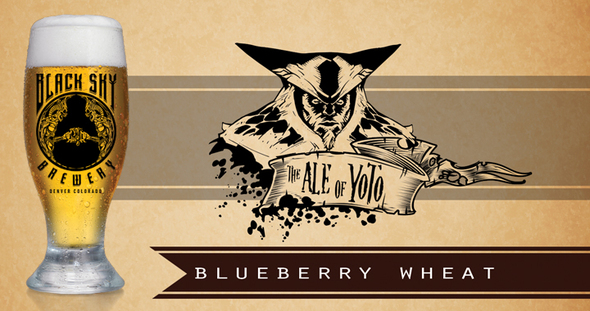 Decorated Author Set To Release Book Themed Brew with Black Sky Brewery
April 17, 2014, Denver, CO – 13-time award-winning sci-fi/fantasy novel The Bane of Yoto, published by FiXT, is setting its sights on beer lovin' taste buds. Author Joshua Viola has partnered with Denver's Black Sky Brewery to create The Ale of Yoto, a blueberry wheat beer crafted by master brewer Harry Smith.
"The concept of creating a beer seemed like a natural fit amidst the crazy things we were doing in the world of Yoto. The idea originally came to me when a friend — Groovey of Groovey.TV — had a custom brew developed for his online personality. It was received well and I knew then, after a fan suggested a Yoto beer, I had to do it."
"Groovey introduced me to the wonderful people at Black Sky Brewery and the rest is history. Their talented brew master, Harry Smith, concocted the most amazing beer I'd ever tasted. Harry came up with the blueberry wheat idea after reading the book; paying tribute the protagonist's blue skin tone." – Josh Viola
A release party for the The Ale of Yoto will be part of the American Craft Beer Week celebration in Denver which showcases only the finest efforts from master brewers. Early taste testers have agreed that Black Sky's Harry Smith knocked it out of the park. The Ale of Yoto has a smooth finish with just the right hint of blueberry and is perfect for the upcoming Summer season as well as for enjoying the blockbuster novel it was inspired from.
Ale of Yoto Release Party Tuesday, May 13th – 7 PM Black Sky Brewery | 490 Sante Fe Drive | Denver, CO 80204
For More Information: 
http://baneofyoto.com 
http://www.blackskybrewing.com http://www.fixtonline.com
Contact Info
Company: FiXT Publicity
Contact: James Rhodes
Email: james@fixtpublicity.com