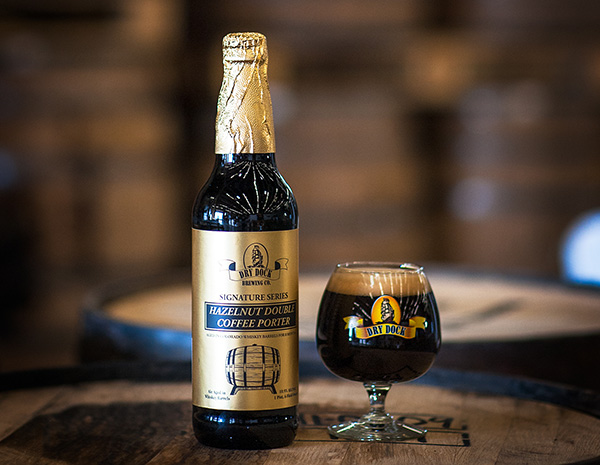 Dry Dock Brewing Company Releases Hazelnut Double Coffee Porter
AURORA, CO — Dry Dock Brewing Company's brand new Signature Series beer will debut this week. The Hazelnut Double Coffee Porter will be released at North Dock on Wednesday November 16, and at South Dock on Friday, November 18.
Bright, fruit-forward coffee is mixed with luscious hazelnut in our barrel aged Double Porter to create this brilliant taste experience that melds dark chocolate nuances, nuttiness, and gentle coffee acidity. It weighs in at 10.5% ABV and 20 IBU.
This beer was brewed in collaboration with Denver's Coda Coffee. Two of Coda's coffee varietals were selected for use in the brew— Ethiopia Yirgacheffe Gelena Abaya with notes of lemon citrus, jasmine, and honeysuckle; and Guatemala Codeche with notes of strawberry, wheat, and honey. The two coffees combined with added hazelnut create the rich complexity of this Double Porter. Dry Dock is proud to partner with Coda Coffee again this year on its Signature Series, a collection of double and imperial barrel-aged beers.
Less than 200 cases of this beer will be distributed throughout Colorado.
For more information about this beer or with any other media inquiries contact Emily Hutto at hutto@drydockbrewing.com.
About Dry Dock Brewing Co.
Dry Dock Brewing Company was the first brewery in Aurora, Colorado. Since its opening, the company has won 23 Great American Beer Festival® awards, the prestigious Brewers Association's Small Brewery of the Year award, and seven World Beer Cup© awards. To-date, it's one of Colorado's top producing breweries made possible by its second production and canning facility, North Dock. Visit the brewery online at drydockbrewing.com.
Follow Dry Dock on Facebook at facebook.com/DryDockBrewing and on Instagram and Twitter @DryDockBrewing.
Contact Info
Company: Dry Dock Brewing Co.
Contact: Emily Hutto
Email: hutto@drydockbrewing.com