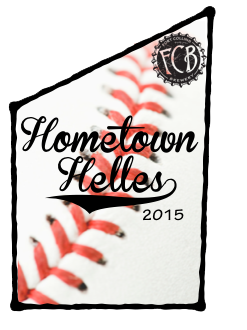 FCB Releases Hometown Helles for Opening Day
Fort Collins, Colo. – FCB (Fort Collins Brewery) is excited to pair beer with America's favorite pastime, Major League Baseball. Hometown Helles, a limited release beer that was aged over Louisville Slugger maple bats releases Opening Day, April 6th.
Hometown Helles was brewed with the help of Rocky Mountain High School Alumnus baseball standout and 2014 Pittsburgh Pirates draftee, Jess Amedee. Originally from Fort Collins, Amedee spent the day brewing with the FCB brew team to give the beer its hometown touch.
"I can't say enough about the work that is being done and the quality that is put into each beverage. I thank the Fort Collins Brewery for the opportunity and lasting impression that has been made," said Amedee.
The crack of a bat, a cheering crowd and a refreshing beer to top it off, Hometown Helles is a brew that'll take you back to your old stomping grounds no matter where you are now. Pitched with traditional German Lager Yeast and aged over Louisville Slugger maple bats, Hometown Helles' malt profile balanced with a touch of spicy hop characters makes for a standout addition to your spring lineup.
ABV: 5.3% SRM: 5 IBU: 20 Hometown Helles is available in draft only at FCB Modern Tavern and a few select bars and restaurants in Colorado.
"Opening Day is an American tradition and we are thrilled to release an easy drinking craft beer in honor of baseball's relaxing, yet always on the verge of a home run, culture," said Kaylee Kulich, FCB's Brand Manager. "Having Jess here to brew it with our team really made the beer special for us and tied it all together."
Along with releasing Hometown Helles, FCB is also celebrating Opening Day with a grill out at FCB Modern Tavern, including house made Maibock Bratwursts. Team FCB apparel will be 10% off for the entirety of April 6th, 2015, valid on one item.
       Fort Collins Brewery & Tavern is a family-owned, handcrafted microbrewery and full service tavern in Northern Colorado, established in 2003. FCB offers an outstanding line up of 50 ales and lagers that can be found on tap as well as in bottles throughout the U.S. For more information, visit fortcollinsbrewery.com or call 970-472-1499. Brewery tours run daily! Create – Share – Savor
Contact Info
Company: FCB (Fort Collins Brewery)
Contact: Kaylee Kulich
Email: kaylee@fortcollinsbrewery.com