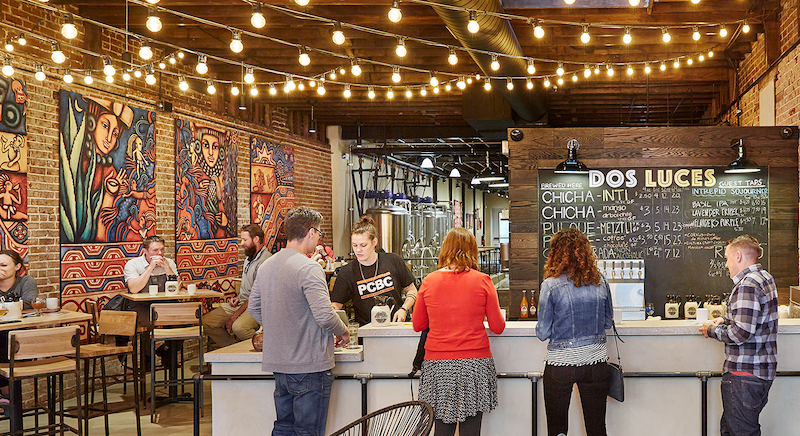 Fiesta de Independencia at Dos Luces Brewery
Dos Luces Brewery, Denver's only brewery specializing in corn and maguey-based gluten-free beers inspired by Pre-Columbian traditions, announces their first annual Fiesta de Independencia on Saturday, September 21—a celebration of the Independence Days of Brazil (9/7), El Salvador (9/15), Guatemala (9/15), Honduras (9/15), Nicaragua (9/15), Costa Rica (9/15), Mexico (9/16), Chile (9/18), and Belize (9/21).
Dos Luces is celebrating with a full line-up of cultural and culinary delights, the highlight being the release of their latest pulque, the new Moctezuma III with Prickly Pear.
"The story of Moctezuma is one of inspired creation and tragic destruction," says owner Judd Belstock.  "Moctezuma I grew the Aztec Empire beyond the imagination, to the vibrant shores of the 'Sea of the Sky.' Moctezuma II outdid his namesake and brought the Empire's reach to its absolute peak, before it was shattered by the brutal waves of history. We honor the two previous Moctezumas with our own 'Imperial' Pulque., Moctezuma III with Prickly Pear."
In the spirit of creation, Dos Luces lets the flavors of the maguey reach their fermented zenith, achieving a deep tartness and complexity that is then enhanced by both time and the addition of prickly pear within tequila barrels. Aromas of apricot, vanilla, and white pepper bring complexity to the tart and sweet flavors of the maguey and prickly pear. Moctezuma III with Prickly Pear is 10% ABV, and like all beers at Dos Luces is gluten-free.
Festivities will include a culinary pop-up in the evening with ELITA, featuring "Mexterranean" food from a local chef Raquela "Rocky" Serber, that blends Mexican traditions in the Yucatan Peninsula with Israeli and Middle-Eastern cuisine. Menu includes items like Prickly Pear Ceviche with Sumac Tortilla Chips and Cochinita Bibil Corn Sopes with Charred Eggplant Tahini—complete menu is below.
Photos and additional information available here: MEDIA KIT
WHEN: Saturday, September 21 ALL DAY ELITA Pop-Up beginning at 4:00 PM
MENU:
Hummus and Salsa Fresca with Sumac Tortilla Chips Traditionally Prepared Hummus, Pickled Lemon Chipotle Salsa Fresca, Served with warm Sumac Dusted Tortilla Chips – $8.50
Goat Cheese with Chipotle Honey and Pretzel Chips Whipped Goat Cheese with Local Honey with Chipotle and Pretzel Chips-$8.50
Shawarma Spice Cauliflower Corn Tostada Crispy Cauliflower with Smoky Salsa, Black Bean Sauce, Queso Fresco, Spicy Pickled Radish and Cilantro Micro Greens -$11.00 
Prickly Pear Ceviche with Sumac Tortilla Chips Delicate White Fish Ceviche with Prickly Pear, Cucumber, Red Onion, Jalapeno, Cilantro, Fresh Lime and Chipotle Pearls. Served with warm Sumac Dusted Tortilla Chips – $14.00
Cochinita Bibil Corn Sopes Charred Eggplant Tahini Tender Local Pork Shoulder in an Achiote Citrus Marinade Black Bean Sauce with Mediterranean Chop-Chop Salad and Za'atar crispy capers – $14.00
WHERE: Dos Luces Brewery 1236 S Broadway Denver, CO 80210 (720) 379-7763
HOURS: Tuesday-Thursday: 4 PM-10 PM Friday: 1PM -10 PM Saturday: 12 PM-10 PM Sunday: 12 PM-9 PM
EVERYDAY DEALS Tuesday: DPS Night – $2 of every pitcher sold benefits the Denver Public Schools
Wednesday: First Responder and Healthcare Night – 20%* off for first responders and healthcare workers
Thursday: Thirsty Thursday – $5 off a growler fill if you drink at least 16oz in-house
Friday: Friday Afternoon Club – 20%* off if you start your tab before 4pm
Saturday & Sunday: Family Afternoons – Free kids Chicha Morada with the purchase of at least 16oz of beer from 12-5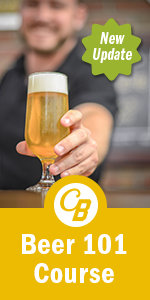 Sunday: Industry Night – 20%* off for restaurant and brewery employees.
*Restrictions apply
About Dos Luces Brewery A mission-driven company with the goal of changing the way people think about beer, Dos Luces is a welcome addition to the Denver beer scene; they are committed to educating the world that the traditions of fermenting grains were not limited only to the cultures of Western Europe. Read their story here.
For thousands of years, Chicha and Pulque were the two bright lights illuminating the way for brewers in the Americas. Brewed from gluten-free ingredients, corn and aguamiel, these beers are rich in flavor and deep with history. Little known in the US, Dos Luces looks to these traditions for inspiration and aims to explore the vast possibilities these truly American ingredients hold. Come join us and drink something old and new, complex and simple. Come follow the lights, come follow Dos Luces.
Contact Info
Company: Proof PR
Contact: Sara Schiffer
Email: sara@proofpr.net