CINCINNATI – Fretboard Brewing Company is proud to announce the release of their fall seasonal, Klosterman Rye Bier, in collaboration with Cincinnati's own Klosterman Baking Company. A collaboration between one of Cincinnati's fastest growing breweries and one of the region's most revered and established brands, the 2019 Rye Bier will debut on Tuesday, October 15 at Fretboard Brewing's Blue Ash Tap Room. Distribution to restaurants and retailers all over the region will begin shortly after the October 15 release celebration.
Following the success of its fall 2018 Rye Bier debut, as well as the award-winning Honey Wheat Lager collaboration this past summer, it was only right to keep the momentum going and reintroduce one of Fretboard's most anticipated products – the Rye Bier, dubbed by fans as one of the best beers to pair with food.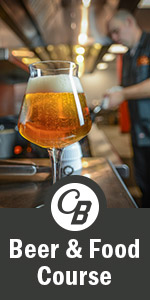 Klosterman's Cincinnati Dark Rye is an iconic brand in their bread lineup; a customer favorite for its subtle spice and notes of caraway. In staying true to their slogan, "The Home of Cincy Bräu", Fretboard saw Klosterman's rye bread as a perfect opportunity for a German-style rye lager brewed with caraway seed. The result is a wonderfully balanced, medium-bodied, copper-colored brew with an aroma that screams "fall seasonal beer" as soon as you crack a can open. Best enjoyed with cheese, bread, and red meats, Klosterman Rye Bier is the perfect companion for a charcuterie night or a local tailgate.
Fretboard and Klosterman will launch the can and draft release with a party and "Bread & Beer" themed trivia night at 6:30 p.m. on Tuesday, October 15 in the Fretboard Brewing Company Blue Ash taproom at 5800 Creek Road, Blue Ash, OH 45242. The night will feature merch giveaways and BBQ specials from SmokedOut Cincy showcasing Klosterman Baking products.
Keeping things close to the community and sticking to the theme of music, Fretboard will donate $1 from every pint sold 6-8pm to the Sycamore Schools Music Boosters.
If you can't make the official launch, be sure to join them both on Sunday, November 24 at Longworth Hall for the Bengals vs. Steelers tailgate party. Fretboard will have its Rye Bier in tow and hand out free loaves of Klosterman bread and other swag for your tailgate needs.