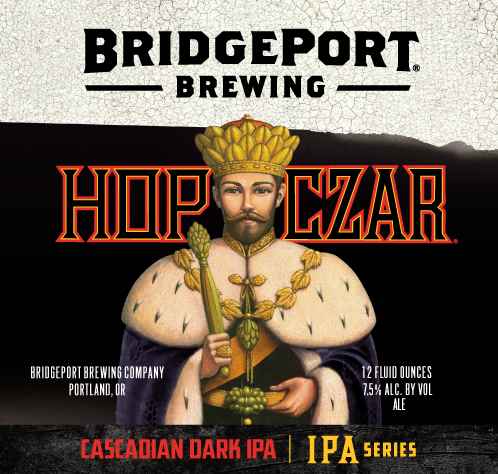 Hop Czar Cascadian Dark IPA, Bridgeport's Darkest Brew Yet
PORTLAND, Ore.— October 14, 2014 —BridgePort Brewing Company introduces the next beer in the Hop Czar IPA Series, Hop Czar Cascadian Dark IPA. Taking a cue from the aggressive hoppiness and higher alcohol of the original Hop Czar, Hop Czar Cascadian Dark IPA combines Oregon hops and full flavored malts for a smooth, drinkable IPA.
Hop Czar Cascadian Dark IPA is the darkest beer that BridgePort has ever brewed. This is the result of using both dark malt, and for the first time at BridgePort, Midnight Wheat.
"When people think of the Hop Czar, they think hops," said Jeff Edgerton, BridgePort's brewmaster. "We created this beer to harken back to the original Hop Czar in high IBUs, but we changed it up by experimenting with different malts to get a true Cascadian Dark IPA."
To try the newest Hop Czar, visit BridgePort Brewery, located at 1313 N.W. Marshall Street in Portland, Oregon or look for it wherever BridgePort beer is sold.
About Hop Czar Topaz Copper IPA
IBUs:      85            ABV:        7.5%       OG:          17.2        Color: Black
Ingredients: Northwest hops: Cascade, Goldings, and Centennial, Midnight Wheat, dark malts
Description: This aggressively hopped dark IPA is similar in ABV and IBU to the original Hop Czar, but is brewed with midnight wheat, giving a remarkable softness to the robust dark malt body.
About BridgePort Brewing Company
Celebrating 30 years in 2014, Oregon's oldest craft brewery continues to evolve from a microbrewery to a regional leader committed to producing high quality craft ales. Lead by Brewmaster Jeff Edgerton, the team of BridgePort brewers prides itself on using hops from an hour away and clear glacial water from Mount Hood. The BridgePort family of ales includes, Trilogy Series, IPA, rotator Hop Czar IPA , and Kingpin. BridgePort Brewery is located at 1313 N.W. Marshall. For more information, call 503-241-7179 or visit www.bridgeportbrew.com.
###
Contact Info
Company: R/West
Contact: Meghan Shea
Email: meghans@r-west.com