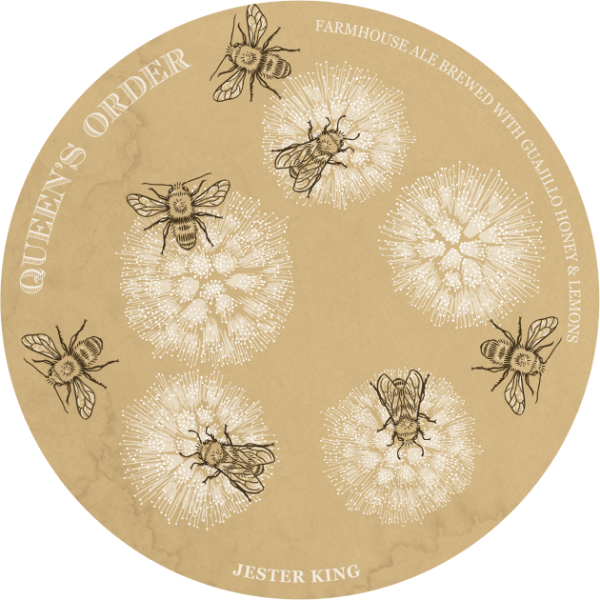 Introducing Jester King Queen's Order
We're pleased to introduce Jester King Queen's Order — a farmhouse ale brewed with Texas Guajillo honey and Texas-grown Eureka and Ujukitsu lemons, brewed to celebrate the 2017 Honey Beer Summit, put on by the National Honey Board, in Austin later this month!
The Guajillo honey was collected by Koch Ranches in the Hill Country and the Eureka and Ujukitsu lemons were grown at River's End Nursery in the Rio Grande Valley.
Queen's order was brewed on February 13th, 2017 with Hill Country well water, organic pilsner malt, malted spelt, rolled oats, Perle hops, Guajillo honey, and Texas lemons we dried in-house. It was fermented in stainless steel with our mixed culture of brewers yeast, native yeast, and native bacteria. Queen's order was packaged on April 4th, 2017, and 100% naturally conditioned. At the time of packaging, it was 4.0% alcohol by volume, 40 IBU, 4.2pH, and 1.000 specific gravity (0 degrees Plato).
Queen's Order will be available at our tasting room by the glass and at bottles to go when we open at 4pm on Friday, May 19th. About 2,000 bottles are available (750ml/$14), and we don't anticipate any distribution aside from special events. There is no bottle limit.
Contact Info
Company: Jester King Brewery
Contact: Jeffrey Stuffings
Email: info@jesterkingbrewery.com