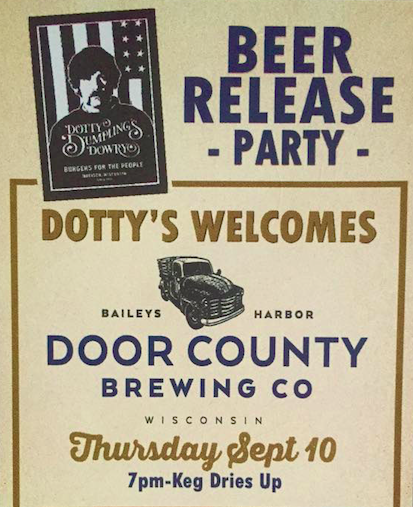 L'automne Release Party at Dotty Dumpling's Dowry in Madison
BAILEYS HARBOR, WI – Door County Brewing Co. is so excited to share L'automne – we decided to throw a release party for the new beer! Join Door County Brewing Co. Founder, John McMahon, at Dotty Dumpling's Dowry in Madison tomorrow night to celebrate the launch of our fall seasonal, L'automne!
Making delicious burgers since 1969, Dotty Dumpling's Dowry, also known as "Dotty's" has become a Madison staple and we are thrilled to celebrate L'automne at such an iconic establishment. When famous hamburger expert, George Motz,  crossed the country seeking the best burger he included Dotty's. He made it clear that their award winning burger was not to be missed, "These are a must-have on a burger tour of Madison," said Motz. "Skip the fries and get some curds, you'll never look at hot cheese the same way again."
Nothing makes a burger complete like a delicious beer to accompany it. Motivated by Bière de Garde, L'automne is a 7% ABV fall seasonal that will be available September through November in Wisconsin and Minnesota. A tribute to our Belgian roots, in many ways this beer has been 100 years in the making.
Over a century ago, the first Belgian settlers arrived in Southern Door County and quickly became the largest Belgian population in the nation. In our blood, our land and our beer, The Door County Brewing Farmhouse Ales pay homage to the history and the hops of our Belgian ancestors. A compliment to the pioneers of beer, every farmhouse ale resonates a seasonal sensation and familiar flavor of our Belgian roots. With a malty backbone and brewed with our Belgian saison yeast, white and dark wheat, caramel malts and rye, our fall release, L'automne, has just the right amount of warm spice, bright citrus and a dry finish. A twist on a classic, we believe you should revere the past and enjoy the present.
So come by, have a burger and a brand new L'automne with us at Dotty's in Madison this Thursday, September 10 at 7pm.
Door County Brewing Co. is a Wisconsin brewery founded in 2012 by the McMahon Family. Located in Baileys Harbor and distributed in WI & MN; our mission is to create beers that lead to a gathering of community and friends wherever you are. We promise to create only the best tasting, thought provoking, carefully sourced, eco-conscience beers that are constantly pushing the edge of imagination and senses.
Contact Info
Company: Door County Brewing Co.
Contact: Emma
Email: press@doorcountybrewingco.com