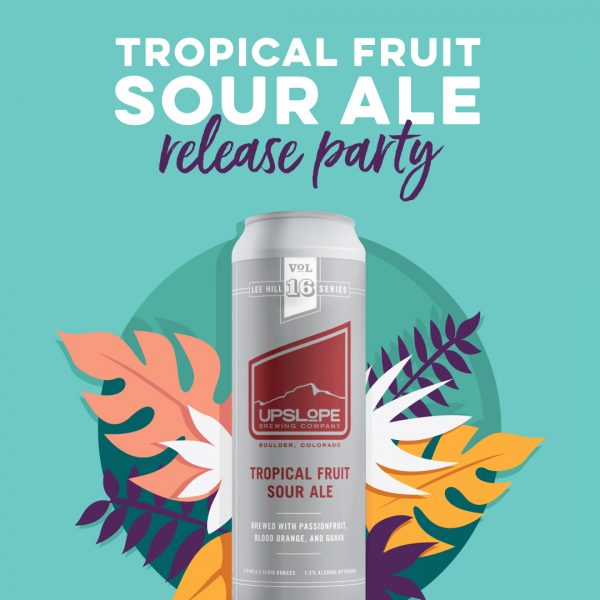 Lee Hill Series Vol. 16 Release: Tropical Fruit Sour Ale
It's time to welcome another delicious installment to our Lee Hill Series – Volume 16, our Tropical Fruit Sour Ale. This new style drops Thursday, May 24 at our Lee Hill Release!
RELEASE: Thursday, May 24 (5-9 pm) at our Lee Hill tap room. Be the first to try this one on tap or snag a can for your cellar, or both!
FOOD: Silver Bullet food truck will be on site slinging burgers, wings and things!
19.2 ounce cans will be available for $10 (limit 6 per person). Price goes up the next day, so be sure to snag 'em early!
ABOUT THE BEER: 7.2% ABV
Inspired by the classic Hawaiian juice blend, known as POG juice, this golden sour is blended with over 500 lbs of passion fruit, blood orange, and guava. Four sour projects, ranging from six months to two years old, make up the base for this Tropical Fruit Sour. Expressive notes of each fruit and a touch of sweetness balance the full acidity of this aged and fruit-forward sour.
LEE HILL SERIES: Named after our original North Boulder brewery, the Lee Hill Series is our tribute and continued commitment to experimenting and crafting small batches of beer for YOU, our awesome, craft beer-loving fans.
This quarterly, limited release series celebrates experimentation and creativity. Served up in 19.2-ounce cans, the series offers new and innovative styles that are sure to be cellar keepsakes!
Contact Info
Company: Upslope Brewing Company
Contact: Laura Greaney
Email: events@upslopebrewing.com