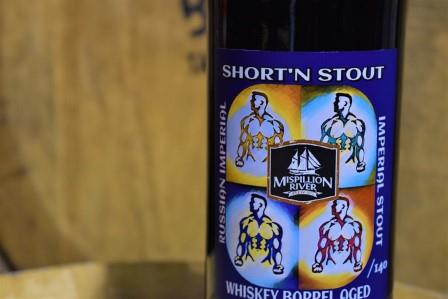 Mispillion River Brewing Releases Stout in Honor of Patrolman Chad E. Spicer
Milford, DE – Mispillion River Brewing will be releasing the 2017 edition of Short 'N Stout, a bourbon barrel aged stout, in honor of Patrolman Chad E. Spicer on June 3rd.
Over the past few years, Brewmaster Ryan Maloney has perfected the recipe for the Short 'N Stout, which was inspired by Spicer's love of tobacco and whiskey. Brewers began with the base of a 9% ABV Russian Imperial Stout and added molasses to the boil. This created notes of tobacco, oak, vanilla, and toffee, which blend well with the whiskey flavors from the six-month barreling process. This year, the brewery switched up the type of bourbon barrel, resulting in a smoother beer.
Since 2015, Mispillion has been brewing Short 'N Stout as fundraiser for the National Criminal Enforcement Association's Officer in Distress Fund. While over 100 bottles are available, bottles numbered one through ten are put in a live auction. Last year, bottle number one raised $2,700.
Short 'N Stout can only be found at Mispillion River Brewing in Milford, Delaware. Bottles will go on sale on June 3, 2017 at 1pm.
###
Mispillion River Brewing aims to be recognized by its customers and the brewing industry for producing the highest quality craft beer. The brewery, located at 255 Mullett Run Street Milford, DE 19963, is open for samples, pints, and growler fills seven days a week.  For more information, visit mispillionriverbrewing.com
Contact Info
Company: Mispillion River Brewing
Contact: Lauren Bigelow
Email: lauren@mrbrewing.com