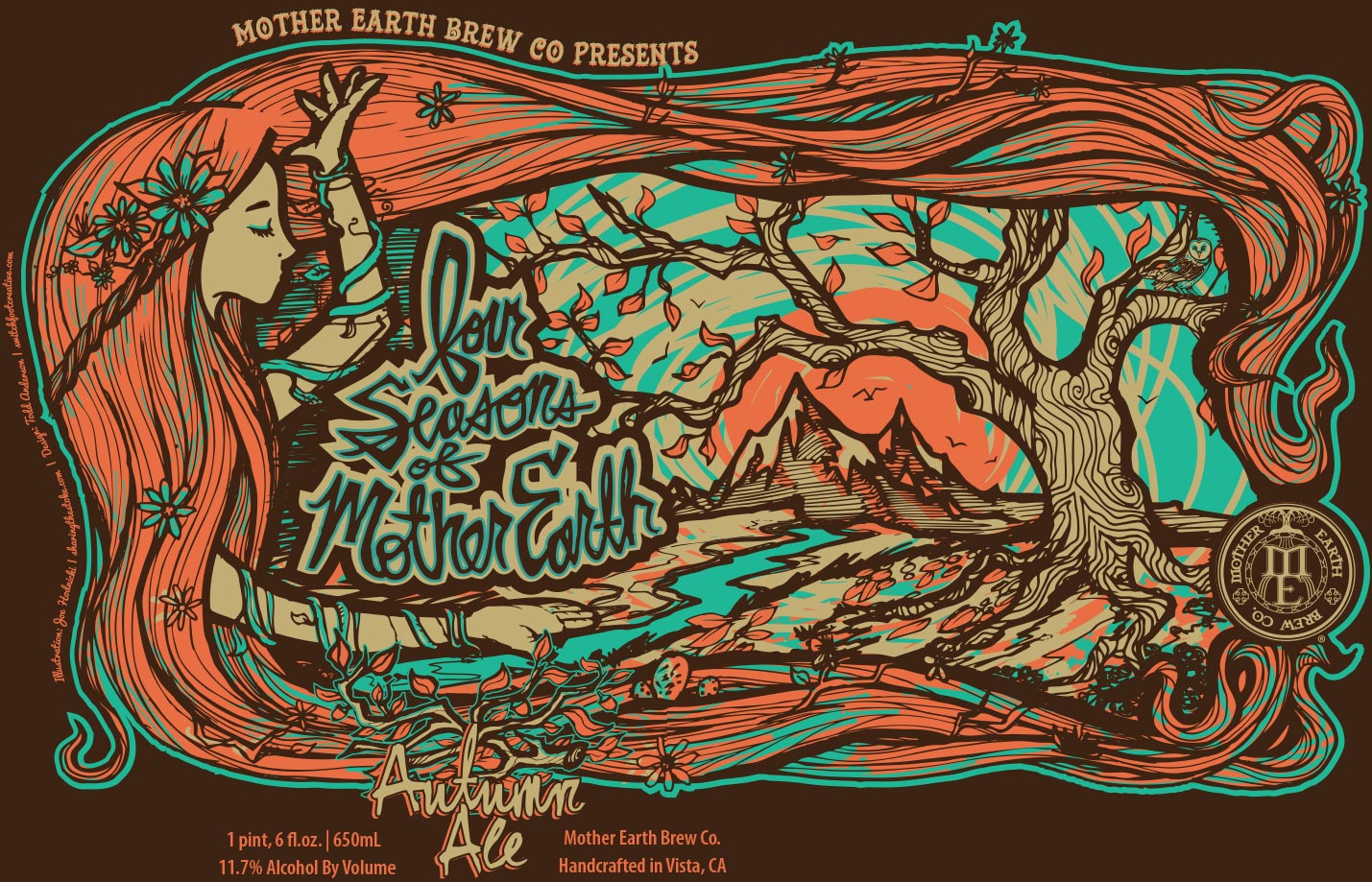 Mother Earth Brew Co. Releases "Four Seasons of Mother Earth – Autumn"
Vista, Calif. – September 22, 2014 – Mother Earth Brew Co. announces their third release from the "Four Seasons of Mother Earth" specialty program.
Just in time for fall, Mother Earth releases the third offering in their highly popular "Four Seasons of Mother Earth" specialty line of beers with "Four Seasons of Mother Earth – Autumn". Released every Spring, Summer, Autumn & Winter just in time for the appropriate equinox or solstice, "Four Seasons" represents the most exclusive and rare beers that Mother Earth offers. "Now that "Summer" is coming to an end, it's time to celebrate the autumnal equinox in a really big way and Four Seasons "Autumn" is just the way to do it!" says Mother Earth's Chief Branding Officer Kevin Hopkins.
"Autumn" represents the second bottle release from Mother Earth's growing barrel program and is a new creation affectionately known as "Zingaro Russian Imperial Stout". Taken and aged in oak barrels which previously held Heaven Hill bourbon, "Autumn" is no slacker and presents with notes of chocolate and coffee that lead to a smooth finish with just the right amount of warmth to take the chill off those cool, blustery Autumn nights.
And at Mother Earth there is nobody more excited about the arrival of "Autumn" than Head Brewer Chris Baker.
Says Chris, "The "Four Seasons" program is very special to all of us here at Mother Earth as it allows us to stretch our boundaries and showcase the enormous talents of our team. We are now entering the third generation of our barrel program and I am extremely pleased at how it is evolving, I couldn't be more proud of our entire team and the beers that we create to be enjoyed now, or to be saved for that special occasion." With a label once again designed by Todd Anderson and Illustrated by Jon Hodnichi, "Four Seasons" not only represents artistry for what's within the bottles, but also for the amazing artwork that showcases a different California landscape for each season.
Bottles of Four Seasons – "Autumn" will be available in limited quantities at both Mother Earth tasting rooms as well as select retailers throughout Southern California only. This is an extremely limited release and after "Autumn" has come and gone, you'll have to wait until next fall to see what Mother Earth has planned for you.
Stay tuned as "Four Seasons – Winter" will appear this December with another tasty barrel offering taken from Mother Earth's library of spirit and wine casks this time featuring barrels from Four Roses distillery. Autumn is here! And never forget to… #loveyourmother
https://www.facebook.com/MotherEarthBrewCo
About Mother Earth
Founded in 2010, Mother Earth Brew Co. develops hand crafted artisanal ales in both year-round, as well as seasonal and specialty offerings. Its award winning beers help define the standard of West Coast Craft and has led to year over year compounded growth of over 100% each and every year since their inception. With two tasting locations within the City of Vista including a large Tap Room that anchors the historic Downtown Vista Village District as well as multi-state distribution, Mother Earth is proud to be a part of the San Diego craft scene and to be considered one of the area's premier craft breweries.
###
Contact Info
Company: Mother Earth Brew Co
Contact: Kevin Hopkins
Email: Kevin@MotherEarthBrewCo.com