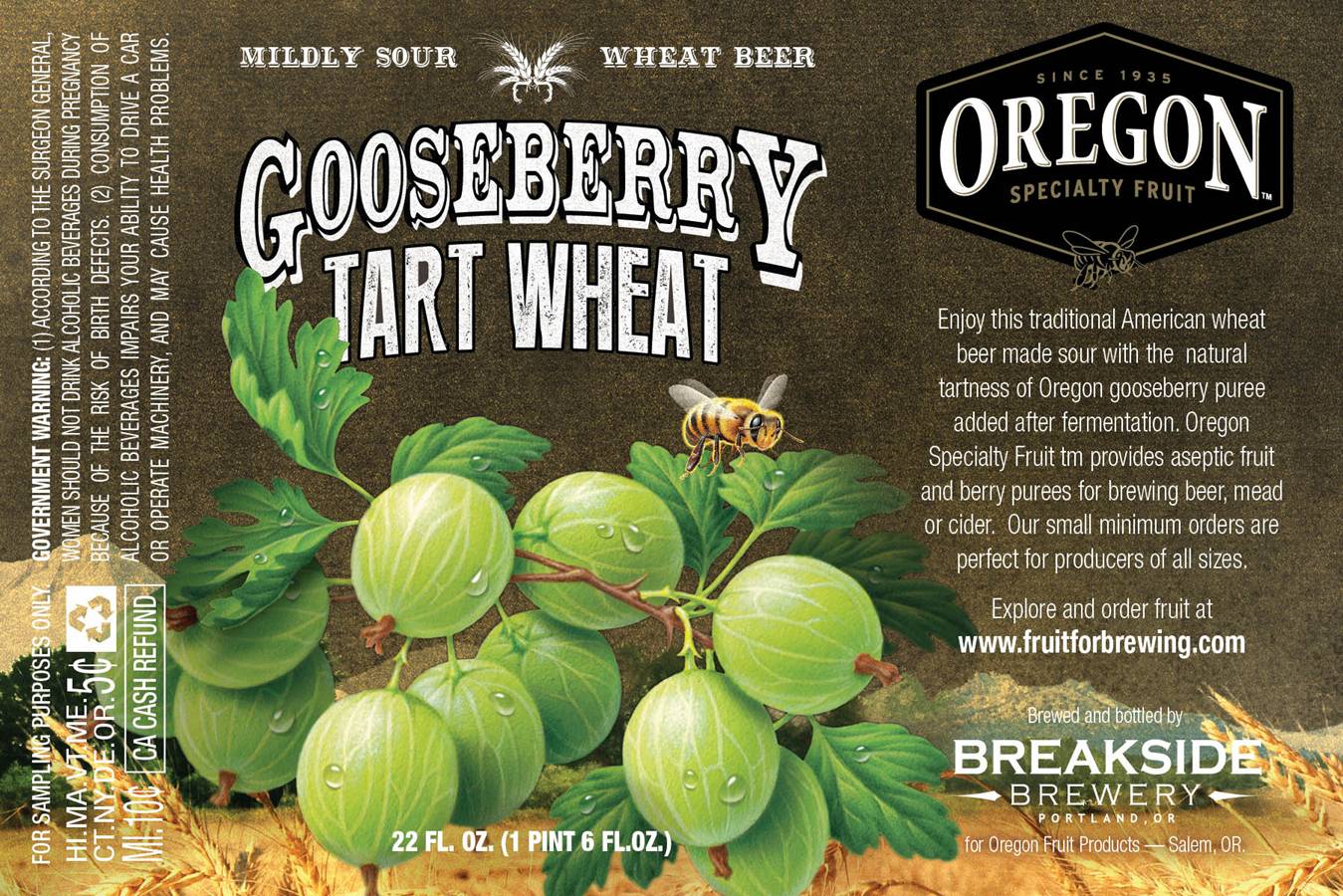 Oregon Fruit Products collaborates with Breakside Brewery
Oregon Fruit Products (Salem, Oregon), national leaders in aseptic fruit purees for brewing, recently collaborated with Portland, Oregon's Breakside Brewery on a project to better understand brewers needs and how they use fruit. With Breakside's help, we developed three innovative fruit beers with our premium purees that showcase the diversity, ease of use and high quality of our product for use in beer styles of increasing popularity. See the "making of" video at http://youtu.be/JGJZRy1bMLY.
Oregon Fruit Products sells purees to brewers of beer, cider and mead nationally, but identified Breakside Brewery as an innovative regional brewer and offered our product in exchange for their knowledge. Initially the goal was to develop fruit beers for the Craft Brewers Convention in Denver, CO from April 7-10th, but soon realized the project would have a farther reaching impact.
Oregon Fruit Products' objective was to explore how brewers use our fruit purees. We have a product tailored for brewers' needs, but beyond a pedestrian fruit beer, what potential is there for craft brewers? With Breakside Head Brewer Ben Edmunds' inspiring ideas, OFP got a firsthand look at the innovation involved in the burgeoning fruit beer category. Each beer was created to highlight the fruit and berries and explore the styles that Breakside does so well. We were involved in the craft brewing process from concept to glass…with these respected craftsmen.
The Fruits of our Labor: Gooseberry Tart Wheat – Enjoy this traditional American wheat beer made sour with the natural tartness of Oregon gooseberry puree added after fermentation.
Barrel-Aged Blackberry Baltic Porter – The Blackberry puree in this brew was added to the barrel for finishing, contributing rich, fruit complexity to the porter.
Sour Cherry Brett Kriek – This strong ale was fermented with a proprietary blend of "wild" yeast. Both red tart and dark sweet cherry purees were added during and after fermentation for color, flavor and acidity.
Join us at Booth #1709 at the BrewExpo America – part of the Craft Brewers Conference in Denver, Colorado on April 9-10th. Brewmasters from Breakside Brewery in Portland, Oregon will be on hand to talk about brewing with Oregon Fruit Products' aseptic fruit purees. Visit the booth from 11am-1pm each day to talk with the brewers.
Can't join us in Denver? Visit our updated web site at www.FruitForBrewing.com with more information and ideas about brewing with fruit. For samples of the Breakside/OFP Project Beers contact Kathys@OFPC.com or call  503-621-3530.
 About Oregon Fruit Products Oregon Fruit Products has been producing fruit purees for decades in our Salem, Oregon facility. The company is over 75 years old and is the #1 branded specialty fruit in the canned grocery aisle. Oregon Fruit Products began selling to the brewing segment when craft and microbrewing first emerged over 25 years ago – and has expanded to become a leading national supplier to this growing beverage segment. We are constantly striving to provide more than just product to our customers – providing knowledge and practical application support.
Oregon Fruit Products LLC • www.fruitforbrewing.com P.O. Box 5283, Salem, OR 97304 • 503-485-9026
Contact Info
Company: Breakside Brewery
Contact: Ezra Johnson-Greenough
Email: ezra@breakside.com