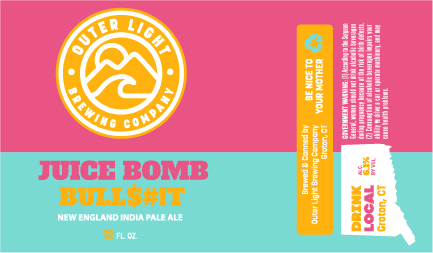 Outer Light Brewing Drops Cans of Juice Bomb Bull$#!t
Outer Light Brewing Company of Groton, CT announces the inaugural can release of Juice Bomb Bull$#!t to the public on Wednesday, January 24th at 5 pm.
Juice Bomb Bull$#!t is Outer Light's Juicy New England-style IPA expertly hopped with Citra, Mosaic and El Dorado. One sip will launch a tropical fruit assault at your tastebuds.
Juice Bomb Bull$#!t will be available in six packs only (no growlers) and pints for a limited time! Supplies are limited. Case/quantity limits will be posted the day of the release on Facebook, Instagram and Twitter will be based on availability/yield.
About
The founders at Outer Light Brewing Company are inspired by life's simple pleasures. It could be a perfect summer afternoon watching the powdery white clouds contrast a bright blue sky. It could be a fleeting moment in early spring as you sit on your surfboard, waiting for the perfect set to roll in. A crisp autumn evening shared with friends around a crackling campfire. Or the quiet solitude of a powder run, lips smacking for the hearty stout that lies at the end. OLBC captures the experience of those moments in a bottle, barrel, and growler.
Contact Info
Company: Outer Light Brewing Company
Contact: Matt Ferrucci
Email: matt@outerlightbrewing.com