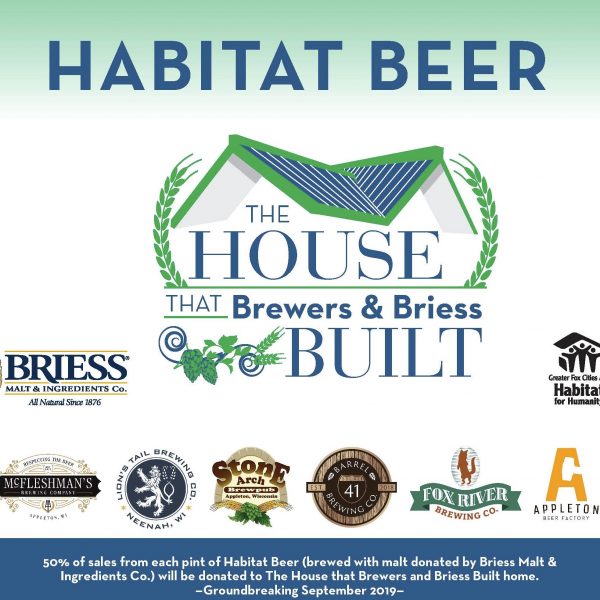 Raise a pint to 'The House that Brewers and Briess Built'
Greater Fox Cities, WI—Six local breweries are collaborating with Briess Malt & Ingredients Co. of Chilton, and Greater Fox Cities Area Habitat for Humanity to raise a goal of $36,000 to build a home for a local family.
The six breweries each crafted a different style of beer from more than 4,000 pounds of malt donated by Briess. The brews were launched Feb. 19-24, and $3 of every special brew purchase goes toward construction of the Greater Fox Cities Habitat home for a local family.  If you are in the area, be sure to stop by participating breweries and raise a pint and some money for this worthy cause (while supplies last)!
McFleshman's Brewing Co., 115 S. State St., Appleton, 920.903.8002

Brew House Dunkelweizen—A thirst-quenching German classic, dark wheat made with traditional Weizen yeast.  The result is a balance of flavors ranging from toast to clove to banana.  The name refers to the equipment used in brewing, but also to our collaboration with Habitat for Humanity and Briess.  Prost!"

 Lion's Tail Brewing Co., 116 S. Commercial St., Neenah, 920.215.6443

"Rock the Block" Oak-Aged Bock—This traditional Bock pours a deep amber with a creamy off-white head.  Although this Bock is lagered for a smooth, clean finish, it's rather rich with big toasty malt flavors. Aging on medium-toast American oak adds further complexity with subtle, sweet vanilla and caramel notes.  6.1% alc/vol.  & mild balance from Noble-style hops at 21 IBU.

Stone Arch Brewpub, 1004 S. Olde Oneida St., Appleton, 920.731.3322

Cold-Steeped Milk Stout—Their take on a Milk Stout using a cold-steeping method. Roasted and dark grains are steeped in room-temperature water overnight. "This allows us to pull the wonderful caramel, roasted, and chocolate flavors out of the grain, and leave some of the bitter, astringent flavors often associated with Stouts behind. "For this recipe, we used 7 types of Briess malt, along with an addition of lactose.  You'll find this beer smooth and well-rounded with a sweet finish, and just enough hop character for balance. It will be the perfect signifier of the end of winter as we roll into spring."

Barrel 41 Brewing Co., 1132 S. Commercial St., Neenah WI, 920.558.4021

"Built Berry Well" Fruited Saison—A fresh and fruity beer, sure to be your first glimpse into warmer weather. "Our beer has classic Saison qualities (pepper, lemon zest, and a light crisp taste) with a blend of fresh fruit—raspberries and peach."

Fox River Brewing Co., 4301 W. Wisconsin Ave. @Fox River Mall, Appleton, 920.991.0000

Aframe Altbier—Altbier is a style of beer brewed in the historical region of Westphalia and around the city of Düsseldorf, Germany, in the Lower Rhine Region.  "Alt" translates to "old", in reference to its historic production as an ale yeast style, rather than the more modern lager yeast that Germany is well known for.  Well hopped and malty with brown/amber/red color.  We've named our Alt with an old architectural framing structure name, the A-Frame. Brewed exclusively with Briess malts and utilizing a new malt to their lineup (Dark Munich Malt 30L) provides a toasted malty sweet flavor and aroma, as well as a rich amber color. (Lion's Tail brew also on tap.)

Appleton Beer Factory, 603 W. College Ave., Appleton, 920.364.9931

"Strong Foundations" Strong Ale (7.5% ABV)—A strong foundation of traditional Pale Malts and wheat, anchored with brown sugar and Belgian candy, gives this beer its amber color. Centennial and Willamette hops provide a rich complexity and balance well with the malty backbone. Notes of caramel, vanilla and biscuit tone down this big beer with a smooth and approachable body.  Enjoy this brew on nitrogen for a velvety pour. (Stone Arch brew also on tap.)
This first-time collaboration with local craft brewers, Briess, and Greater Fox Cities Habitat for Humanity was endorsed by Briess President Ryan O'Toole and the Briess family. "Briess has great relationships with our brewing partners, and it makes sense to join with them and Greater Fox Cities Habitat for Humanity on this important community project. I would like this engagement to be a catalyst in other areas where Brewers might also be able to come together for a good cause.  With over 7,000 breweries in the US, there is a large opportunity here to help our communities." O'Toole said.
It seems the project was meant to be, O'Toole continued. "Briess was in the process of reaching out to Fox Cities Habitat for Humanity to discover volunteer opportunities at the same time the brewers were discussing including Briess in the project," he noted. Support for the fundraiser continues with a coupon book Briess is providing employees to help build momentum and word-of-mouth. The book includes a coupon for each participating brewery.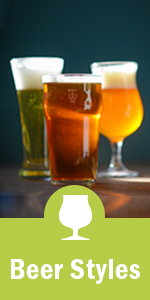 Briess employees, collaborating breweries, and community members alike will also be able to roll up their sleeves and help build the Fox Cities Habitat home with the participating breweries later this year. For more information, to participate, or to donate directly to this project, please contact Greater Fox Cities Area Habitat for Humanity at 921 Midway Rd., Menasha, 920.954.8702 or email John Weyenberg, President and CEO of Fox Cities Habitat at JohnW@foxcitieshabitat.org. Fox Cities Habitat hopes to begin construction in September 2019.
"The craft brewers, Habitat for Humanity and Briess employees appreciate people drinking responsibly for this worthy cause," O'Toole continued. "We will build a home for a family in need. Please stop by the breweries during launch week and beyond to enjoy craft beer and help create "The House that Brewers and Briess Built!" The beers will be served until supplies run out.
Contact Info
Company: Briess Malt & Ingredients Co.
Contact: Stacey Schneider, Project Coordinator, 920.849.7711 & Bernadette Wasdovitch, Marketing Communications Manager, 920.522.3034
Email: bwasdovitch@briess.com