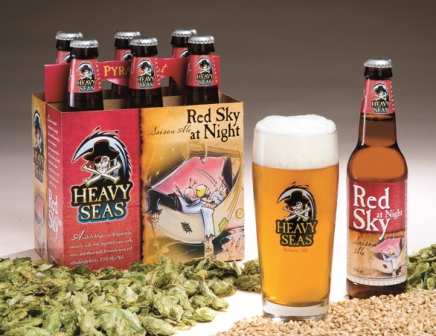 Red Sky at Night, Sailor's Delight…
It all started in a little abbey in Westmalle, Belgium in 1836 when they selected a bright, spicy and effervescent yeast strain for their ales. Our Saison farmhouse ale, Red Sky at Night is brewed in a similar tradition with the same yeast, clear Belgian rock candi sugar, a copious amount of malted white wheat, and special Belgian malts for a snappy acidic brew. The spicy character produced by the yeast culture gives this beer a flavor profile entirely different from anything else we produce, both crisp and fruity simultaneously. Pale gold in color, Red Sky at Night is soft on the palate with a delicate yet noticeable spicy character and a crisp, dry finish. At first sip, you'll discover this beer is slightly honeyed in flavor with notes of banana, apricot, clove, and allspice.
Style: Saison Ale
ABV: 7.5 %
Availability: July through September
Suggested Food Pairings: Thai cuisine, grilled seafood, mussels & sausages
Suggested Glassware: Stemmed Cervoise or Tulip
Fun Facts: The name of this beer came from the mariner saying: "Red sky at night, sailor's delight. Red sky at morning, sailor take warning" Take this beer on your next sail & be guaranteed good weather and great taste.
Contact Info
Company: Heavy Seas Beer
Contact: Caroline
Email: caroline@hsbeer.com