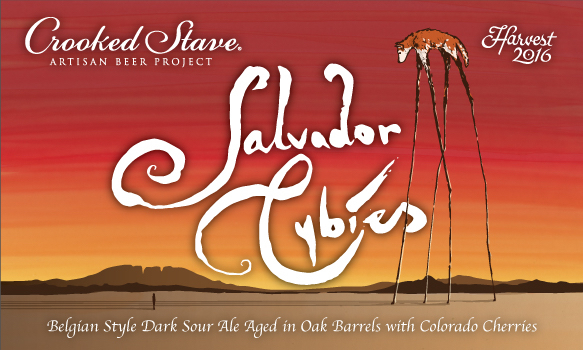 Crooked Stave Salvador Cybies 2016 Harvest Release
Join us for the release of Salvador Cybies – Harvest 2016 on Friday May 12th at 5 PM!
Salvador Cybies is a Belgian Style Dark Sour Ale Aged in Oak Barrels with Colorado Cherries.
Primary fermented in oak foeders with our mixed culture of wild yeast and bacteria, Salvador Cybies has an unmistakable Belgian character backed by a strong malt base. For our Harvest 2016 release, we've embraced age-old tradition by conditioning the beer for extended periods of time in oak barrels before a heavy-handed addition of local cherries from our partner farmers on the Colorado western slope.
Salvador Cybies will be available on draught and in 750ml cork & cage bottles starting at 5 PM! Grab your Salvador Cybies- Harvest 2016 before we sell out!
Contact Info
Company: Crooked Stave Artisan Beer Project
Contact: Kaleigh Armitage
Email: kaleigh@crookedstave.com