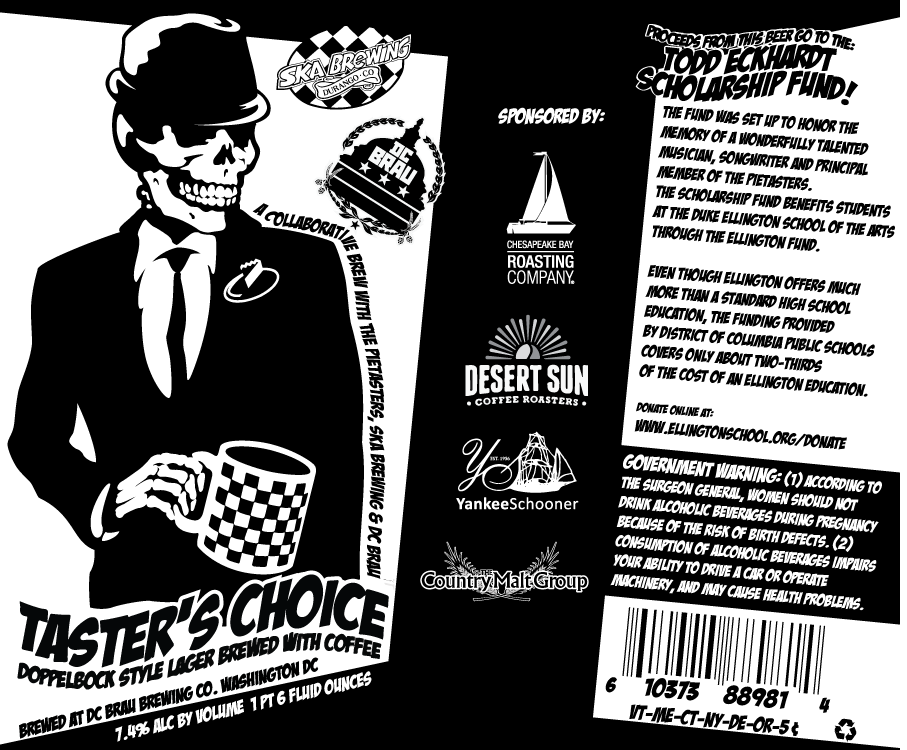 Ska Brewing and DC Brau Join Forces on 'Tasters Choice' Coffee Doppelbock
DURANGO, Colo.—Craft brewers Ska Brewing and DC Brau have joined forces with Ska legends The Pietasters to create a collaboration brew called "Taster's Choice"—a Coffee-Doppelbock—to be released March 27 at Washington D.C.'s Black Cat nightclub at a party featuring The Pietasters.
Proceeds from the beer and the party will go to the Todd Eckhardt Scholarship Fund, set up to honor the memory of former Pietasters bassist and songwriter Todd Eckhardt, who passed away in 2001. The fund benefits students at the Duke Ellington School of the Arts through the Ellington Fund.
"All I can say is that there seemed to be empyrean forces driving this collaboration, said Ska President and Co-founder Dave Thibodeau. "It had to happen. I met Brandon [Skall, DC Brau co-owner along with Jeff Hancock] at an event in D.C. during SAVOR. I loved his beers, and we both loved a lot of D.C. bands, including The Pietasters. Then it turned out the Pietasters' drummer also works at DC Brau."
When these common threads were combined with the Craft Beer Conference's (CBC) location in D.C. this year and Denver next year, the cosmic signposts were too obvious to ignore.
The brewers hatched a plan to make "Taster's Choice" at DC Brau's facility in Washington D.C., and release it during CBC at an event featuring the Pietasters. Next year, Ska and DC Brau will again join forces, this time at Ska's Durango, Colo. location, to create another collaborative brew for release at next year's Craft Brewers Conference in Denver.
Also participating in the transcontinental collaboration are Durango's Desert Sun Coffee Roasters and D.C.'s Chesapeake Bay Roasting Company, both of which donated coffee beans for the project. Country Malt Group not only donated the malt for the beer, but also gave a generous donation to the Scholarship Fund, and Yankee Schooner donated the printing.
Doors open at 8 p.m. for the "Taster's Choice" official release party at the Black Cat on March 27. Ska and DC Brau will take over all of the taps, and both breweries will also have numerous canned offerings available. Tickets are available through the Black Cat.
About Ska Brewing
Based in Durango, Colorado, Ska Brewing was founded in 1995 and now produces over a dozen medal-winning beers including the Pinstripe Red Ale, True Blonde Ale and Steel Toe Stout. Four Ska beers are now widely available in cans: ESB Special Ale, True Blonde, Modus Hoperandi IPA and the winter seasonal Euphoria Pale Ale.nChat us up and get the latest news on Facebook and Twitter.
About DC Brau
DC Brau Brewing Company, founded in 2009, is located in North East Washington, D.C. Co-founders Brandon Skall and Jeff Hancock are DC locals with a passion for brewing, complemented by years of experience in beverage distribution. DC Brau's signature brews include: The Public (Pale Ale), The Corruption (IPA), and The Citizen (Belgian style Ale), with seasonal and special brews to follow.
Contact Info
Company: Ska Brewing
Contact: Dave Welz
Email: davew@skabrewing.com