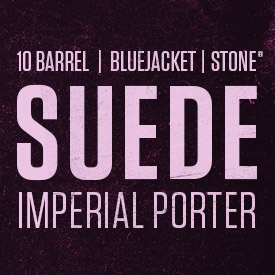 Smooth as Suede: 10 Barrel/Bluejacket/Stone Suede Imperial Porter Released October 7
ESCONDIDO, CA (Oct. 7, 2013) – Suede evokes a sense of smooth, sexy coolness and, for some, perhaps the '70s. But when used to describe the latest Stone Brewing Co.collaboration, 10 Barrel/Bluejacket/Stone Suede Imperial Porter, it's just groovy. The beer was created in collaboration with Tonya Cornett of Bend, Oregon's 10 Barrel Brewing Co.and Megan O'Leary Parisi of Bluejacket in Washington, D.C. Starting today, the imperial porter will be available in bottles and on draft at select retailers, restaurants and bars across the U.S.
The trio of brewers met each other in typical fashion (at beer events, obviously) and began conversations that eventually led to invites from Stone Brewmaster Mitch Steele to Cornett and O'Leary Parisi to come out and brew. From there, recipe formulation began. The trio envisioned using ingredients indigenous to Southern California, which was accomplished by including avocado honey, dried jasmine, and calendula flowers plucked from the fertile grounds at Stone's North County San Diego farmstead, Stone Farms.
The result is a luscious, smooth and flavorful beer that incorporates the deep cocoa and coffee notes of an imperial porter with a delicate but discernible bouquet of herbs and floral sweetness. "I have always enjoyed the subtleties of ingredients – botanicals, spices, sugars and other things like that, which can enhance the flavors of a base beer," said O'Leary Parisi. "There is a certain joy to finding that balance of making your additional ingredients perfectly complementary and not overwhelming."
At 9.6 percent alcohol by volume (ABV), the beer is ready to enjoy now, or may be properly cellared for months or years. Over time, the jasmine and calendula flowers will take a back seat to rich java and chocolate aromas and flavors. Whether enjoyed now or in the future, this beer is a brilliant example of the spectacular things that can happen when masterful brewing minds converge.
Name: 10 Barrel/Bluejacket/Stone Suede Imperial Porter URL: http://www.stonebrewing.com/collab/suede Stats: 9.6% ABV, 50 IBUs Availability: Limited 22-ounce bottles and draft, beginning October 7 Hops Bill: Magnum and Sterling Distribution: AK, AL, AZ, CA, CO, CT, DC, DE, FL, GA, IA, ID, IL, IN, KS, KY, LA, MA, MD, ME, MI, MN, MO, MT, NC, NE, NH, NJ, NM, NV, NY, OH, OR, PA, RI, SC, TN, TX, VA, VT, and WA
Tasting Notes by Stone Brewmaster Mitch Steele:
Appearance: Pours deep brown with a rich tan head. Aroma: Immediately floral, with notes of cocoa and coffee. As the beer warms, the honey aromas become more pronounced. Taste: Jasmine and honey hit the palate first, followed by the traditional cocoa and coffee flavors that are expected in an imperial porter. The floral character is balanced by a moderate level of fruitiness. Palate: The beer is incredibly smooth and luscious. "Suede" is the perfect name! Overall: This was such a fun collaboration. Megan first brought forth the idea of an imperial porter, which we all immediately agreed to, and Tonya provided the malt bill. From there, we decided to add some ingredients from Southern California. The avocado honey provided a very rich, intensely floral flavor. The addition of the honey and jasmine reminds me of Southern California summers, while the calendula flowers hail from Stone Farms and bring a nice floral note and hint of bitterness. I'm very pleased at how well these flavors came through in the finished beer.
Suggested Pairings by Stone Craft Beer Ambassador "Dr." Bill Sysak: 
Appetizers: Blue cheese-stuffed mushrooms, peach and prosciutto crostini, lamb lollipops, rosemary-roasted cashews Soups/Salads: Beef stew, Waldorf salad, chili con carne, spinach salad with cranberries and balsamic dressing Entrees: St. Louis-style ribs, mushroom and spinach lasagna, liver and onions, mole over stuffed poblano peppers Cheeses: Rogue River Blue, Fiscalini Bandage Wrapped Cheddar, Willamette Valley Farmstead Gouda, Carr Valley Billy Blue Desserts: Tiramisu, chocolate-covered strawberries, vanilla ice cream, crumb cake Cigars: Illusione MJ12 Maduro, Gurkha Cellar Reserve, Jaime Garcia Reserva Especial, Padrón 1964 Anniversary Series Exclusivo Maduro
Contact Info
Company: Stone Brewing Co.
Contact: Sabrina LoPiccolo
Email: sabrina.lopiccolo@stonebrewing.com