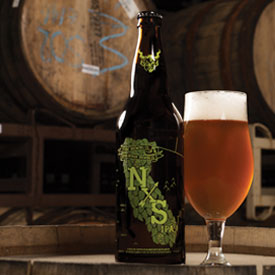 Stone Brewing Co. Releases Collaboration with Sierra Nevada Brewing Co.
ESCONDIDO, CA (Dec. 7, 2015) — For many, California has been the epicenter of craft brewing innovation for the last few decades, especially where hop-centric beers are concerned. So in an effort that spans the state and is decades in the making, Stone Brewing Co. has joined forces with the iconic, Northern California-based Sierra Nevada Brewing Co., which together have a combined 50+ years of brewing experience. The result: Stone & Sierra Nevada NxS IPA (NxS = North by South). Beginning today, the latest Stone Collaboration beer—a barrel-aged IPA blended with a fresh, dry-hopped batch of the same IPA—will begin rolling out in 22-ounce bottles and on draft to select retailers in markets where Stone beer is sold.
"Since Sierra Nevada Brewing Co. has been an inspiration for Stone, and me personally, for our entire brewing careers, we were thrilled to be asked to brew a beer with one of the most admired craft brewers in the world," explains Stone Brewmaster Mitch Steele. "When brainstorming this collaborative recipe, there was no doubt that we should brew a memorable IPA and we wanted to combine unique elements from each brewer. For Stone, that meant barrel-aging a portion of the beer at our barrel warehouse."
To create this significant collaboration, batches of an IPA were brewed and bittered with Magnum hops before providing the backdrop for a three-way late-kettle addition involving Amarillo, Chinook and Cascade. Given that whole flower Cascade hops have been a mainstay in Sierra Nevada's beer portfolio, the classic hop varietal was necessary for this creation. The first batch, created months earlier, was split down the middle, with 50 percent being aged in gin-infused bourbon barrels and the other half making its way into rye whiskey barrels. The aged portions were then blended with a new, fresh batch of IPA, which was generously dry-hopped to impart rich hop aromas to accompany the citrusy, piney, woody, spice flavors of this multilayered collaboration.
To experience the extra dose of hops blended with oak and spirit flavors, the beer should be enjoyed fresh. Over time, the hop qualities will subside, allowing for more prevalent spicy notes of spirits and oaky vanilla character to shine through. Stone & Sierra Nevada NxS IPA is a meaningful representation of two renowned breweries embracing craft beer camaraderie and showcasing their brewing prowess.
Name: Stone & Sierra Nevada NxS IPA (NxS = North by South…not "In Excess") URL: stonebrewing.com/collab/nxs Stats: 8.2% ABV, 70 IBUs Availability: Limited 22-ounce bottles and draft, beginning December 7 Hops Bill: Magnum, Amarillo, Cascade, Chinook, Centennial, Mosaic National Distribution: AK, AL, AZ, CA, CO, CT, DC, DE, FL,Stone  GA, HI, IA, ID, IL, IN, KS, KY, LA, MA, MD, ME, MI, MN, MO, MT, NC, NE, NH, NJ, NM, NV, NY, OH, OR, PA, RI, SC, TN, TX, VA, VT and WA International Distribution (coming soon): Australia, Japan, Korea, Singapore, Sweden, Thailand and United Kingdom Find Beer: stonebrewing.com/collab/nxs#extra
Tasting notes, provided by Stone Brewmaster Mitch Steele Appearance: Pours deep gold with an amber hue. Aroma: Peach and citrus hop aromas followed immediately by the spicy, piney notes of gin and the vanilla aspects of oak. Taste: A really nice blend of fruity hops, oaky vanilla notes and finishes with a pleasant hint of spicy spirits and good hop bitterness. Palate: Medium body and bitter with a little bit of warmth. Overall: Sierra Nevada Brewing Co. has been an inspiration for us at Stone for many, many years, so we were thrilled to be able to collaboratively develop this beer. We wanted to combine elements of both breweries in the recipe, which is an IPA that includes partial barrel aging and classic hopping, including some of both breweries' favorite hops: Cascade, Chinook, Centennial, Amarillo and Mosaic.
We brewed some of this beer in early summer and then transferred it to our barrel warehouse, where it was aged in a combination of gin-infused bourbon barrels and rye whiskey barrels for about three months before we blended it with the beer we brewed in October. The result is a hoppy IPA with the added elements of wood and spirits. The blend is a beauty.
Suggested pairings, provided by Stone Craft Beer Ambassador "Dr." Bill Sysak Appetizers: Coconut shrimp, pork satay, goat cheese-stuffed mushrooms, Filipino lumpia, pumpkin ravioli Soups & Salads: Tofu chili, cheddar cheese soup, chicken and white bean soup, pear and endive chopped salad, mixed greens with miso and ginger dressing Entrées: Roasted turkey, pork loin, pho, root vegetable hash with fried egg, pasta carbonara Cheeses: Parmesan, Fiscalini Bandage Wrapped Cheddar, Manchego, pepper jack Desserts: Carrot cake, peach cobbler, apple strudel, spice bread Cigars: Drew Estate Herrera Esteli, Davidoff Winston Churchill, Arturo Fuente 8-5-8 Candela Lonsdale
Contact Info
Company: Nickie Peña
Contact: Nickie Peña
Email: nickie.pena@stonebrewing.com