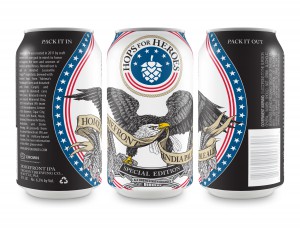 Ten Breweries Collaborate on Hops for Heroes Beer
Ashland, VA – Spring is here and the Hops for Heroes team is set to release the 2015 Homefront IPA. This year, 10 great breweries are brewing Homefront IPA across the country. Each brewery is planning something different to celebrate the release and connect their community to the worthy cause. Examples of these partnerships include several breweries bringing in volunteers to zest oranges for the beer, beer releases at local Minor League ballparks, celebrity brewers, and full market awareness through mutual release parties at the breweries and local accounts.
Homefront IPA is our way of saying "thank you" to all of the men and women who dedicate themselves to protecting our safety and our way of life. The beer is released around Memorial Day each year in hopes to give a reminder of how important the past, present, and future members of our armed forces are and to remember the ultimate sacrifices so many have made in their pursuit of our freedom.
Participating breweries this year include:
Center of the Universe Brewing Company, Ashland, VA
Fremont Brewing Company, Seattle, WA
Cigar City Brewing, Tampa, FL
Perennial Artisan Ales, St. Louis, MO
21st Amendment Brewery, San Francisco, CA
Left Hand Brewing Company, Longmont, CO
Stone Brewing Co., Escondido, CA
Palmetto Brewing Company, Charleston, SC
Maui Brewing Co., Lahaina, HI
Revolution Brewing, Chicago, IL
This year, Homefront IPA will benefit Soldiers' Angels, an organization whose mission is to ensure that "No soldier goes unloved." Soldiers' Angels provides aid and comfort to the men and women of the United States Army, Marines, Navy, Air Force, Coast Guard, their families, and a growing veteran population.
Hops for Heroes is also excited to have Louisville Slugger, Hops Direct, Cargill, and Crown Packaging all back as the national sponsors for bats, hops, grain, and cans.
---
Hops for Heroes was created in 2011 by craft breweries' desire to team up and support our men and women of the armed forces. The result of this desire is Homefront IPA, a beer Aged on Louisville Slugger maple bats. This IPA does more than just quench your thirst, it improves the lives of our soldiers. The effort has raised over $500,000.00 to date.