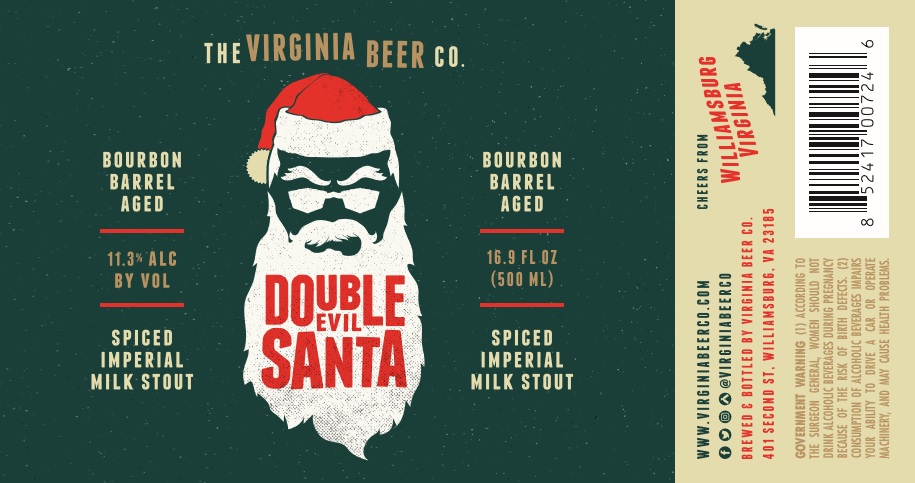 The Virginia Beer Co's Double Evil Santa: Black Friday Bottle Release + Brunch
Since 2016, Evil Santa has been coming to town once a year to ring in the holiday season. In celebration of three years of this seasonal Spiced Milk Stout, this year, we at The Virginia Beer Company asked him to stick around for three separate releases culminating in the debut of DOUBLE EVIL SANTA.
Double Evil Santa is a Spiced Imperial Milk Stout with a jolly 11.3% ABV, a stronger version of our Evil Santa Spiced Milk Stout that has been aged in Bourbon Barrels for four months. Nutmeg, cinnamon, and allspice are complemented by the caramel and vanilla notes that arise from extended barrel aging.
Draft will be available at the brewery on Black Friday (11/23) at an early opening time of 11 am. A limited number of 500 ml bottles will also be available – fit to slumber for a future holiday occasion (if you can wait that long). In celebration of the return of the holidays and this inaugural release, Waypoint Seafood & Grill's Prost Food Truck will be with us beginning at 11 am serving a holiday-inspired brunch menu until 2 pm and lunch/dinner fare into the night.
Start the holidays with a visit with Evil Santa, a bite for brunch, and a bottle (or two) to go. You'll be on everyone's Nice List if you do. Get more details on our Facebook event page! 🎅🏻🍾
Contact Info
Company: The Virginia Beer Co.
Contact: Robby Willey
Email: social@virginiabeerco.com