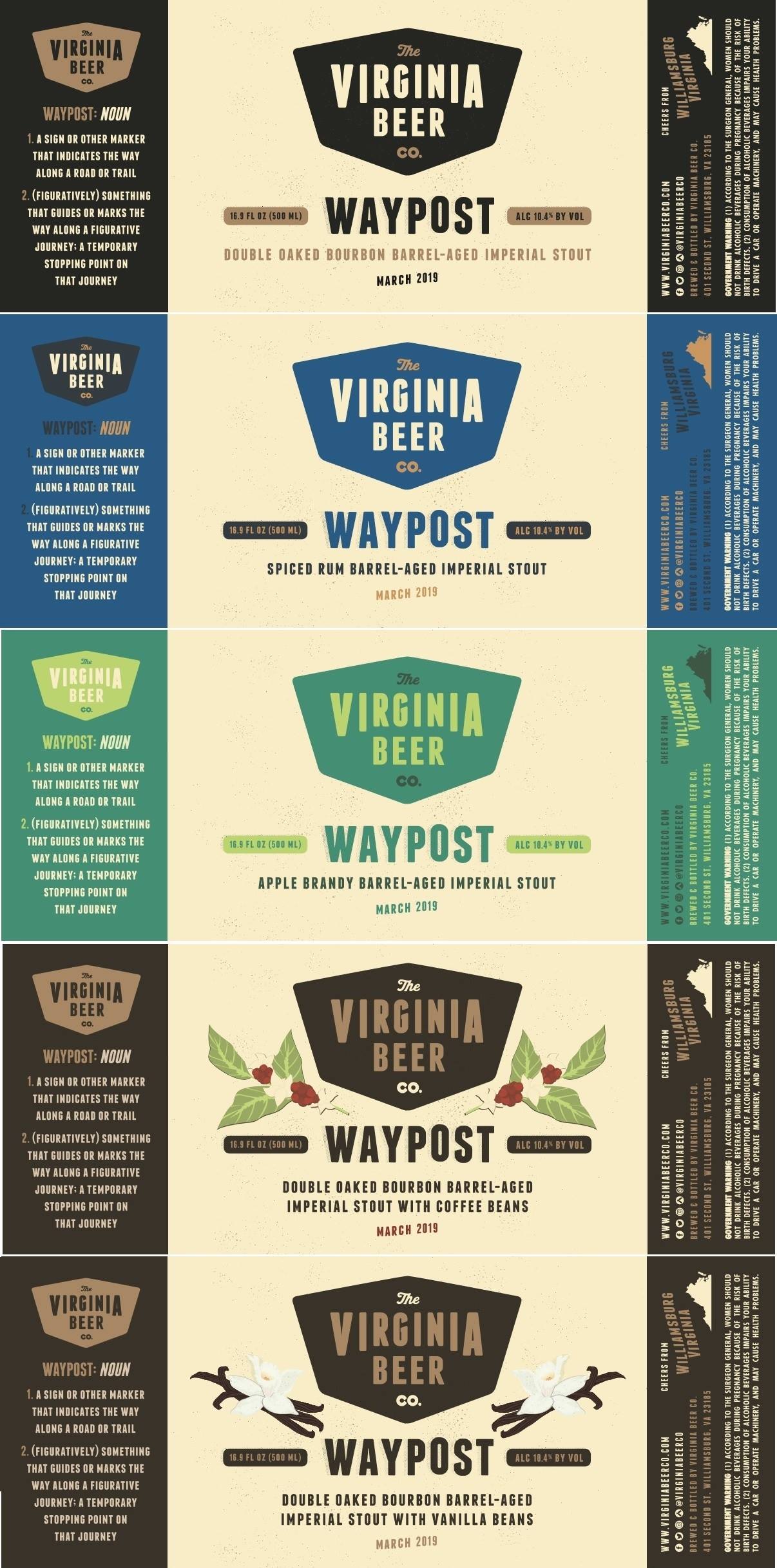 Virginia Beer Co. To Release 5 Waypost Variants
Each year as we prepare to celebrate another milestone along the journey that so many of you have been a part of since we opened in March 2016, the Virginia Beer Co. releases Waypost Anniversary Imperial Stout. The annual return of this 10.4% ABV recipe occurs in early spring, and a limited amount of lucky liquid makes its way into fanciful formulas of barrel-aged bottle releases to help mark the occasion.
2019 Waypost Bottle Offerings v. 1.0 (March 9th):
2019 Waypost Offerings, v. 2.0 (March 16th):
— To celebrate Virginia Beer Co's Three Year Freeversary, this year the brewery is debuting multiple Waypost variants across two weekends of release parties. Five barrel-aged Waypost offerings will grace our taps in March with a very limited number of bottles of each recipe releasing – first on Saturday, March 9th (3x releases) and then on Saturday, March 16th (2x releases).
Each release party will feature live music and a food truck in addition to draft samplings for here and limited bottle availability for takeaway. Bottle limits and food/entertainment details will be shared shortly. We look forward to raising a glass (or five) to celebrate another amazing year of beers & cheers!
— Waypost Anniversary Imperial Stout // 10.4% ABV A big offering to celebrate a big milestone: the anniversary of The Virginia Beer Company! Originally released in March 2017 for VBC's 1-year anniversary, Waypost Anniversary Imperial Stout returns in March of each year to celebrate another year of beers & cheers!
A dark base blending hefty amounts of Chocolate Malt, Roasted Barley, and Midnight Wheat creates a robust, jet black beer softened with additions of Flaked Oats. Waypost is inextricably linked to its barrel-aged variants, which change every year to commemorate new adventures and new flavors, by unifying accents of chocolate on the finish.
More via Facebook: https://www.facebook.com/events/2035805496515557
Contact Info
Company: The Virginia Beer Company
Contact: Robby Willey
Email: social@virginiabeerco.com