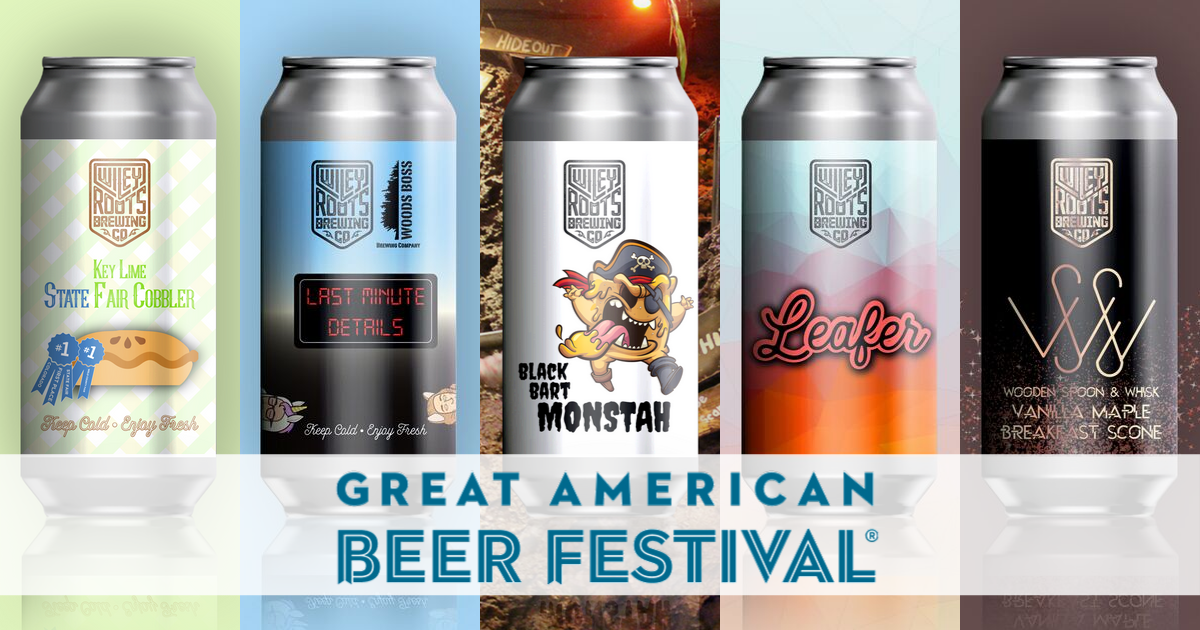 Wiley Roots Announces Great American Beer Festival Events
GREELEY, CO – Wiley Roots Brewing Company released their full event schedule today for the Great American Beer Festival, including a special on site release at the brewery. On Tuesday, October 1 at 12 pm, Wiley Roots will open their doors for a Buy-One-Get-One (BOGO) industry celebration of Slush, the brewery's popular sour ale series. Wiley Roots is normally closed on Tuesdays, making this a very special event. All industry personnel, from brewers, to owners, to sales, to packaging are invited to the brewery to enjoy BOGO full pours of Slush from 12-6pm. This will include Imperial Slush variants, double fruit Slush variants, and new Slush variants. Customers that are not affiliated with the craft beer industry will have an opportunity to enjoy ½ priced beers on the same day as part of the brewery's October Train Beer promotion. Wiley Root's Train Beer is a local discount that has gained a loyal customer base over the past year, offering discounts on beer every time trains pass.
Then on Wednesday, October 2 at 12pm, Wiley Roots is releasing six new beers, including four on site and to-go and two on site only. Every year, Wiley Roots releases their most creative and new beers the day before the Great American Beer Festival. This year, the brewery will release Last Minute Details, a New England Double IPA collaboration with Woods Boss Brewing Company; Key Lime State Fair Cobbler, an Imperial Milkshake Sour IPA with puréed key limes, with graham cracker, cinnamon, vanilla, and milk sugar dry hopped with mandarina bavaria and lemon drop hops; Wooden Spoon & Whisk: Maple Vanilla Breakfast Scone, an Imperial Stout with Maple Syrup, Vanilla, and Milk Sugar; Leafer, a German Amber Lager with Vienna malt, Munich malt, and Northern Brewer hops with a clean malt flavor, balanced hop character, and smooth finish; and Black Bart Monstah, Imperial Sopapilla Stout with Cinnamon, Burnt Sugar, and Honey inspired by Casa Bonita's Black Bart's Cave and famous sopapillas.
To end the week, Wiley Roots will join 60 other breweries from across the country at the 11th Annual Denver Rare Beer Tasting to raise funds for Pints for Prostates on Friday, October 4 at 12pm. The brewery will be pouring Nelson Sauvin Funk Yo Couch, the brewery's award winning farmhouse mixed culture saison series made with brettanomyces and dry hopped with Nelson Sauvin hops; and Vanilla Anonym, an Imperial Stout aged for 18 months in Breckenridge Bourbon barrels with Madagascar bourbon vanilla beans. Nelson Sauvin Funk Yo Couch and Vanilla Anonym are two of the most sought after beers Wiley Roots released this year, so both are expected to go quickly during the festival.
###
About Wiley Roots Brewing Company
Wiley Roots Brewing Company believes beer should be unique, crafted from the highest quality ingredients, and brewed with a sense of responsibility to the craft and to the surrounding community. We believe that brewing craft beer is an art and that it should be grounded in the core values of honesty, integrity, hard work, and the belief in one's ability to create and share. We are a small, independently owned brewery with a unique focus on mixed-culture, barrel aged, and spontaneous beers in downtown Greeley, Colorado. Our beers have been awarded medals at the Great American Beer Festival in 2018 (Silver), 2017 (Gold), 2015 (Gold), 2013 (Bronze), and 2017 (Silver) at the Mazer Cup International. Wiley Roots Brewing Company was founded by Kyle Carbaugh and Miranda Carbaugh and opened in the summer of 2013.
Contact Info
Company: Wiley Roots Brewing Company
Contact: Scott Davidson
Email: scott@wileyrootsbrewing.com