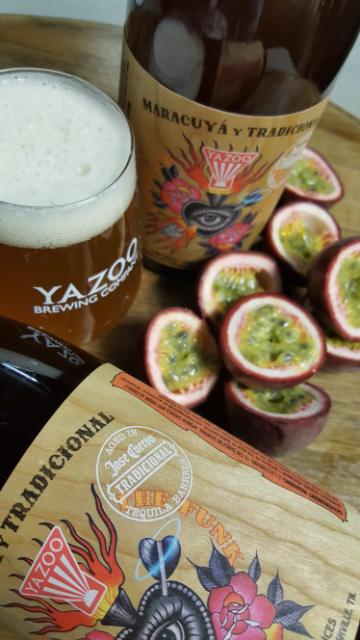 Yazoo Brewing Collaborates with Jose Cuervo on Passion Fruit and Tequila Strong Ale
Yazoo Brewing Company is pleased to announce at 3 p.m. CST on April 19, 2017, in the Yazoo taproom the release of an almost 2-year collaborative project with Jose Cuervo Tequila named "Maracuya' y Tradicional" (translated: Passion Fruit and Traditional Casks).The final product is a 9.9% abv Brettanomyces Golden Strong Ale with Passion Fruit aged in Jose Cuervo 100% Blue Agave Tradicional Resposado Tequila casks.
Head of Yazoo's Sour & Barrel aging program Brandon Jones says "Working with a legendary 200-year-old tequila producer on this project has been a very fun crossover into merging beer, freshly emptied tequila oak and wild yeasts. The beer has a big bright tropical fruit character that melds so well into the deep smooth character of the tequila casks. There are a lot of layers to this beer, it's definitely multiple beers in one bottle."
Maracuya y Tradicional is part of the Embrace The Funk line of beers and is packaged for taproom sales / limited local distribution in 750ml bottles with a real wood label. To celebrate this release (in addition to the 750mls)  the Yazoo taproom will also have 20 1.5L magnum bottles of this one-time collaboration available on a first come first serve basis.
To further the collaborative spirit, after emptying the oak tequila casks Yazoo then shipped them back to Mexico. Jose Cuervo is currently finishing a version of their 100 percent Blue Agave tequila in these same casks for a future special release of Embrace The Funk tequila.
Contact Info
Contact: Neil
Email: bjones@yazoobrew.com