The roots of American craft beer extend throughout the nation, but the bines of the movement are clearly embedded in the Pacific Northwest (PNW). It's there that hop farmers have cultivated not only a wealth of varietals but a thriving agricultural industry that provides brewers with 75 percent of the nation's piney, citrusy, tropical-tinged botanical gems. Hundreds of breweries—from decades-old trailblazers to recently minted upstarts—blanket the Washington and Oregon landscape like densely packed bubbles comprising the aromatic head atop one of the region's trademark IPAs. Here we present a quintet of standout operations to visit the next time you find yourself thirsting for authentic, local flavor in the Pacific Northwest.
WASHINGTON
1801 Birchfield Rd., Yakima (Brewery Taproom)
826 NW 49th St., Seattle (Bale Breaker & Yonder Cider Taproom)
The best way to get to know a brewing interest's beers is by venturing to the source. Perhaps no brewery offers such comprehensive insight into its liquid wares as Bale Breaker, a brewery situated smack dab in the middle of a fully operational, fourth-generation hop farm. It's from this fertile acreage that 100 percent of the hops for the company's beers are grown.
Hops are in this nine-year-old operation's DNA, and its portfolio reflects that. In addition to a septet of flagship beers highlighted by the Simcoe-, Citra-, Loral- and Mosaic-laced Topcutter IPA, Bale Breaker offers a Clarity Rarity series of experimental hazy IPAs and Homegrown Beers made with 100 percent estate hops and barley. Increased stylistic variety comes in the form of a year-round Pilsner and breakfast stout, plus collaboration beers released as part of Bale Breaker's Frenz Series.
Any time of year is ideal for enjoying a Field 41 Pale Ale in the middle of the hop-saturated plot it's named for, but Bale Breaker recommends visiting during the September hop harvest. That's when guests can learn the most about the company's unique farm-to-glass methodology from the comfort of a kid- and dog-friendly tasting room adjacent to a grassy outdoor area. Al fresco imbibing is also encouraged at Bale Breaker's fire pit-equipped Seattle taproom, which it shares with Yonder Cider. That partnership is another first-of-its-kind setup from a truly one-of-a-kind business.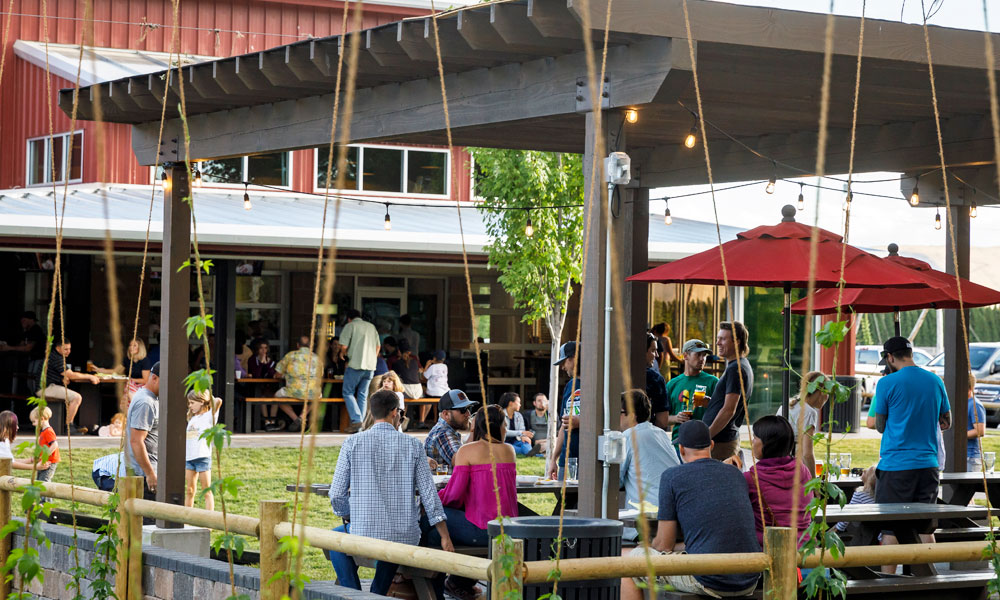 Pro Tip: Ask your bartender for the freshest beer from Bale Breaker's Imagination Station five-barrel pilot brewhouse. These beers are unique and often unavailable anywhere else.
Hours of Operation
Yakima: Tu.-Th., 3-9PM; F-Sa., 12-9PM; Su., 12-6PM
Seattle: Tu.-Th., 12-9PM; F-Sa., 12-10PM; Su., 12-9PM
---
5010 14th Ave NW, Seattle
Variety is the spice of life at Reuben's Brews. Located in Seattle's Ballard neighborhood, this family-owned brewery fashioned 150 different beers in 2021 alone, 87 of which were available in cans or bottles. That awe-inspiring quantity was marked by verifiable quality, with 30 of those beers—ranging from English to Belgian to German styles—medaling at numerous brewing competitions, including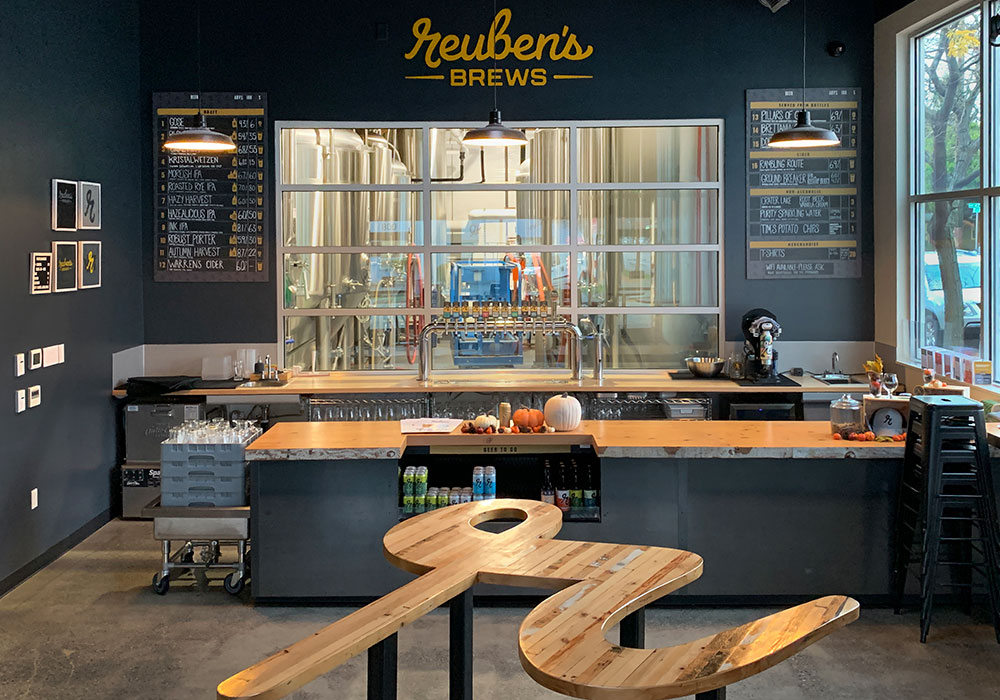 the prestigious Great American Beer Festival (GABF).
Reuben's Brews refers to its recipe-composition MO as "glass backwards," meaning the brewing team first focuses on the desired result, then works its way backward. The process is different from brew to brew and style to style, but the excellence across vastly different styles is a constant. The most challenging aspect of a visit to Reuben's Brews' tasting room is taking in the massive, 26-tap beer list, but friendly staffers guide guests through menu subsections—wild, sour, lager, pale, West Coast IPA, hazy IPA, Belgian, dark—to find beers (some served via beer engine or lager faucet) to match their palates.
The term "something for everyone" is often thrown around, but here popular hoppy ales, quaffable lagers, and high-octane barrel-aged stouts share space with Brett saisons, roggenbiers, and even the occasional house-made cider. Monthly "Thank You Thursday" events supporting local non-profits and beer releases benefitting charities through the Reuben's Brews Foundation provide more reasons to pay this insatiably creative suds spot a visit.
Pro Tip: This August, Reuben's Brews will celebrate its 10th anniversary, but throughout 2022, 10 special collaborations beers will be released to help keep the party going all year long.
Hours of Operation
Daily, 11AM-10PM
---
OREGON
3412 SE Division St., Portland (Beer Garden)
11517 SE Hwy 212, Clackamas (Brewery Tasting Room)
After decades spent plying his trade at Oregon ops Logsdon Farmhouse Ales, Full Sail Brewing, and Deschutes Brewery, brewer Charles Porter and his wife, Brenda Crow, established a PDX mom-and-pop in 2017. Dubbed Little Beast, it draws on Porter's multifarious experience with craft beers—both clean and funky—and offers them at a tasting room installed within a quaint, Craftsman-style home complete with a lawn, shaded porch, patios galore, and Kansas City-style BBQ produced in-house.
Little Beast's sours have proven to be a source of particular acclaim, and Porter splits them into two categories: long-fermented barrel-aged beers, and "quicker-turn beers." The latter differ from traditional kettle sours due to a proprietary process and exhibit a more balanced tartness that makes for more approachable beers, such as the passionfruit-infused Mr. Nice and strawberry-lemon summertime sipper Electric Sunshine. Standout examples of Porter's slower-burn creations include fruited (peach, nectarine, apricot) mixed-culture Golden Stone and the 100-percent Brett-fermented Fera saison.
Little Beast's clean beers include its bestselling West Coast IPA and American premium Pilsner, as well as a wide breadth of lagers (helles, dark, German, and Czech Pilsners), Belgian-style ales, and hazy IPAs. It also offers confection-inspired beers from the Maker's Series, in which Porter mimics local artisans' creations in beer form as he did with Salt & Straw's salted, malted, chocolate chip cookie dough ice cream. It's another example of this seasoned vet continuing to innovate.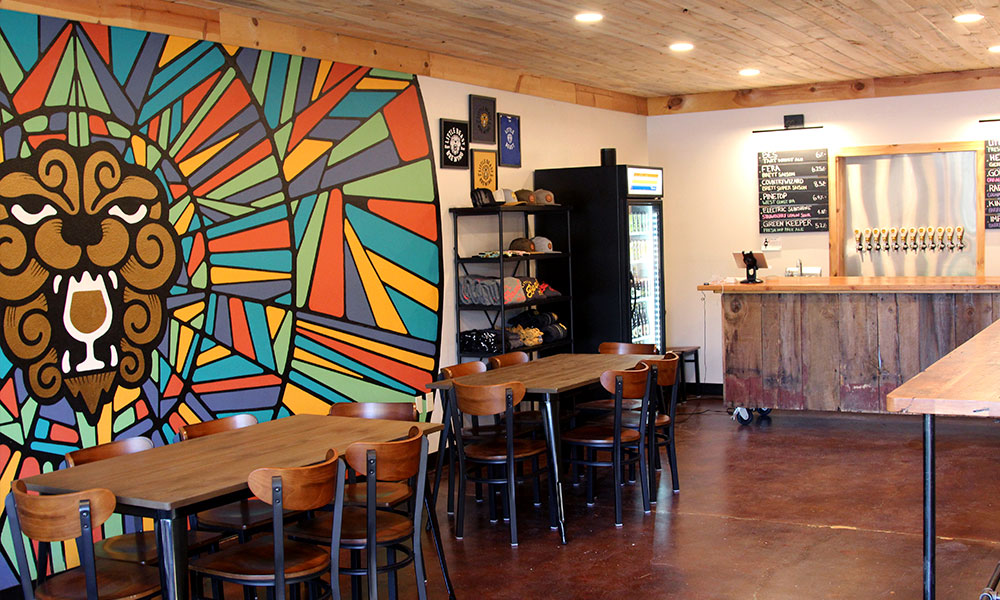 Pro Tip: Visitors to Little Beast's brewery may get to sample rare offerings from the Guardians of Funk bottle club, including spontaneous beer and bold barrel-aged strong ales.
Hours of Operation
Portland: M-Th., 1:30-9PM; F, 1:30-10PM; Sa., 12-10PM; Su., 12-9PM
Clackamas: Th.-F, 3-8PM; Sa., 12-8PM
---
707 Portway Ave., Ste 101, Hood River
Old World inspiration drove the establishment of pFriem Family Brewers. A decade ago, long before the American Pilsner renaissance, founder Josh Pfriem designed a brewery ideally suited for crafting that style. It has gone on to become the company's biggest award winner (right behind its GABF silver medal-winning IPA) and fits in perfectly with pFriem's similarly to-style German, Belgian, English, and American beers, all of which are served in proper glassware at this cut-above brewpub. A four-time winner for Best Brewpub at the Oregon Beer Awards, pFriem Family Brewers has a choose-your-own-adventure appeal.
Replete with reclaimed wood from the Columbia River Gorge, the main dining room gives way to The Bear's Den with its underground Belgian beer bar décor. From there, guests can gravitate toward an open-air patio or ascend to the Library space to enjoy views of Hood River's waterfront. No matter one's seating choice, a menu stocked with seasonally driven, European, and PNW-inspired fare such as moules frites, Flemish beef stew, and a pimento cheeseburger awaits, along with an eclectic draft list more than 20 taps strong.
To date, pFriem has brewed nearly 150 different offerings, from hop-forward ales to balanced lagers, farmhouse and mixed-fermentation beers, spirit- and wine-barrel-aged specialties, and just about everything in between. They also delve into trendy styles, but at the heart of it all this is a brewer's brewery honoring time-tested styles and techniques of the Old World from an inspired New World locale.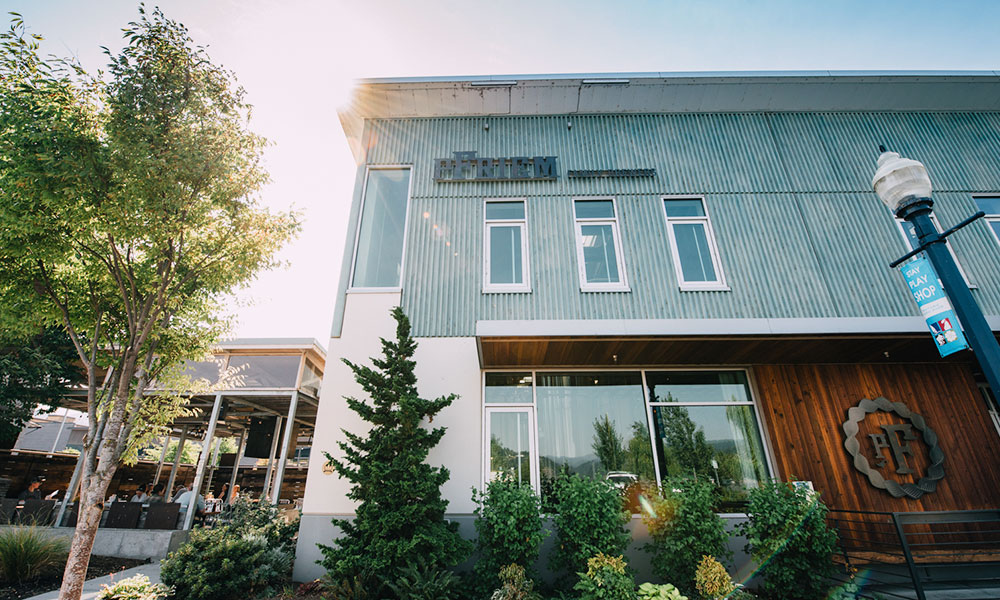 Pro Tip: Often (especially on the weekends) pFriem is at capacity, but there are numerous spots to have a beer while you wait, including a family-friendly park across the street.
Hours of Operation
Normal Hours: Daily, 11:30AM-9PM
Summer Hours (Memorial Day to Labor Day): Daily, 11AM-10PM
---
1009 NW Galveston Ave., Bend
It takes a lot to draw a consistent crowd with the original 10 Barrel brewpub just a block away and Bend favorite Sunriver Brewing next door, but such is the allure of Boss Rambler Beer Club. Established in 2019, this newcomer has built a fast following behind a portfolio of beers reflective of modern-day tastes, particularly those of younger beer drinkers. That of-the-moment appeal extends to its tasting room, which is naturally lit, accented by pastels, and flush with old-is-new artistic appeal.
Until this year, Boss Rambler's beers were contract-brewed, but husband-and-wife owners Matt and Kate Molletta recently acquired their own brewery. Now that facility supplies the company's après ski-ready taproom with heavily dry-hopped IPAs both hazy and clear, lagers (including hoppy and Mexican varieties), pastry stouts, and super-fruited quick sours. The latter are split into two lines—the cocktail-inspired Chill'r series and the Purée Vida family of extra-thick delights—and released throughout the year.
While beer traditionalists (read: older drinkers) could mistake Boss Rambler as exclusively Gen-Z, its inviting indoor-outdoor space draws drinkers of all demographics. Part of that phenomenon likely has to do with the openness and non-conformity of Bend's populace, but beers with wider appeal like those of the Stokes classic lager series and IPAs with brilliant tropical, citrus, and stone-fruit bouquets and flavor profiles to match are the primary attraction for all who frequent this impressive up-and-comer.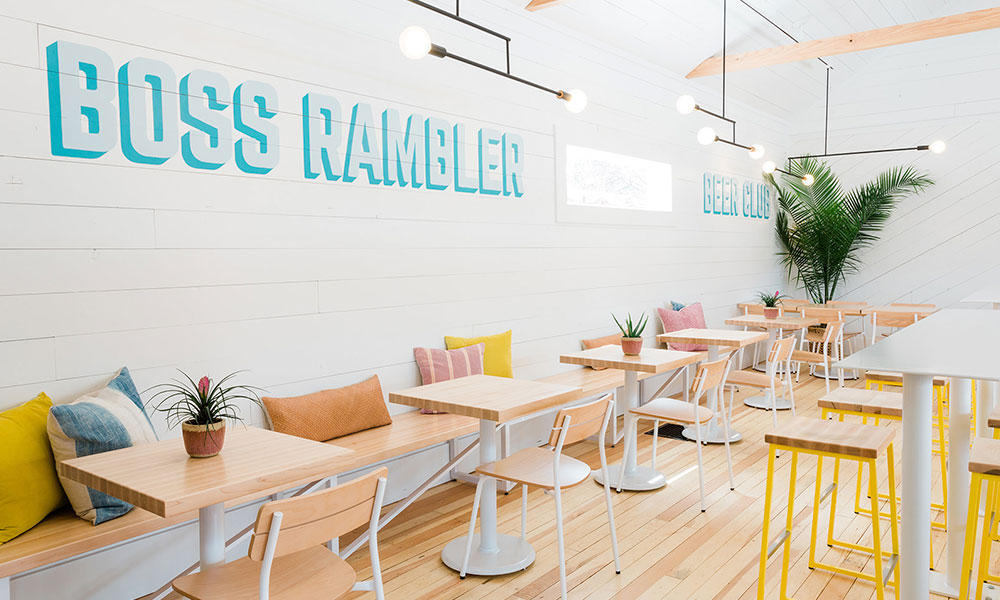 Pro Tip: In addition to beer, Boss Rambler offers "boozy slushies" such as a POG (passionfruit, orange, guava) Rosé cooler, scoring major points with fans, especially on hot days.
Hours of Operation
M-Th., 1-8PM; F-Su., 12-9PM
CraftBeer.com is fully dedicated to small and independent U.S. breweries. We are published by the Brewers Association, the not-for-profit trade group dedicated to promoting and protecting America's small and independent craft brewers. Stories and opinions shared on CraftBeer.com do not imply endorsement by or positions taken by the Brewers Association or its members.