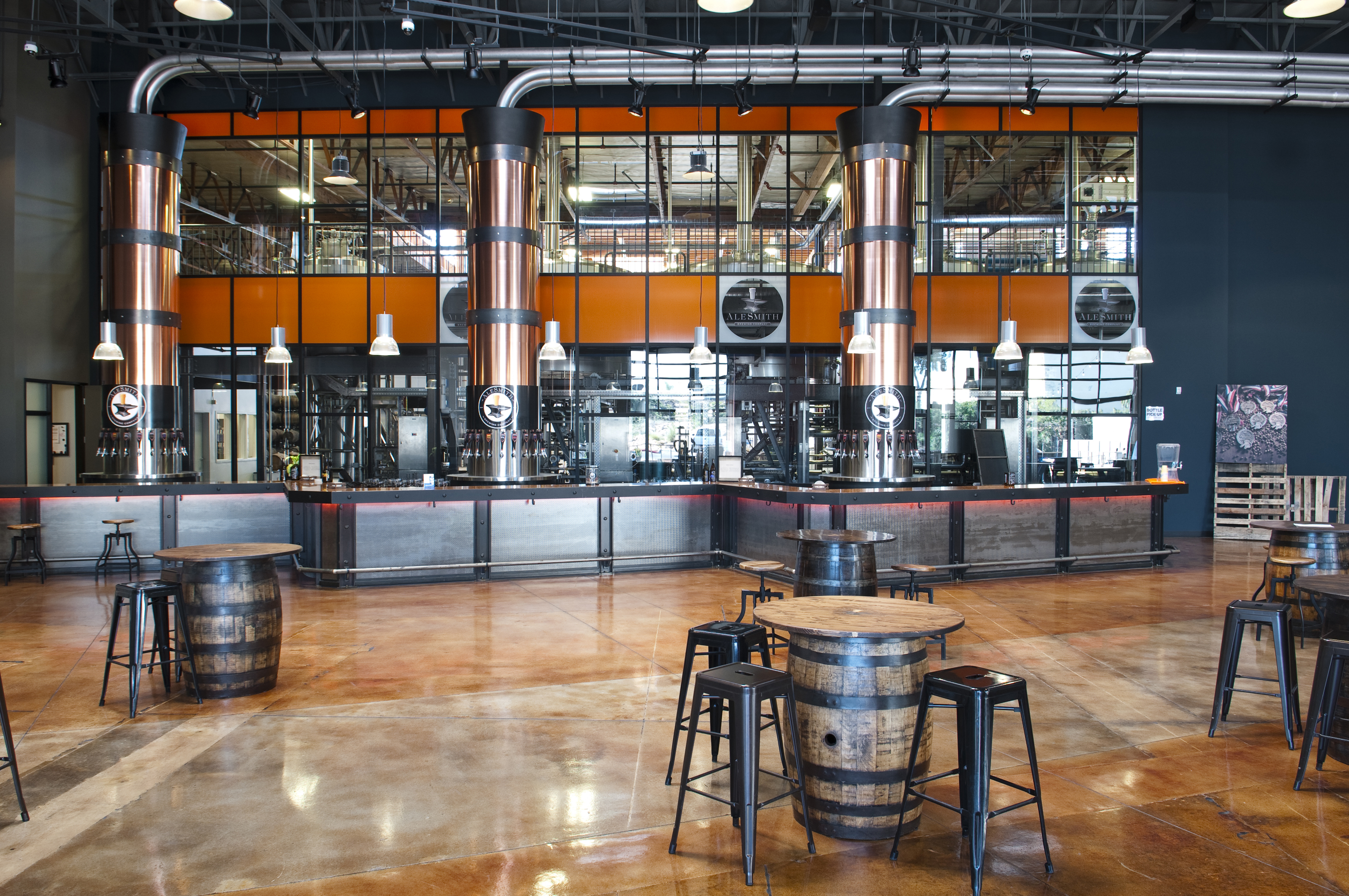 AleSmith Opens San Diego County's Largest Brewery Tasting Room
AleSmith Brewing Co.'s long awaited, 25,000-square-foot tasting room opens to the public and includes myriad unique features in keeping with brewery's hand-forged ethos
San Diego, California (October 26, 2015) — After more than a year of intense design and construction, AleSmith Brewing Company has opened the doors to its brand new, 25,000-square-foot tasting room at 9990 AleSmith Court in San Diego's Miramar community. This highly anticipated project comes at the tail-end of the award-winning craft brewery's twentieth year in business. The largest tasting room in San Diego County, the indoor-outdoor space is replete with unique features, including a zigzagging bar giving way to a trio of massive copper tap towers and a view of a custom-built, two-story brewhouse behind glass panes stylishly frosted over with AleSmith's anvil logo.
"Our twentieth year has been momentous with us moving into a much larger facility that will allow us to increase our production ten-fold, but the biggest thrill for us in this process is being able to provide a world-class place to share our beer with the fans who played such a vital role in making AleSmith what it has become," says owner and CEO Peter Zien. "Just like with our beers, we were meticulous in the conceptualization of every aspect of our new tasting room. We wanted it to be an extension of what we are—a group of devout artists sharing a common respect and appreciation of the brewer's art for all to enjoy."
A hand-forged aesthetic combined with user-friendly elements rules over the interior. The bar is topped with marble patterned in AleSmith's orange-and-black color scheme and framed in steel with distressed panels, fluorescent under-lighting, outlets for mobile device charging, purse-hooks and foot-rails held in place by anvil-shaped fasteners. Beyond it are three identical, copper-plated towers channeling beer directly from a refrigerated storage space located outside of the tasting room. Indoor furnishings include tables fashioned from wooden pallets and wood-and-metal barstools, providing a great deal more seating than the company's former sampling space.
To put the immensity of the new space in perspective, AleSmith's original tasting room comprised 750 square feet of purely interior space and featured a single set of 15 taps. The new venue is equipped with 60 taps, dispensing roughly two-dozen beers with roughly 20,000 square feet of interior space and 5,000 square feet available via an outdoor beer garden. The latter is anchored by a contemporary fire pit and accented by drought-resistant plant-life. The exterior space is bordered by a steel rail bar allowing for access to food trucks and other on-site edible vendors.
But this is just the beginning. The aforementioned features represent the completion of Phase 1 of this project. Future phases will include the addition of a beer garden bar, upstairs mezzanine area, company store, private event space and a museum honoring the memory of San Diego Padres great Tony Gwynn built in association with the Hall of Famer's family and non-profit, the Tony and Alicia Gwynn (TAG) Foundation. Phases 2 and 3 of this ongoing project are scheduled to be completed in 2016.
#          #          #
QUICK TASTING ROOM FACTS
Address: 9990 AleSmith Court (formerly Empire Street), San Diego, California 92126
Architect: Marcatects and Smith Consulting Architects
Contractor: R&R Construction
Project Management: Urban CM Group
Square Footage (Interior/Exterior): 20,000 indoors / 5,000 outdoors
Maximum Capacity (Indoor/Outdoor): 475 indoors
Total Number of Taps: 60
FUTURE PHASES
Phase 2
Installation of a satellite Beer Garden Bar
Construction of a "Dugout" room featuring reserved seating for "VIPs" and a rentable space for private events
Construction of Tony Gwynn Pavilion featuring rotating memorabilia from Mr. Padre's Hall of Fame career, years at SDSU and early days in little league to be built in conjunction with the Tony and Alicia Gwynn (TAG) Foundation via numerous fundraising events and campaigns
Finalization of a Company Store (an interim retail store will be operative during Phase 1) where merchandise and beer-to-go will be available
Phase 3
Construction of an upstairs indoor/outdoor Mezzanine with its own dedicated bar and additional seating accessible from a grand staircase
Build-out of Reception Area, Administrative Offices and Conference Rooms
#          #          #
ABOUT ALESMITH BREWING COMPANY: Forged in 1995, AleSmith has been recognized by consumers and critics alike as one of the world's foremost craft brewing companies behind accolades that include medals won at prestigious national and international beer competitions as well as being named Small Brewing Company of the Year at the Great American Beer Festival. AleSmith is celebrating its 20th year in business while simultaneously completing the first phases of its expansion into a 105,500-square-foot, state-of-the-art brewery featuring a new 80-barrel brewing system that will allow the company to increase its production ten-fold. The expansion will also include an expansive, two-story tasting room complete with an outdoor beer garden as well as private rooms and a museum dedicated to San Diego Padres legend Tony Gwynn. AleSmith's line of acclaimed beers, which includes Speedway Stout, Wee Heavy, Olde Ale and .394 Pale Ale, is distributed in 19 U.S. states and three countries. The company's social media channels include Facebook, Twitter and Instagram (@AleSmithBrewing), and its official website URL is—http://www.alesmith.com.
Contact Info
Company: AleSmith Brewing Co.
Contact: Brandon Hernández
Email: brandon.hernandez@alesmith.com