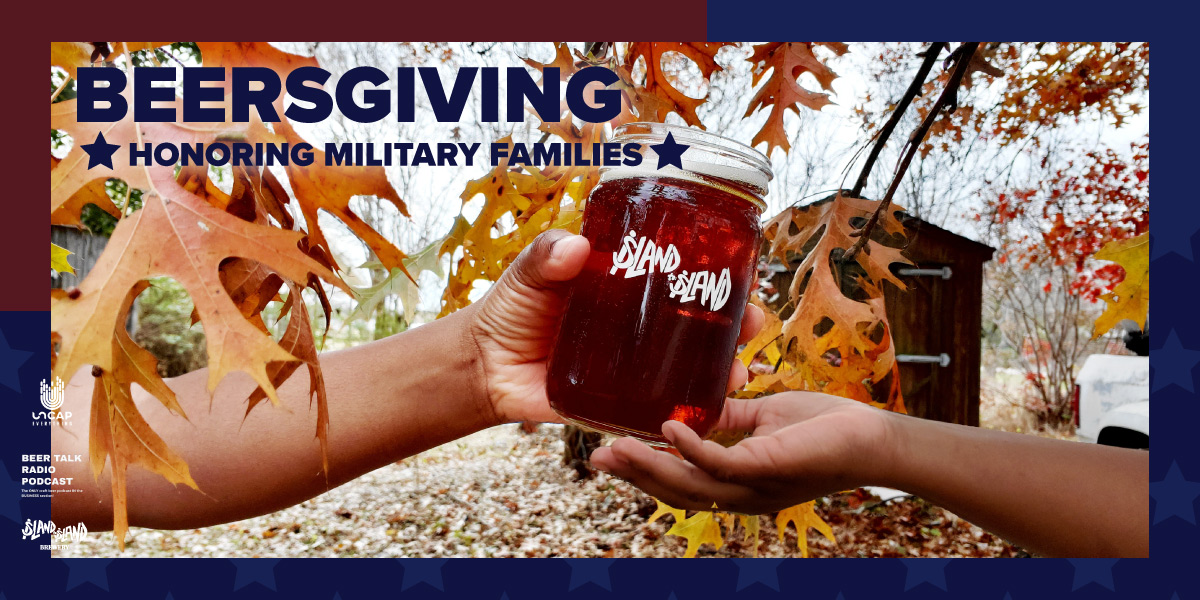 Annual Beersgiving Event Plans to Create Joy While Honoring Military Families this Holiday Season
Dallas Fort Worth, Texas — Co-Curators Danii Oliver and Eric Jackson are introducing Beersgiving, our annual unsung voices fall festival, held every November. As we enter the holiday season, Island to Island hosts a campaign and event dedicated to giving thanks to important figures in American society who are rarely celebrated. 2019 we're highlighting "Military Family Appreciation" featuring craft beer pairings, giving BrewMasters, Culinary Artists and Entertainers the opportunity to share their craft outside of consumerism while giving thanks to the military families who support our veterans. Beersgiving 2019 is honoring military families will tie into showcasing how craft beer & brewery spaces are a Medium and NOT a Vice that can bring families together alongside the diverse and inclusive community building the craft beer industry is championing.
"I've felt that I would have to choose between my military career or my career in the beer industry.  Beersgiving shows me that my fight is bigger than me. Beersgiving inspires me to keep working hard in my lane. This does such great things by connecting people from all walks of life under two common bases."
– Sergeant Peters (Army Sergeant & Head Brewer: Montgomery, AL)
We're trying to showcase to the industry another way to enjoy craft beer as a medium to bond with community, friends and family as a support system not a vice. High performing individuals are often stressed out from the grind of working dangerous or high demanding jobs they are otherwise passionate about. Industry professionals don't always get the luxury of enjoying events they are tasked with working. Veterans don't always get the luxury of enjoying the holidays with families. Beersgiving is a step back from all the grind of consumerism to give thanks to the families whose sacrifice makes it possible for us all to live the American dream free to craft and manufacture the future while sharing the fruits of our labor.
"More often than not wholesalers or consumer sales trends dictate what an owner allows a brewer or chef to produce. This event breaks free from daily expectations and competitor comparison to showcase how impactful once in a lifetime experiences can bring value."
– Danii Oliver (Navy Daughter & Brewery Owner: Fort Worth, TX)
Black Friday November 29th 2019, featured brewers and chefs will come together to co-create pairings that induce feelings of euphoria and bring joy. Chefs will produce tapas plates (meat or vegan based on guest preference) to pair with a Brewer's passion beer. During the experience co-crafters will sit at the guest table telling their story one course at a time for an intimate diverse experience. VIP guests attending Beersgiving will be picked up from DFW airport and transported to a secret location in the Dallas/Fort Worth countryside.
Throughout "National Military Family Month" we will be sharing conversations with military family honorees as they express thankfulness. Sharing their voices, stories and bringing them to the table to honor their sacrifice and support of our Veterans.
 "It is important to me to have real human connection. The type of get togethers that most people enjoy no longer serve me. Addiction and bad behavior are a turn off to me. I've always preferred a small dinner party to anything else. I want to be able to hold meaningful conversations. I want to be around children. I want to feel safe. This Beersgiving event gives me a chance to do all of that alongside my fellow Patriots. I'm tired of the gluttony surrounding Thanksgiving. I'm embarrassed by the behavior surrounding Black Friday shopping. Beersgiving allows me the honor of serving a group of people who have made sacrifices I respect, doing what I love to do, and finding the human connection I so desperately crave. "
 – Jenny the Queen of Beers (Airforce Daughter & Chef: Oakland, CA and Las Vegas, NV) 
###
About the Presenters:
Eric Jackson, founder of Uncap Everything: Eric is a Richmond, VA based craft beer lifestyle experience leader dedicated to educating others on beer history and styles. Eric travels across the country as a beer journalist reviewing breweries and their beers, curating beer festivals and running Capsoul – a Collective, energetically assisting to diversify craft brewery taprooms while expanding palates through the platforms of speaking engagements, monthly podcasts, a print magazine and Hop Crawls.
Jenny the Queen of Beers, host of Beer Talk Radio: Jenny spends time in both Oakland, CA and Las Vegas, NV as a traveling chef. She has extensive experience in fine dining and corporate dining. Jenny's specialties are whole animal butchery, Japanese, Northern Italian, Mexican, Classic American, BBQ/Smoking, and steakhouse cuisine. Jenny is known in two states for her humor, passion and her merciless ability to shine light on incompetence. She hasn't been nick-named by her co-workers as "Beast", "Yakuza" and "The Enforcer" for nothin!
Danii Oliver owner of Island to Island Brewery: Danii's brewery taproom was named the most welcoming taproom in all of New York after years of grinding it out in the big city proving she could build a business on the pioneering concept of serving American diversity with a side of family. Danii is now expanding Island to Island into the Friendly state of Texas as an estate brewery with its own permaculture farm making this farm brewery better able to build on its mission – following the seasons & honoring family tradition – while crafting Indigenous American craft beer alongside non-alcoholic fermented beverages.
RSVP link: islandtoislandbrewery.com/beersgiving