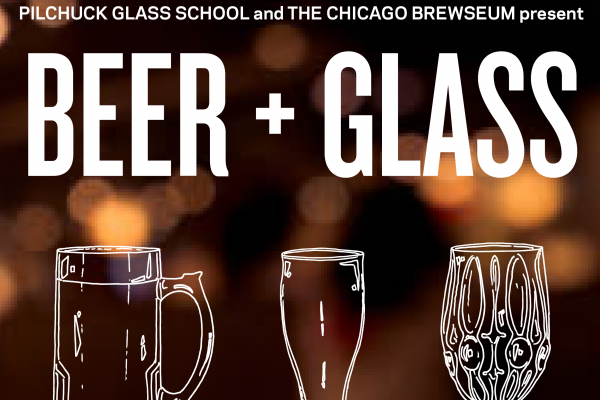 Beer + Glass: An Exhibition at Pilchuck Glass School
What happens when beer meets glass? Well, yeah, that. But wanting to dig a little deeper, the Chicago Brewseum partnered with the world renowned Pilchuck Glass School in Seattle, Washington. The result is a delicious collaborative exhibition celebrating the relationship between beer and glass.
Beer + Glass is a month long art exhibition that features amazing interpretations of historic beer glassware styles and will officially debut on September 5, 2019. Join us at Pilchuck's downtown Seattle gallery and be the first to see this unique blend of history and artistry. The evening reception includes a brief conversation with artists and representatives from Pilchuck Glass School and the Chicago Brewseum including beer expert Randy Mosher. Guests will also have the chance to purchase the art either as individual glasses or as comprehensive sets.
If that's not exciting enough, in honor of this creative collaboration, our friends at Pike Brewing Company in Seattle and Forbidden Root Brewery in Chicago have brewed up a one time, limited edition beer to commemorate the occasion. We'll be releasing this beer as a celebration of Beer + Glass on August 15th in Chicago and September 5th in Seattle, so make sure not to miss it!
About the exhibit
Beer + Glass features modern interpretations of historic glassware. It will showcase a collection of work by Beccy Feather, Victoria Ahmadizadeh, DH McNabb, Michael Schunke, Ed Schmid, Keun Ae Song, and Tyler Gordon. Each artist was assigned a historic beer vessel style by beer expert and Chicago Brewseum National Advisory Board Member, Randy Mosher and was then asked to interpret and fabricate a set of 20 glasses. Tyler Gordon's abstract sculptural interpretations of glass bottles will be featured on Pilchuck's gallery walls. The exhibit will remain on display from September 5-27, 2019.
Contact Info
Company: Chicago Brewseum
Contact: Brian Alberts
Email: bmalberts@gmail.com