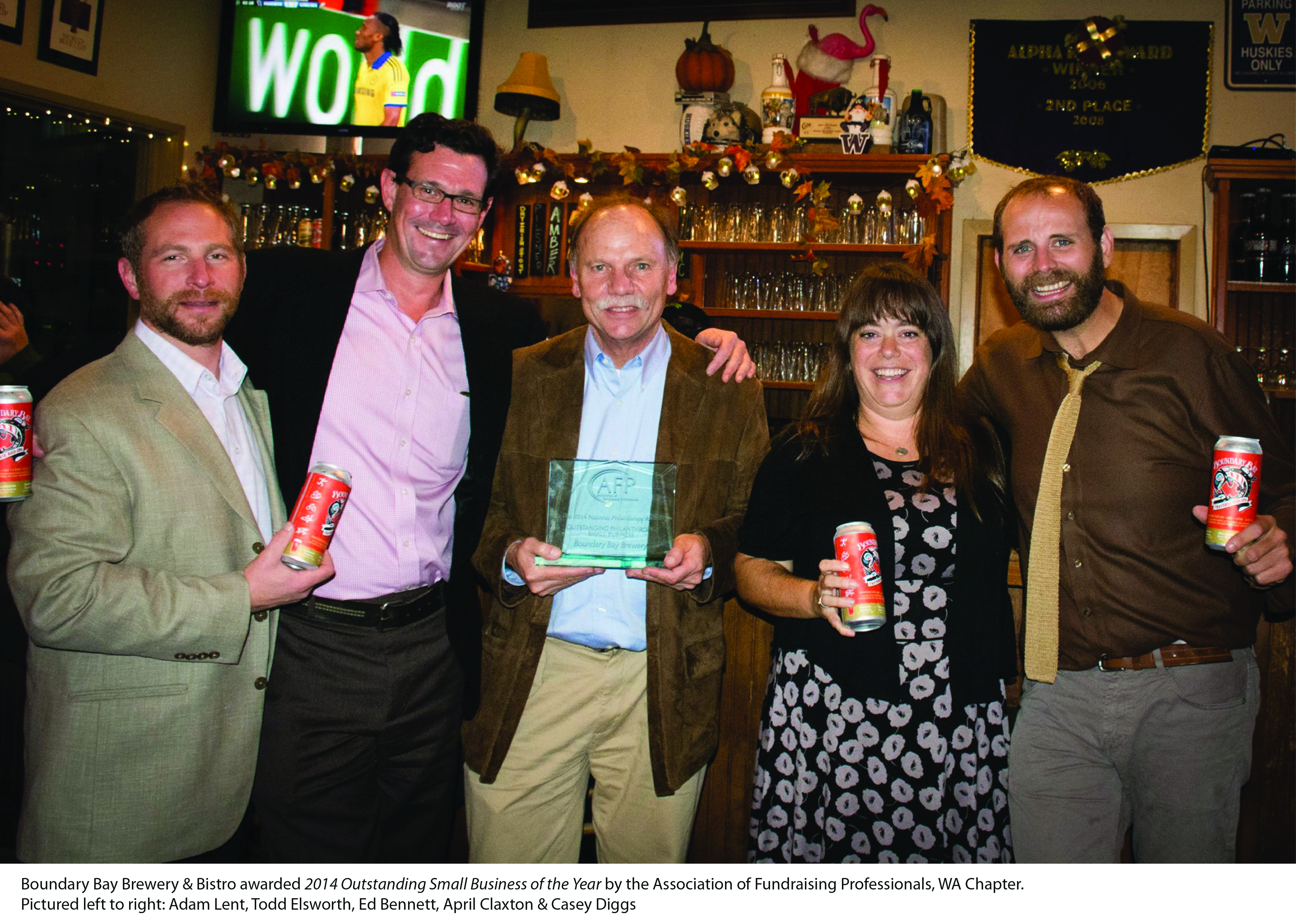 Boundary Bay Brewery Awarded Outstanding Philanthropic Small Business of Washington
Boundary Bay Brewery & Bistro awarded 2014 Outstanding Philanthropic Small Business of Washington State 
On Nov. 5, 2014, Owner Ed Bennett and General Manager Janet Lightner, were honored for their acts of generosity at the 26th annual National Philanthropy Day award ceremony at the Westin Seattle Hotel, where Boundary Bay Brewery & Bistro received Outstanding Philanthropic Small Business of the Year in Washington. [video]
Bellingham's oldest craft brewery and local hub, Boundary Bay boasts both crowds of locals and out-of-owners alike. A prominent destination venue, Boundary Bay was recently named Tourism Business of the Year by the Bellingham/Whatcom Chamber of Commerce and listed among the Matador Network's top 20 Breweries in the US. 
In 19 years of business, Boundary Bay has exemplified how a small organization and it's leaders can effectively impact community culture and local, economic sustainability. Supporting more than 100 non-profits annually, Boundary Bay showcases the value craft breweries bring to local communities. "Whether it be in the form of beer donations that help non-profit organizations raise funds, or greater involvement in events and causes, philanthropy and beer go hand-in-hand, which is just one more reason why a brewery is a valuable member of its community" asserts Kendall Jones of the WA Beer Blog, "No brewery embodies the spirit of community giving better than Boundary Bay Brewery & Bistro." 
The Association of Fundraising Professions receives nominations honoring philanthropic leaders throughout the state. Nominees of this award have illustrated the ways in which leaders of small organizations are connecting to their community on an intimate and unparalleled level. 
In nominating Boundary Bay for the award, Recreation Northwest Executive Director Todd Elsworth stated, "Since our signature multi-sport race, the Bellingham Traverse, began in 2002, Ed and Janet have worked closely with me to host an event that promotes our shared ideals of building community. We are grateful for the support they've given our organization, as well as so many others in Whatcom County, and we felt they were well-deserving of this honor." 
"We measure our success by the connections we build within our community," comments Lightner, "It's the customers and neighbors who make it possible for us to keep doing what we love. We are ever grateful & thankful for the tremendous support we've received over the years." 
Contact Info
Company: Boundary Bay Brewery & Bistro
Contact: Kate Rosengren
Email: Kate@bbaybrewery.com