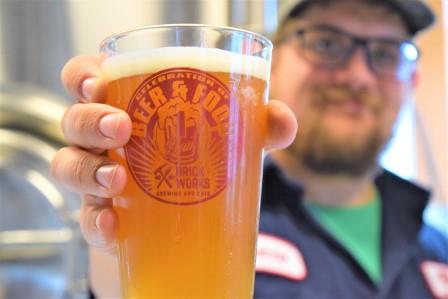 Brick Works Brewing and Eats to Celebrate First Birthday
Smyrna, DE – Brick Works Brewing and Eats will celebrate its first birthday over the weekend of June 9th-11th.
A wide variety of activities will be taking place at the brewpub in celebration of the milestone. Starting on Friday the 9th at 5pm, diners can celebrate Brick Works' first year with the release of "Princess Peach", a Peach Cobbler Ale. A photobooth will be on-site for pictures and Adam Murray will be playing the patio. Saturday, the brewpub will be going all out, hosting musical performances by Single Origin and Terreta Storm starting at 8pm. Finally, on Sunday, Brewer Justin Colatrella will host a Brewer's Brunch, featuring special menu items paired specifically with some of Colatrella's new brews.
Brewer Justin Colatrella stated, "We're excited to have been part of the town of Smyrna for a year and cannot wait to celebrate with many of our fans. Expect great things in year two!"
In the year since opening, Brick Works has garnered a reputation for producing innovative beers and high quality food dishes. The brewery side has been on the front end of a lot of brewing trends. Brick Works was one of the first breweries in Delaware to utilize the Vermont Ale Yeast strain and focus on New England style IPAs.  Justin Colatrella is also one of the only brewers in the area to consistently brew lagers, which are growing in the market.
On the kitchen side, focusing on locally sourced ingredients and relationships with local farmers has allowed Brick Works to separate themselves from traditional pub-style food.  The brewpub menu features local partners, such as Colvine Bison Farms, TA Farms, Fifer Orchards, and Camden-Wyoming Market, to create an ever-changing, seasonally appropriate menu.
For more information about Brick Works or further information on the first birthday party, visit brickworksde.com.
###
Brick Works Brewing and Eats was founded in 2016 as a partnership between Kevin Reading of Abbott's Grill and Eric Williams and Ryan Maloney of Mispillion River Brewing. Focused on producing the highest quality beers and menu items, the brewpub prides itself on utilizing locally sourced ingredients for both their beers and their foods.
Contact Info
Company: Brick Works Brewing and Eats
Contact: Lauren Bigelow
Email: lauren@mrbrewing.com