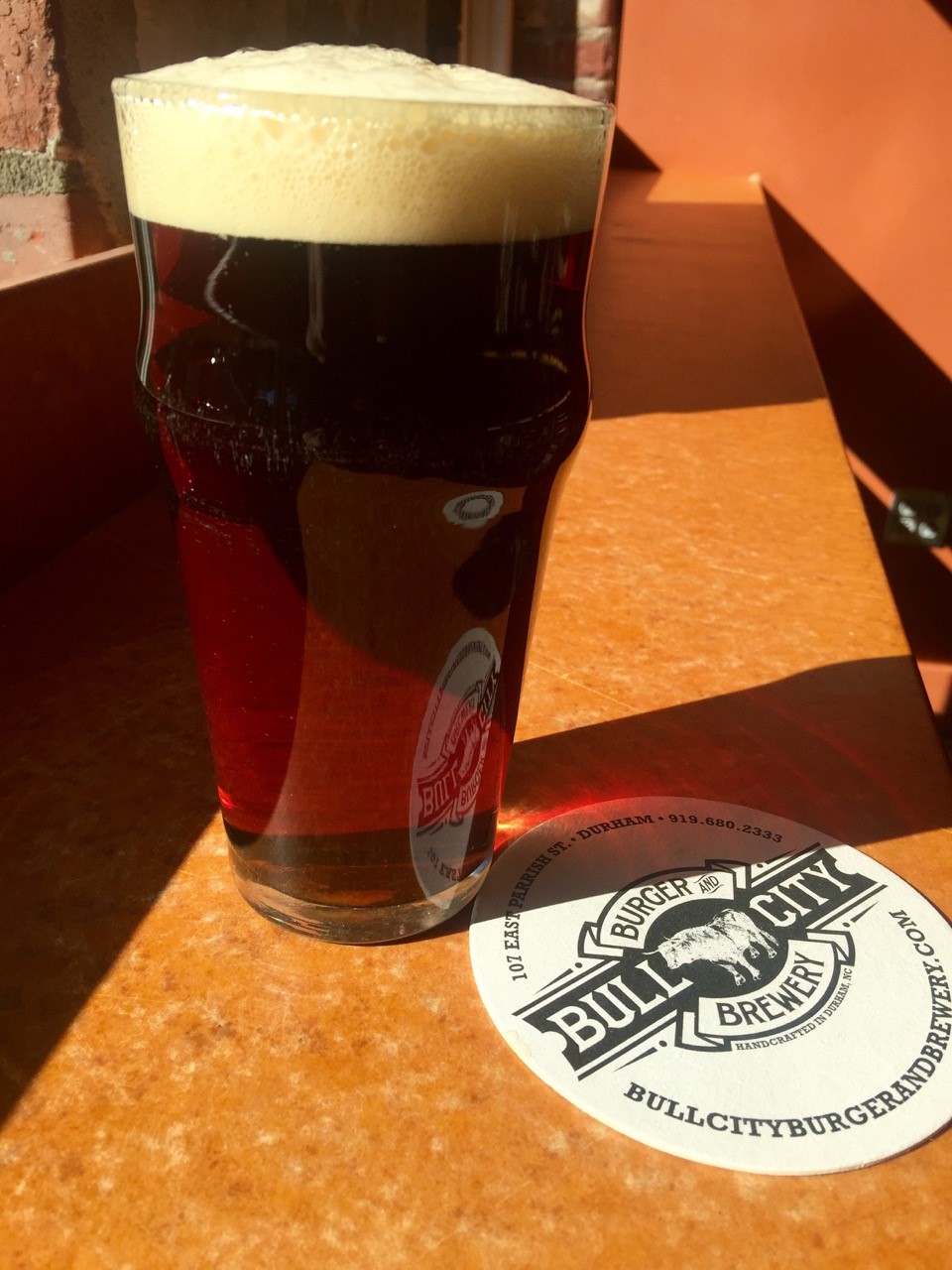 Bull City Burger and Brewery Unveils "Durhamer," A New Style of Beer
DURHAM, NC—The Czech city of Pilsen birthed Pilsener. In Germany, Dortmund invented Dortmunder. And New York gives us New Yorkers. Now Durham is home to Durhamer Ale, a new style of beer created by Bull City Burger and Brewery.
Brewed onsite, the ale uses North Carolina ingredients, including Durham water, Willamette hops from Cardinal Pine Farm in Wilson, and future batches will contain all NC malted barley from NC maltsters and all NC grown hops.  The first batch of this ale is rounded out with Nugget and Mt. Hood hops from Oregon.
A key component in any beer is the water. Water is the largest ingredient in beer and often is integral in defining the style. Durhamer uses high-quality water that originates in the county's Little River and Lake Michie reservoirs. The color of Durhamer is a deep "Burley" chestnut brown, a type of air dried tobacco and a nod to the city's tobacco history. With a bit more alcohol by volume than a session beer, Durhamer will be around 5.2% ABV with an emphasis on the biscuit and toasty qualities of brown malt just like Southern biscuits. Durhamer will have a hint of sweetness, reminiscent of Southern iced-tea and similar to that of a German style Dopplebock beer. Owner, Seth Gross explained, "we have been working on this for over a year after the idea came to me one night while contemplating the beer in my glass and the origins of style."
Long ago, beer styles were defined and created by brewers having limited ingredients within their geographic boundaries.  Similarly, this beer will showcase the ingredients we have locally to define the style and create something new. The parameters for this beer fall between an English Brown Ale and and American Brown. The alcohol level is higher than the English version, but less than an American. The flavor profile is more roasty rather than the caramel of a brown ale. Instead of adding a prefix or a suffix to a known style, such as creating a Black IPA or an IPL, we have created a new style from the ground up.
Bull City Burger and Brewery has issued a friendly challenge to the other local Durham breweries to brew their similar versions of Durhamer in the next year. The brewers have expressed great interest in making Durham's signature beer. Over time the style will become associated with the city of Durham. Just as other great beers have become associated with their cities, Durhamer will grow to become Durham's beer.
Durhamer
Color: Burley chestnut brown
ABV: 5.2%
IBU: 25
SRM: 22
Original Gravity: 14.2º P
Yeast: Ale
Since 2011, Bull City Burger and Brewery has been serving a wide range of in-house ales and lagers, plus locally sourced, pastured-raised beef.