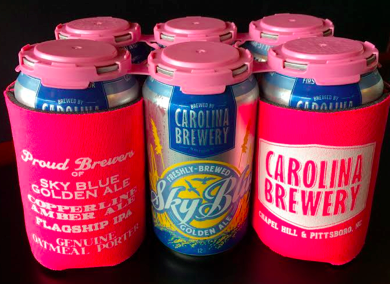 Carolina Brewery To Launch Limited Edition "Sky Pink" Golden Ale in October for Breast Cancer Awareness Month
The Chapel-Hill Based Brewery Invites Guests to #DrinkSkyPink
For Immediate Release—Throughout Breast Cancer Awareness Month in October, Carolina Brewery will raise awareness and funds in support of Susan G. Komen® by transforming its popular "Sky Blue Golden Ale" into "Sky Pink Golden Ale." Susan G. Komen® is a non-profit organization dedicated to saving lives and ending breast cancer forever. The first brewery in the triangle area and fifth in North Carolina, Carolina Brewery is a pioneer for craft brewing throughout the country, and the brewery is celebrating its 20th anniversary this year.
Sky Pink cans will be available in limited-edition six-packs with pink can tops, courtesy of PakTech®, at participating retail locations throughout North Carolina and South Carolina. The much-loved Kölsch style ale will also be available on draft at Carolina Brewery's two brewpub locations—the original in Chapel Hill, N.C. and the Pittsboro, N.C. location opened in 2007—and participating restaurants throughout the Carolinas.
Events to look forward to:
· October 1st, 2015 — Sky Pink "Pint Night" Launch Event at both brewpubs. $1 pints of Sky Pink.
· October 10th, 2015 — Oktoberfest 5k Run at Mary Hayes Barber Holmes Park in Pittsboro, N.C. Day-of registration will begin at 9:30am, with the race starting at 10:30am. Carolina Brewery's Pittsboro brewpub will host an after party from 12-4pm, featuring Oktoberfest beer, bratwurst, kids activities, live music, and more. A portion of the proceeds from race registrations benefit Susan G. Komen®. Tickets are $15 – $25 and available here.
· October 10th, 2015 — Sky Pink at the World Beer Festival
· October 17th, 2015, 8am-5pm — Carolina Brewery sponsors "Fish Like a Girl" Koru Village Fishing Tournament at Avon Fishing Pier, Cape Hatteras, N.C. The first annual tournament is part of Koru Village's yearly "Turn the Village Pink" campaign for Breast Cancer Awareness Month. Women of all ages can enter for $30, and cash prizes will be awarded to 1st, 2nd, and 3rd place winners. Net proceeds will benefit Hatteras Island Cancer Foundation. Sky Pink will be served during the event and after at Koru Village's Pangea Tavern.
· Sky Pink pint glasses, koozies, and hats will be available throughout the month at Carolina Brewery.
"Sky Blue Golden Ale is one of our most popular, flagship beers, and we're thrilled to support breast cancer awareness and research through the inaugural 'Sky Pink' campaign," said Robert Poitras, Cofounder of Carolina Brewery. "We hope this will spark an annual tradition to look forward to each October, for many years to come."
"We are appreciative of the support that Carolina Brewery is providing to end breast cancer forever in our community," said Pam Kohl, Executive Director of Susan G. Komen North Carolina Triangle to the Coast Affiliate (NCTC). "Their donation, and yours, will make a difference in the lives of women and men in our 29 North Carolina county service area."
Carolina Brewery's breast cancer awareness efforts will culminate in a donation to Susan G. Komen® NCTC Chapter at a check ceremony on November 10th at their Chapel Hill Brewpub.
Since Carolina Brewery's founding in 1995, the number of craft breweries in the region has exploded, with over 120 in North Carolina alone. Carolina Brewery's unique strength lies in its rich history—while the company has grown over the past two decades, its mission remains the same: to brew the highest quality craft beer, made using only the best ingredients and techniques.
About Carolina Brewery Cofounded in 1995 by Robert Poitras, Carolina Brewery is a North Carolina institution with two brewpub locations in Chapel Hill and Pittsboro, each serving fresh, made-from-scratch entrees using local ingredients. The brewery is the fifth oldest in the state, and a pioneer for craft brewing throughout the country. Carolina Brewery has received numerous accolades in the press and at respected beer festivals throughout the world, including the gold medal at the Great American Beer Festival, over a dozen medals at the World Beer Championships, and many more. A graduate of the Siebel Institute of Technology & World Brewing Academy in Chicago, Jon Connolly has served as Carolina Brewery's Brewmaster for 20 years. Carolina Brewery's beers are available at restaurants, bars, and shops offering craft beer throughout the Carolinas and Tennessee. For a full list of Carolina Brewery's handcrafted beers, all of which are brewed in-house, please visit the website.
About Susan G. Komen® Since its inception in 1997, Komen NCTC has invested over $15 million to the local community organizations funding breast cancer education, screening, treatment and support. Seventy-five percent of net funds raised are invested back into the local community. In 2015, the local Komen Affiliate, provided more than $550,000 to12 local organizations, serving more than 52,000 individuals through outreach and breast health. The remaining 25% of net proceeds are given to the National Susan G. Komen to fund research. To date, they have invested over $1.7 billion in research and community programs around the world. Susan G. Komen NCTC is a private 501(c)(3) not for profit organization and welcomes individual and corporate contributions. Please note per Susan G. Komen operating guidelines donations directly derived from a percentage of alcohol sales are prohibited. Donations may be sent directly to: Susan G. Komen NCTC, 600 Airport Blvd., Ste 100, Morrisville, NC 27560. The Komen name and logo is trademarked. Any use without express written permission is illegal. Please contact us directly at info@komennctc.org if you have any questions about the use of the Komen logo or if you would like to host your own fundraiser. We thank you for your help in ending breast cancer!
carolinabrewery.com | #DrinkSkyPink
460 West Franklin Street Chapel Hill, NC 27516 919-942-1800
120 Lowes Drive, Suite 100 Pittsboro, NC 27312 919-545-2330
Facebook Twitter: @CBreweryBeer (beer) | @CarolinaBrewery (brewpub) Instagram: @CarolinaBreweryBeer Untappd
Contact Info
Contact: Brigette Rothenberger
Email: brigette@bluehominy.com