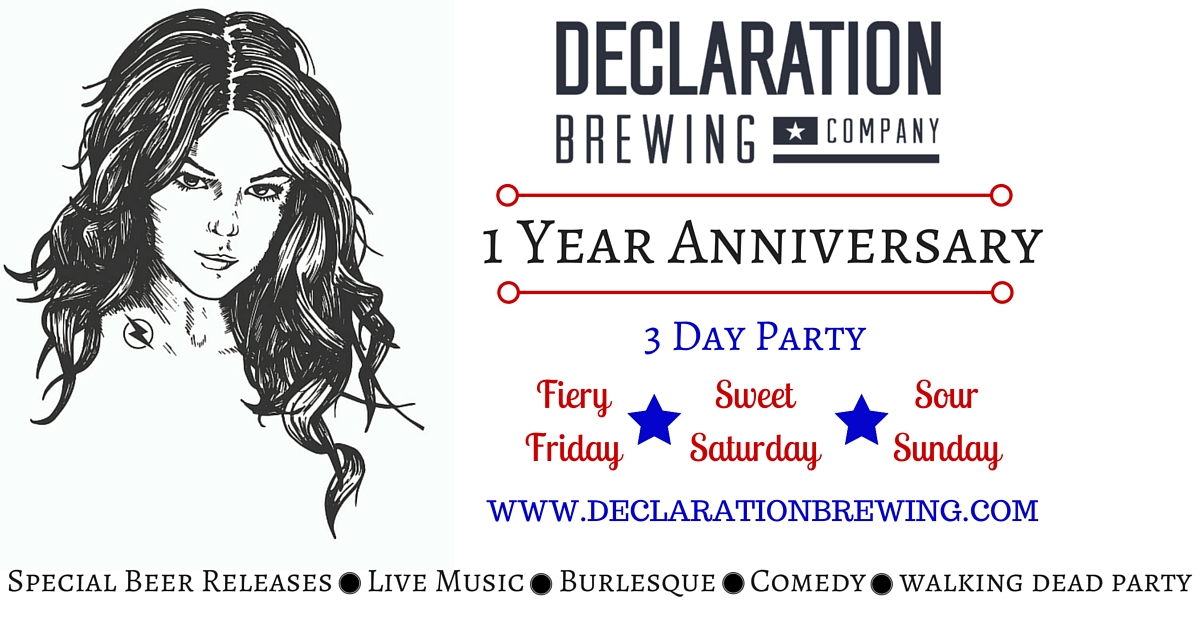 Declaration Brewing: 1 Year Anniversary
We are celebrating our 1 year anniversary this weekend here at Declaration Brewing. We want to thank those that have stood by our side and host a giant party!
This 3 day party is going to feature some pretty special beer releases. Fiery Friday, Sweet Saturday, and Sour Sunday are going to be full of themed releases each day.
We are having free live music on Friday.
Saturday is full of fun events! Along with sweet beer themed releases we will have the Mile Highlanders bagpipers, Modern Eater/Modern Drinker remote iHeart radio show, burlesque, and live music. Azucar bakery will be here with some sweet treats. 21+ after 9pm.
Sour Sunday we will kick things off with brunch! Matt's Snack Shack will have breakfast burritos and sandwiches available at noon. We will have a Walking Dead viewing party followed by live comedy.
We have a little bit of something for everybody and we hope that you will come down to help us celebrate!
Contact Info
Company: Declaration Brewing
Contact: Elvira Masinovic
Email: elvira@declarationbrewing.com