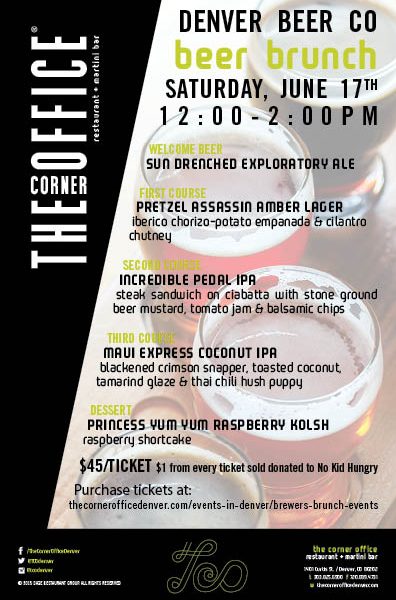 The Corner Office and Denver Beer Co. Brewers Brunch
The Corner Office and Denver Beer Co. are joining forces to launch the 2017 amazing brewers brunch series at the newly renovated The Corner Office Restaurant + Martini Bar on Saturday, June 17th at noon.
Executive Chef Rich Byers has prepared a delicious four-course brewers brunch featuring four different beers from Denver Beer Co.
Purchase tickets, here.
About Denver Beer Co.
Denver Beer Co. was born in our garages with a few batches of home brew and a love for the craft of brewing. Serving only premium artisan ales and lagers, we utilize fresh ingredients and embrace both innovative and old world styles of beer. Similar to a farmer's table, our beer selections change with the seasons. By brewing in small batches, we can ensure that a few old favorites are always on tap, but new goodies greet visitors each month.
Our brewery is founded on passion for high quality, flavorfully crafted beer and the belief that the best pints are those shared with good company. Drawing inspiration from beer gardens of Bavaria, we designed Denver Beer Co. to be a place where new and old friends can share a table and pint out of doors.
Contact Info
Company: Lexa PR
Contact: Alexandra Weissner
Email: alex@lexapr.com