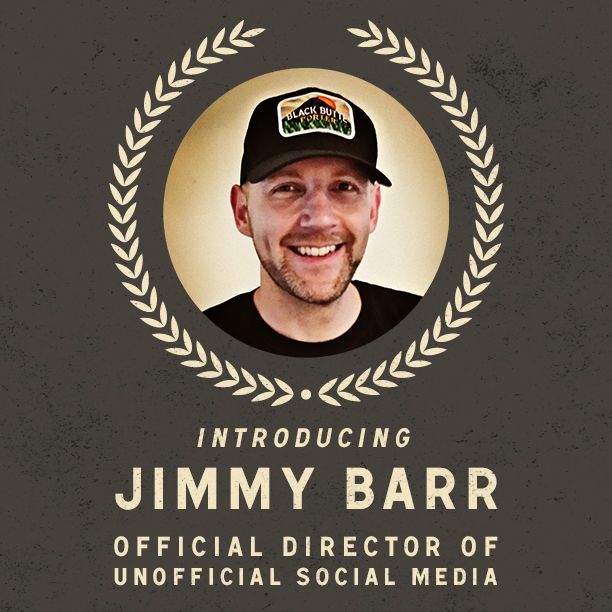 Deschutes Brewery Hires Official Director of Unofficial Social Media
Deschutes Brewery has hired Black Butte Porter super-fan Jimmy Barr as its new official director of unofficial social media. Jimmy, who is based in Pennsylvania, brings five years of experience running the "Unofficial Black Butte Porter Page" on Facebook to his new off-the-record position.
Jeff Billingsley, director of marketing for Deschutes Brewery said, "We've been blown away by Jimmy's devotion over the past few years, so we offered him an official position within the brewery."
Deschutes Brewery has really gotten behind its newest non-employee, even temporarily turning its own official Facebook page into the "Unofficial Jimmy Barr Fan Page", so that its 60,000-plus followers can share the love. As far as Jimmy's own page, the Unofficial Black Butte Porter Page, he says "My page is an 'unofficial' fan page. That doesn't mean it's for unofficial fans; it means Deschutes Brewery doesn't run the page. Does that make it any less awesome? Hell no! It's the pinnacle of awesome, just like Black Butte Porter itself."
Billingsley continued, "The way we see it, the only thing better than a 'like' is an unofficial like. That's where Jimmy comes in. We're happy to have him on board."
About Deschutes Brewery Founded in 1988 as a brew pub in Bend, Oregon, Deschutes Brewery is known for brewing a diverse line-up of award winning beers including the popular Black Butte Porter and Mirror Pond Pale Ale. From the beginning, fine ingredients and hand-crafting have been the focus – for both the beer and the food.  In 2008, the brewery opened a second pub in Portland's Pearl District. Deschutes Brewery now ships beer to 26 states and around the world from its main brewing facility located on the banks of the Deschutes River.
###
Contact Info
Company: Deschutes Brewery
Contact: Jason Randles
Email: jrandles@deschutesbrewery.com