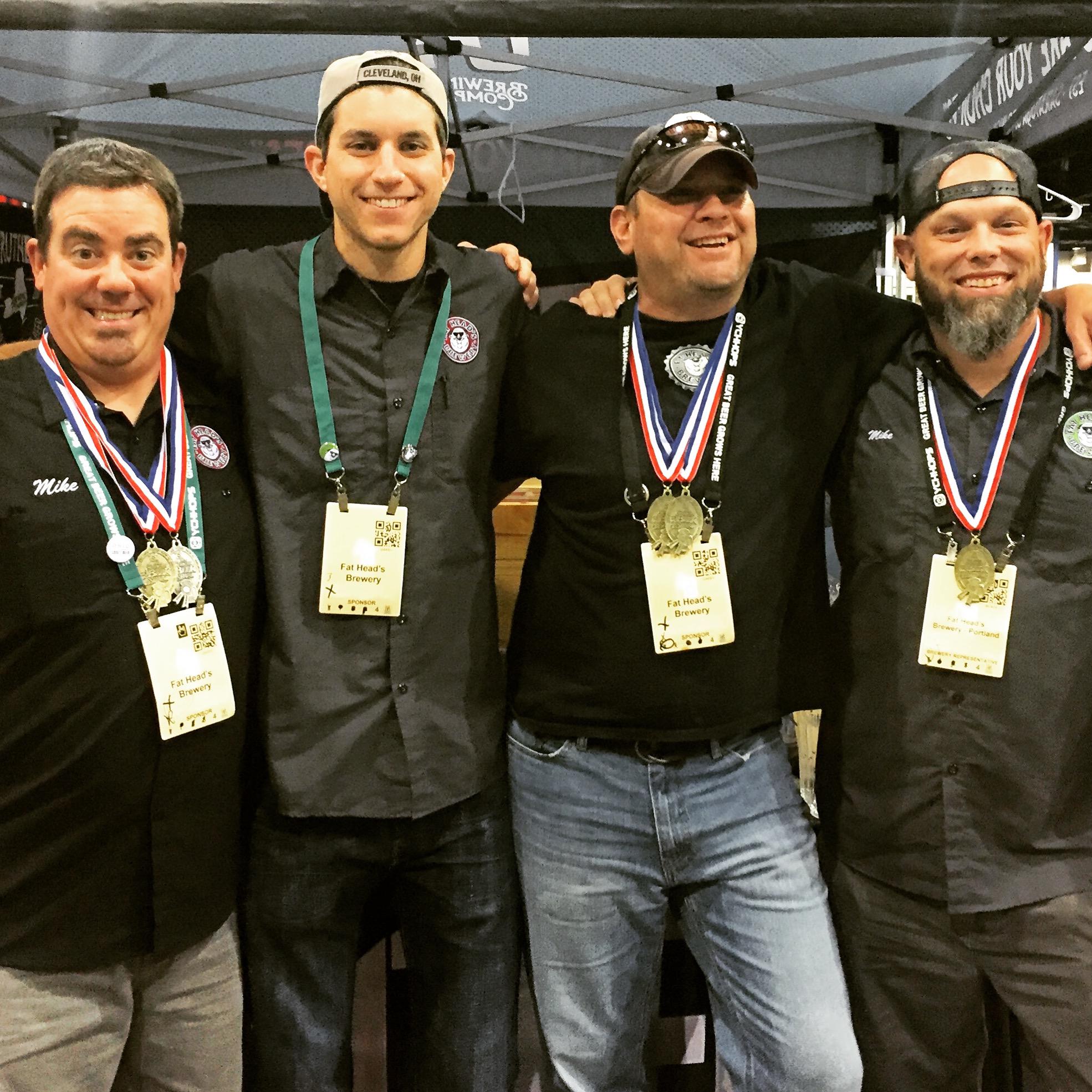 Fat Head's Strikes Gold at 2015 GABF
The Fat Head's Family came away big winners at the 2015 Great American Beer Festival, bringing home five medals in total, four of which were gold.
Hop Juju Imperial IPA won its second gold medal in just 3 years. That is an unbelievable accomplishment in a category loaded with 208 entries this year, and 149 when they won in 2013.
The Fat Head's entourage hadn't even made it off the stage when it was announced they'd also won gold with Bone Head Imperial Red (double red ale category). Bone Head also has a 2014 World Beer Cup silver award to its credit.
Midnight Moonlight Black IPA, one of Head Brewmaster Matt Cole's newest creations, was awarded the gold medal in the American-Style Black Ale category, proving his absolute mastery of hop-forward styles.
Black Knight Schwarzbier won silver, its second silver in the German-Style Schwarzbier category, the first coming in 2013.
Head Brewer of Fat Head's Portland, Mike Hunsaker was ecstatic as they announced that the gold medal for Rye Beer went to Blitzkrieg Bock. It was the first medal for Fat Head's PDX which has been in operation for less than a year.
At the 2015 GABF, 242 breweries took home medals in 92 categories. There were 6,647 competition entries from 1,552 breweries representing all 50 states. Fat Head's had winning brews accredited to each of its locations – Portland, N. Olmsted and Middleburg Heights. No other brewery took home more than 3 medals. Fat Head's has won every year since they began brewing in 2009, with 14 total Great American Beer Festival awards to their name. This was their most prolific showing to date.
###
About Fat Head's
Opened in 1992 as Pittsburgh's premier craft beer bar and restaurant, Fat Head's teamed up with head brewmaster Matt Cole in 2009 to create Fat Head's Brewery & Saloon just outside of Cleveland. In response to overwhelming demand, a production facility was opened in 2012. Fat Head's Brewery distributes 3 core beers and a range of seasonal offerings throughout Ohio and Pennsylvania. In their most recent venture, Fat Head's took up residence in  Portland, OR operating a 300 seat brewpub in the heart of the Pearl District.
Contact Info
Company: Fat Head's Brewery
Contact: Jenn Jones
Email: Jenn@fatheads.com