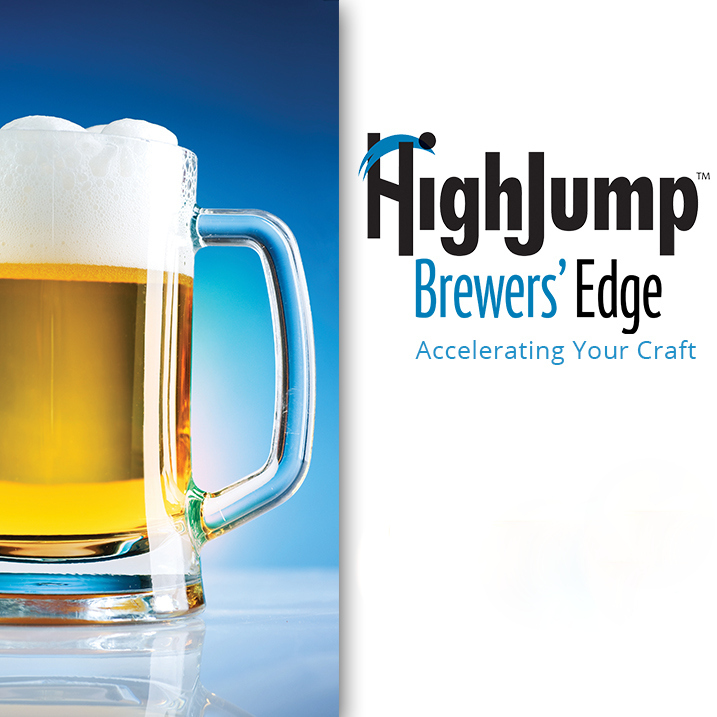 HighJump Announces Brewers' Edge, Bringing Omni-Channel Tools to the Craft Brewing Industry
HighJump, a global provider of commerce-enabled supply chain management solutions, today announced HighJump Brewers' Edge, a cloud-based suite of solutions with specific features to address the broad set of omni-channel needs from order capture to fulfillment and delivery exhibited by the fast growing craft brewing industry. "What sets the craft brewing industry apart is the passion its members have for their products and their customers," said Ross Elliott, co-founder and chief strategy officer of HighJump.  "With Brewers' Edge, HighJump delivers a set of brewery focused apps that show that same level of passion.  Our goal is to put the right tools in our brewery partners' hands to help them maximize the utilization of their assets at the same time they continue to aggressively grow their business with no drop off in service or quality." HighJump Brewers' Edge delivers rich cloud-based capabilities centered on key pillars of omni-channel success: Trading Partner Community – With access to over 10,000 trading partners, HighJump Brewers' Edge simplifies the connection between you and your major distributors and suppliers through the HighJump global trading network. Commerce Platform – Based upon the highly successful Nexternal platform, HighJump Brewers' Edge provides a comprehensive foundation to build your B2B and B2C digital businesses.  Its rich online/mobile store will empower the brewery's merchandise sales, streamline your customers' wholesale orders and enable customer engagement across a broad spectrum of channels. Club Membership – Extending capabilities beyond the traditional online store, HighJump Brewers' Edge opens up new revenue opportunities through a robust club membership toolset. Early Releases and Special Events – A growing number of craft brewers are finding that events offer a dynamic new revenue source.  Managing them, however, can prove challenging.  HighJump Brewers' Edge allows forward thinking breweries to plan and execute early releases and special events in a systematic way that delivers high customer satisfaction. Tour Booking – Booking brewery tours is another incremental revenue source that has traditionally been managed with pencil and paper.  HighJump Brewers' Edge was built to ease the pain of managing reservations by automating the process and the customer interaction leading to increased bookings and higher customer satisfaction Asset Tracking – Let HighJump Brewers' Edge assist you in tracking key assets like kegs, barrels, store displays and much more. Master Data Management – HighJump Brewers' Edge provides robust tools to manage master data for key elements like Product Information, Pricing, Customer Information, Promotions, and much more Inventory and Warehouse Management – Providing a clear view of inventory across the enterprise, from the store to the distribution center, allows the HighJump Brewers' Edge client the ability to more effectively meet customer expectations while improving accuracy and operational effectiveness in the warehouse. Delivery and Shipping – HighJump Brewers' Edge delivers a breadth of delivery and shipping options including parcel rating and compliance, integration with its over 2,000 carrier TL and LTL network and direct home/store delivery. Operational Insight – With dashboards and alerts spanning the breadth of the ecosystem, HighJump Brewers' Edge delivers the right information to the right audience to enable informed decision making. Business System Integration – HighJump Brewers' Edge supports prebuilt integrations to leading Craft Brewing specific ERP systems like OrchestratedBeer. HighJump Brewers' Edge has begun initial customer deliveries and will be generally available in Q4 2015. About HighJump HighJump is a global provider of supply chain management software and trading partner network technology that streamlines the flow of inventory and information from supplier to store shelf. We support more than 15,000 customers in 77 countries, ranging from small businesses to global enterprises. Our functionally rich and highly adaptable solutions efficiently manage customers' warehousing, manufacturing, transportation, distribution, trading partner integration, delivery routes, retail stores, and eCommerce. For more information, visit http://www.highjump.com.
HighJump and HighJump Software are trademarks of HighJump Software Inc., registered in the U.S. and other countries.
Contact Info
Company: HighJump
Contact: Katie Wolfe
Email: katie.wolfe@highjump.com