For the second year in a row, a family-run brewery in small-town Oxford, Michigan, has won the title of Michigan IPA Brewery of the Year at the New York International Beer Competition. HomeGrown Brewing Company won a gold medal in the international competition for their Zephyros Hazy India Pale Ale (IPA) beer, as well as bronze medals for their Pine Knob Pale Ale and their White Pine Coffee Porter.
This is the second year running that the brewery has claimed a gold medal for their Zephyros, and Michigan IPA Brewery of the Year title at the New York-based competition. The brewery also won a top award for their Oxford Ale at the World Expo of Beer competition in 2019.
Owner and master brewer John Powers says he is extremely proud to have his beer recognized on such a scale. "It's very rewarding to know we have consistently good quality brews," says Powers. "Our Hazy IPA is one of our most popular seasonals—we might have to make it a permanent feature on our beer menu now."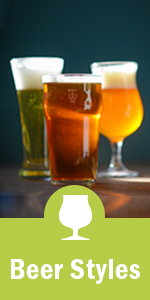 HomeGrown's White Pine Coffee Porter is brewed with double-strength cold-brew coffee from Lake Orion roasters White Pine Coffee. "We love partnering with local roasters, growers and farmers to bring the freshest ingredients into our brews," says Head Brewer Joe Powers, John Powers' son. "Michigan has so much to offer, and we want to show off what our region can do."
Oxford DDA executive director Glenn Pape says the recognition shows the brewery's dedication to their craft and that the village is proud to be the home of an award-winning brewery.
"Those of us who enjoy the outstanding beer from HomeGrown Brewing Company are very happy to see them getting the recognition they deserve for their outstanding products," Pape says. "It is businesses like HomeGrown that help to put Oxford on the map."
HomeGrown's unique Zephyros brew has a floral aroma, grapefruit notes and uses heavy, late-addition hops (including Galaxy hops from Australia) and is described by the brewery as "cloudy, with a chance of blowing your mind". The downside, for the brewers, is that the Zephyros is their most labor-intensive brew, adding up to a 12-hour brew day for each batch.
"It's a good problem to have," says Powers.