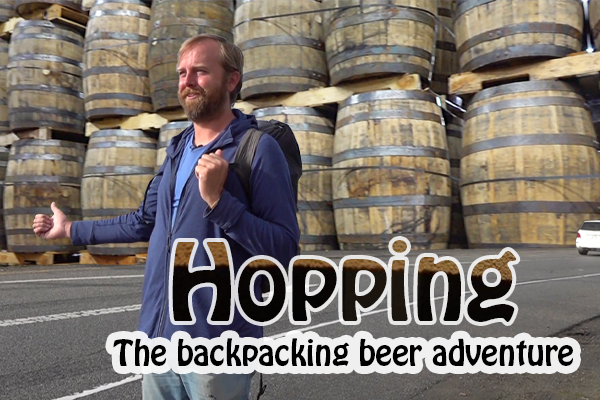 "Hopping" Docuseries Blends Wanderlust With Brewery Culture
SACRAMENTO, CA – This Thursday, July 2nd is the season finale of Hopping: The backpacking beer adventure. The YouTube beer and travel docuseries features Kenny Flannery ⁠— who's been living out of his backpack traveling the world non-stop since 2007 ⁠— getting insider looks and tastes on a free-spirited brewery-hopping trek through the western US.
Craft beer and brewing has infused itself into Kenny's decade-plus long journey on the road. Most notably, he's visited sixty-one breweries in a single day in Portland, OR, visited breweries in dozens of countries, and even authored a book called "A Six-Pack of Hitchhiking Stories."
Kenny is joined by Nick Noyes, a childhood friend who's made a career in the New York City film industry. Nick stepped far out of his comfort zone to hitchhike along from brewery to brewery in order to document the adventure. Owners, brewmasters, and taproom managers eagerly await the duo's arrival, proudly showing off their breweries, stories, and of course, many beer tastings.
The show and adventure begins in Las Vegas, then rambles down through Flagstaff and Phoenix where Kenny also dips into a few homebrew sessions. The show was filmed at the tail-end of December, spanning three weeks into January for a total of eleven featured breweries continuing on through San Diego, Paso Robles, and Sacramento.
The tasting sessions are thirst-inducing and scenes from the road are inspiring. Kenny illuminates the nearly-forgotten art of hitchhiking, casually exhibiting just how many generous, good-willed people are still driving down America's roads every day.
The breweries they thumb to range from new to established, and tiny to massive. The ever-expanding Modern Times in San Diego granted exclusive access deep into their brewery, their barrel warehouse, and into their laboratory. Others, like up-and-coming Able Baker Brewing in Las Vegas, had staged their grand opening only two months prior to the "Hopping" duo coming to film.
Episodes can be watched on YouTube.com/Hopping. The finale, on July 2, 2020, will include the much-anticipated opening of the growler containing some of the homebrew from Phoenix. In a wild backpacking-fermentation experiment, Kenny siphoned off a half-gallon of the homebrewed IPA and pitched in some versatile Kveik yeast — this traveled right along with him for the rest of the trip.
You can also follow their show updates and beer-related anecdotes on Instagram, Facebook, and Twitter.
Contact Info
Company: Hopping
Contact: Kenny Flannery
Email: kennyflannery@hoppingshow.com