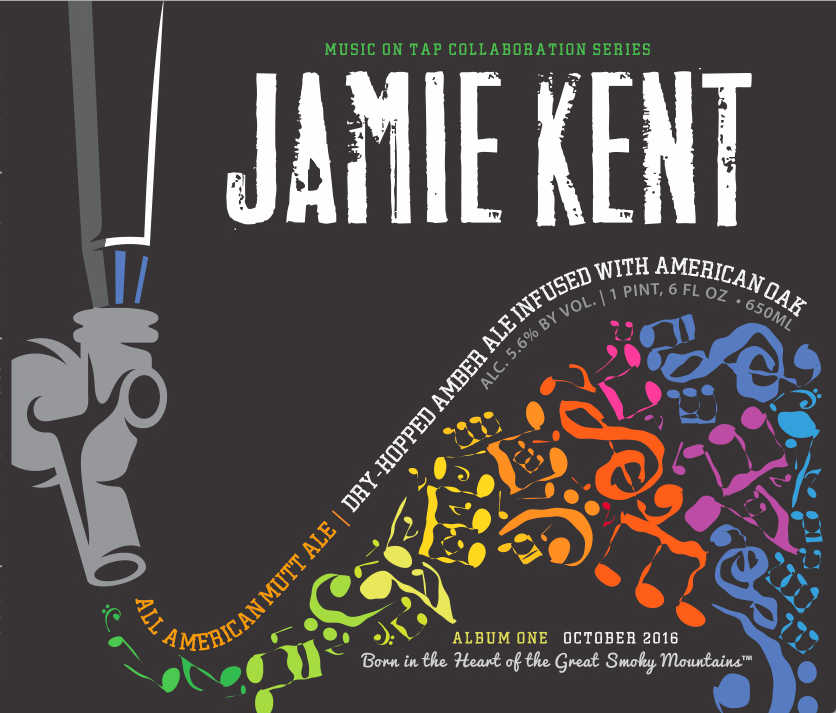 Nantahala Brewing Releases Collaboration with Country Music Star Jamie Kent
BRYSON CITY, NC – Following a concert held in their Bryson City taproom on Saturday, August 21st, Nantahala Brewing Company brewed a beer with friend, and rising country music star, Jamie Kent. The musician joined Nantahala Head Brewer, Greg Geiger, in the brewhouse on Sunday, August 22nd to collaborate with the brewery staff and create All American Mutt, an amber style ale that shares its namesake with Kent's soon-to-be released album. All American Mutt will be the first release in the brewery's newest series, Music On Tap.
The company's partnership with Kent began four years ago when the young artist travelled through Bryson City on his way from Massachusetts, his then home, to Austin, for South by Southwest. The brewery invited Kent to play in their taproom and a friendship was born. Since that time Jamie's career has grown enormously with his newest single featured in Rolling Stone Magazine, and his tour including stints with artists such as Huey Lewis & The News and The Doobie Bros. Despite his busy tour schedule, Jamie took time to reconnect with the brewery, and brew the collaboration.
"Before I started playing music, I had a job reviewing craft breweries across the country. I've had a passion for craft beer for a long time," said Kent. "The first time we rolled into the magical mountain town of Bryson City, on a recommendation from a fellow artist, I was incredibly impressed with the beer. It was some of the best I had ever tasted and considering my previous job, I had tasted a lot of great beer. There are a few gem venues around the country, and Nantahala Brewing is a top venue for us."
Nantahala Brewing Company created the Music On Tap series to reflect the owners' passion for music.The brewery hosts 75 musical acts each year during their peak visitor season of April to October. Additionally, the brewery plans to build a large outdoor venue adjacent to the restaurant brewery on their newly acquired four acre property.
"We created this company around things we are passionate about," said co-owner Joe Rowland. "The brewery is tucked into the Great Smoky Mountain National Park because we love the outdoors; I spent many years as a river raft guide and watersport outfitter. My wife Jenn used to travel the country with numerous bands. She loves music and heads up the booking at our brewery. Our head brewer Greg designs the recipes around what he loves to drink. We do things we are passionate about and that is reflected in our brand."
All American Mutt was brewed with 150 pounds of local Riverbend Malt House Wheat, Heritage Grains and Two-Row. Post fermentation, the balanced ale was aged on Tennessee Whiskey barrel staves, adding soft notes of vanilla and tannins. Hop-forward on the nose but balanced on that palate, this amber colored beer combines a variety of flavors and ingredients, all American in origin, with some ingredients local to both North Carolina and Tennessee.
The beer's official release will take place in Nashville, TN on October 19th and will be released for broad distribution in by the end of October.
To see Jamie's newest single, All American Mutt, visit the following website:
http://www.rollingstone.com/music/news/see-jamie-kents-tribute-to-the-u-s-melting-pot-all-american-mutt-20160701
About Nantahala Brewing Co.
Founded in 2009, Nantahala Brewing Company creates award-winning  beers in the shadow of the Great Smoky Mountains National Park. A proud supporter of the Appalachian Trail Conservancy, Friends of the Smokies and Great Smoky Mountain Association, the brewery's beer, culture and vision are defined by the park's wild spaces and its untouched, natural water that flows from one of the purest, protected watersheds on the planet. Nantahala Brewing is known for such adventure-inspired flagships as Dirty Girl Blonde Ale, Noon Day IPA, App Trail Extra Pale Ale, and Bryson City Brown Ale. In addition, the brewery seasonally releases Little Tennessee Logger, 4-Foot Drop Pale Ale, Devil's Courthouse Belgian Golden Strong, 8-Foot Drop Double IPA,  Hellbender Hefeweizen, Rivers End Oktoberfest, Pattons Run Porter, Chocolate Covered Cherry Stout, Nantahala Pale Ale and Sticky Dog Stout and is known for their specialty Trail Magic series. These beers can be found in six packs and on draft in grocery stores and restaurants across North Carolina and Tennessee. For more information about the brewery, visit www.nantahalabrewing.com
Contact Info
Company: Nantahala Brewing Company
Contact: Abigail Dickinson
Email: abby@nantahalabrewing.com