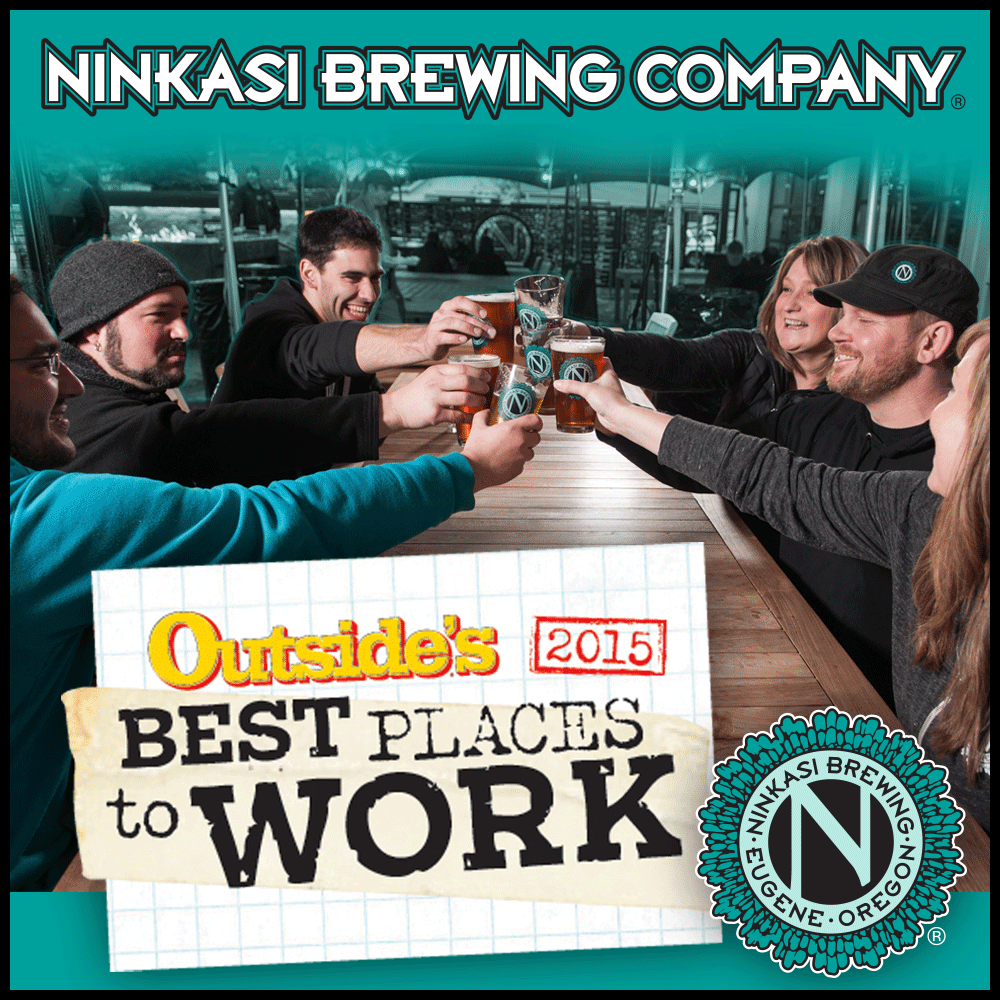 Ninkasi Brewing Company Recognized in OUTSIDE's Best Places to Work 2015
EUGENE, Ore.—Ninkasi Brewing Company, an independent craft brewery based in Eugene, Ore., has been selected as one of OUTSIDE's Best Places to Work 2015. Each year, OUTSIDE recognizes the top 100 companies in the United States that help their employees strike the ideal balance between work and play. These companies encourage employees to lead an active lifestyle, are eco-conscious, and prioritize giving back to the community. The entire list of winners appears online at www.outsideonline.com/dreamjobs.
"It is such an honor to be recognized by a company that mirrors our values," says Ninkasi co-founder and founding brewer, Jamie Floyd. "We work hard in our daily lives to be an innovative employer and strongly believe in creating balance with a healthy life away from work."
"The companies recognized in this year's Best Places to Work list are the gold standard for stellar work environments that seek to empower their employees both in and out of the office," said OUTSIDE Online Editor Scott Rosenfield. "The new categories in this year's list serve to highlight outstanding workplaces in distinctive fields—making it all the easier for our readers to find their dream jobs."
Founded in 2006 by Nikos Ridge and Jamie Floyd, Ninkasi has grown to be the 36th largest craft brewery in the United States. The brewery operates two production facilities from its home base in Eugene, Ore. and continues to be independently-owned and operated. Now employing over 100, Ninkasi is known for its highly-hopped beers like Total Domination IPA and Tricerahops Double IPA and its award-winning lagers. The brewery remains focused on social and environmental sustainability, which includes operating its year-round donations and volunteer program called Beer is Love and investing in Leadership in Energy & Environmental Design (LEED) standard facilities.
To encourage a healthy balance at and outside of work, the brewery operates under a single core purpose: Perpetuate Better Living. A company-wide wellness program encourages employees to adopt and retain healthy habits, including a rock climbing wall, bike rentals, yoga classes, weekly massages, stress management classes, discounted gym memberships, smoking cessation incentives, and accessibility to healthy snacks.
"We believe the experience we co-create here at Ninkasi should be a positive part of an overall quality-driven lifestyle," explains Ninkasi co-founder and CEO, Nikos Ridge. "We put a major focus on working together as a team to build a strong company, which in-turn, adds value to our customers, partners, and to the lives of our staff."
To find the best places to work in the United States in 2015, OUTSIDE started by creating five company categories that reflect the magazine's values and focus: Adventure/Travel, Wellness, Culture, Gear, and Media. OUTSIDE then conducted a rigorous vetting process in partnership with the Best Companies Group to assess the policies, practices, and demographics of hundreds of companies. Outside's Best Places to Work 2015 was driven by employee reviews of their workplaces, taking into account factors like corporate culture, role satisfaction, work environment and overall employee engagement. The Best Places to Work list represents the cream of the crop: companies that are empowering their employees to live bigger, better lives.
The complete list of Best Places to Work winners is featured online at www.outsideonline.com/dreamjobs.
To learn more about Ninkasi Brewing, visit www.ninkasibrewing.com.
About Ninkasi Brewing Company Founded in 2006 by Jamie Floyd and Nikos Ridge, Ninkasi Brewing Company continues to grow from its first batch of Total Domination IPA, to two brewhouses, a 55-barrel and a 90-barrel brewhouse, located in Eugene, Ore.  Ninkasi's Flagship beers—Total Domination IPA, Tricerahops Double IPA, Dawn of the Red IRA, Lux Helles Lager, Oatis Oatmeal Stout, and Vanilla Oatis Oatmeal Stout—are sold throughout Alaska; Alberta; Arizona; California; D.C.; Colorado; Idaho; Maryland; Nevada; New York; Oregon; Texas; Utah; Washington; and Vancouver, British Columbia. The brewery remains privately-owned and is committed to community support and giving. Ninkasi's Beer Is Love program offers in-kind donations and support for organizations throughout its footprint.
For more information, call 541.344.2739 or visit www.NinkasiBrewing.com.
About OUTSIDE OUTSIDE is America's leading active lifestyle brand. Since 1977, OUTSIDE has covered travel, sports, adventure, health, and fitness, as well as the personalities, the environment, and the style and culture of the world Outside. The OUTSIDE family includes OUTSIDE magazine, the only magazine to win three consecutive National Magazine Awards for General Excellence, The Outside Buyer's Guides, Outside Online, Outside Television, Outside Events, Outside+ tablet edition, Outside Books, and now Outside GO, a revolutionary, 21st-century adventure-travel company. Visit us online and on Facebook, and follow us on Twitter.
ABOUT THE BEST COMPANIES GROUP Best Companies Group works with national and local partners around the country and internationally to establish and manage "Best Places to Work," "Best Companies," and "Best Employers" programs on a national, statewide, regional and industry basis. Through its thorough workplace assessment, utilizing employer questionnaires and employee-satisfaction surveys, BCG identifies and recognizes companies who have been successful in creating and maintaining workplace excellence.
###
Contact Info
Company: Ninkasi Brewing Company
Contact: Ali AAsum
Email: ali.aasum@ninkasibrewing.com