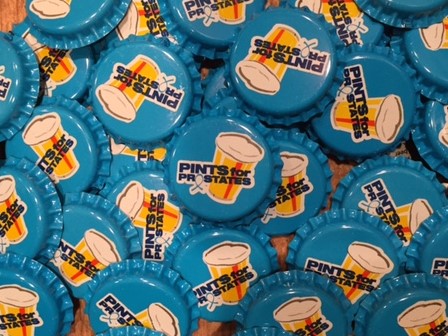 Pints for Prostates Partners with 14 Craft Brewers to Launch Crowns for a Cure
Pints for Prostates is partnering with 14 craft brewers across the United States on a new program designed to start conversations when guys get together to catch a game or during holiday celebrations.
Pints for Prostates Crowns for a Cure is distributing 400,000 bottle caps – known in the beverage trade as crowns – to craft brewers around the country to use on beer they package during November and December. The crowns feature the Pints for Prostates logo on the outside and under the cap is the message, "Reaching men through the universal language of beer. www.pintsforprostates.org."
"We are excited to be partnering with some great craft brewers on this first of its kind program that will put a reminder in the hands of men to take charge of their health," said Rick Lyke, a prostate cancer survivor who started Pints for Prostates in 2008 after successful treatment for the disease. "We hope these bottle caps will start thousands of conversations and encourage guys to talk with their doctors about scheduling prostate cancer screenings."
These craft breweries are taking part in the program:
Bell's Brewing of Comstock, Mich.
Boston Beer of Boston, Mass.
Coronado Brewing of Coronado, Calif.
Elevation Beer of Poncha Springs, Colo.
Foothills Brewing of Winston-Salem, N.C.
Fort Collins Brewery of Fort Collins, Colo.
Laughing Dog Brewing of Ponderay, Idaho
New Holland Brewing of Holland, Mich.
Olde Mecklenburg Brewery of Charlotte, N.C.
Pike Brewing of Seattle, Wash.
Rogue Ales of Newport, Ore.
Saint Arnold Brewing of Houston, Texas
Schlafly Beer of St. Louis, Mo.
Wormtown Brewery of Worcester, Mass.
"The craft beer community has been incredibly supportive of the Pints for Prostates mission and has helped us get our message to millions of men over the last seven years," Lyke said. "Pints for Prostates Crowns for as Cure is a new program that we hope to grow in the coming years. If we reach just one guy who benefits from a prostate health screening then the effort will be a huge success."
Each brewery taking part in the program is receiving a shipment of Pints for Prostates crowns. The brewers will use the caps in upcoming bottling runs and distribute the beer to retail accounts.
About Pints for Prostates
Pints for Prostates reaches men through the universal language of beer to encourage them to take charge of their health. The group was founded by prostate cancer survivor and beer writer Rick Lyke in 2008. The grassroots effort raises awareness among men about the importance of regular men's health screenings by making appearances at beer festivals, social networking and pro bono advertising. According to the National Cancer Institute, approximately 240,000 new prostate cancer cases are diagnosed annually in the U.S. More information is available at www.pintsforprostates.org. Pints for Prostates also has a presence on Facebook, Twitter and Instagram (@pints4prostates).
Contact Info
Company: Pints for Prostates
Contact: Rick Lyke
Email: rick.lyke@gmail.com