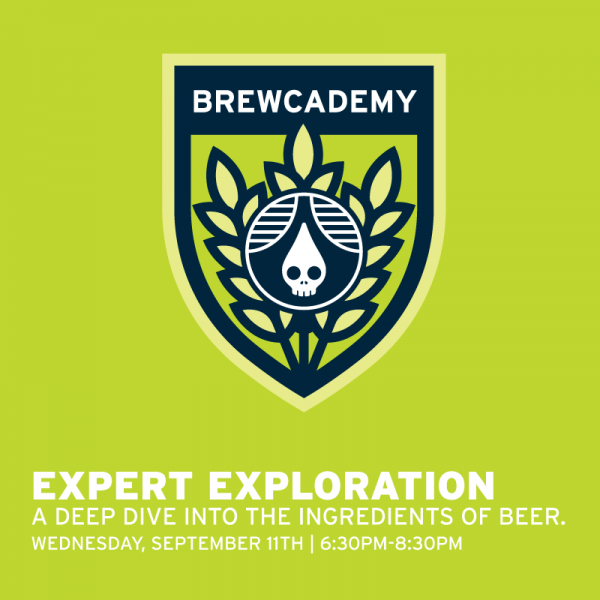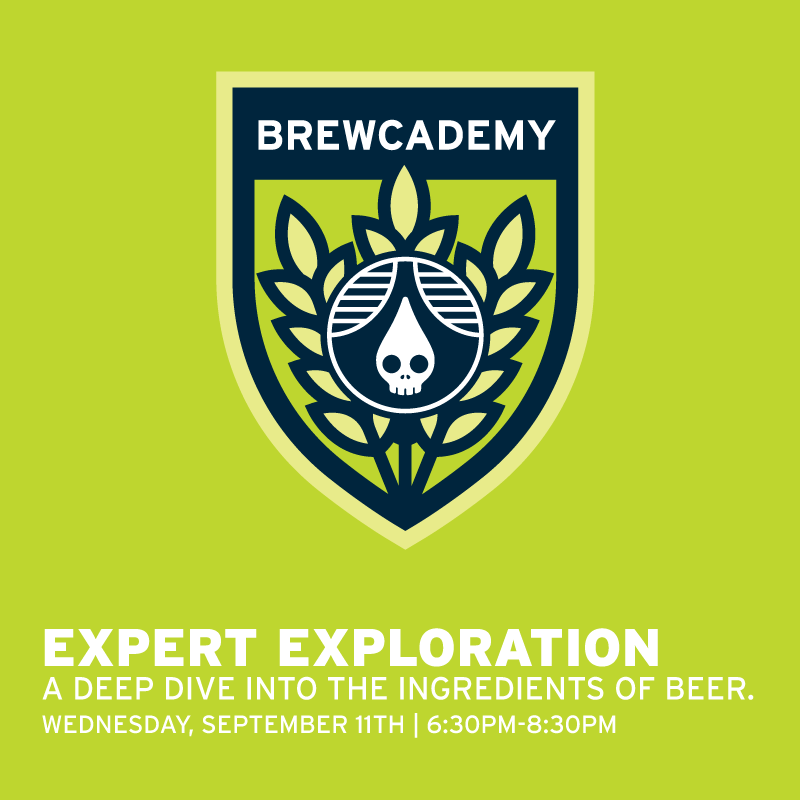 Rhinegeist Brewcademy: Expert Exploration
Brewcademy Class fee is $45 (per class) and includes a scholarly sample glass (to be filled with 6 tastings), a notebook, a writing utensil, and a one-of-a-kind sticker. Sign up for Brewcademy today!
In the next session of Brewcademy, we'll spend some time getting up-close and personal with the raw materials of brewing: malt, hops, yeast and, of course, water. What transforms this relatively simple list of ingredients into liquid alchemy? How does their pre-brew story produce such beautiful variation in the finished product? How important a role does each individual element play? Learn the answers to these questions and more as we taste individual malt varietals and roast levels, sniff aromatic hops, and match specific ingredients to the beers that represent them. Grant from Brewery Supply Group will be on hand to field questions and recommend supplies. See you in class!
A deep dive into the ingredients of beer.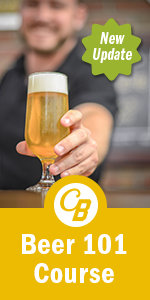 The language of beer can be confusing. Have you ever wondered the difference between Double and Imperial, or Ale vs Lager? What makes a beer Belgian-style? Can you handle the Truth? So many of you have asked us excellent questions over the years that we've decided to take you back to school, back to school, to prove to your dad that you're not a fool. Introducing Brewcademy: The Rhinegeist Brewery Beer School for People Who Want to Learn About Good Beer and Other Things Too. We'll teach you everything you've ever wanted to know about beer, but were afraid to ask. Taste the greats with our experts and learn the vocabulary of flavor and aroma. Get geeky with molecules and chemical processes – we'll provide the tools, you bring the brain. Each year will focus on a different annual theme, made up of quarterly topics classes.
A little about our professor:
Our Director of Education Chris Shields will be laying down the liquid knowledge. A global citizen of the beer world and tireless student of this ancient craft, Chris is hyped on hops and downright giddy to share all that he knows. After a stint at Mystery Brewing in NC where he worked his way up to Head Brewer, Chris moved to Cincinnati to join Rhinegeist as a Brewer and Cider-maker. In 2016, he became the brewery's first Director of Education, putting his high school teaching experience to good use. As a Certified Cicerone, with an MS in Biological Sciences and a Master of Beer Styles and Evaluation from the Siebel Institute, Chris is the ideal geek to guide you through the complex and fascinating universe of water, malt, hops, and yeast – also known as beer.
Contact Info
Company: Rhinegeist Brewery
Contact: Haley Payne
Email: hpayne@rhinegeist.com