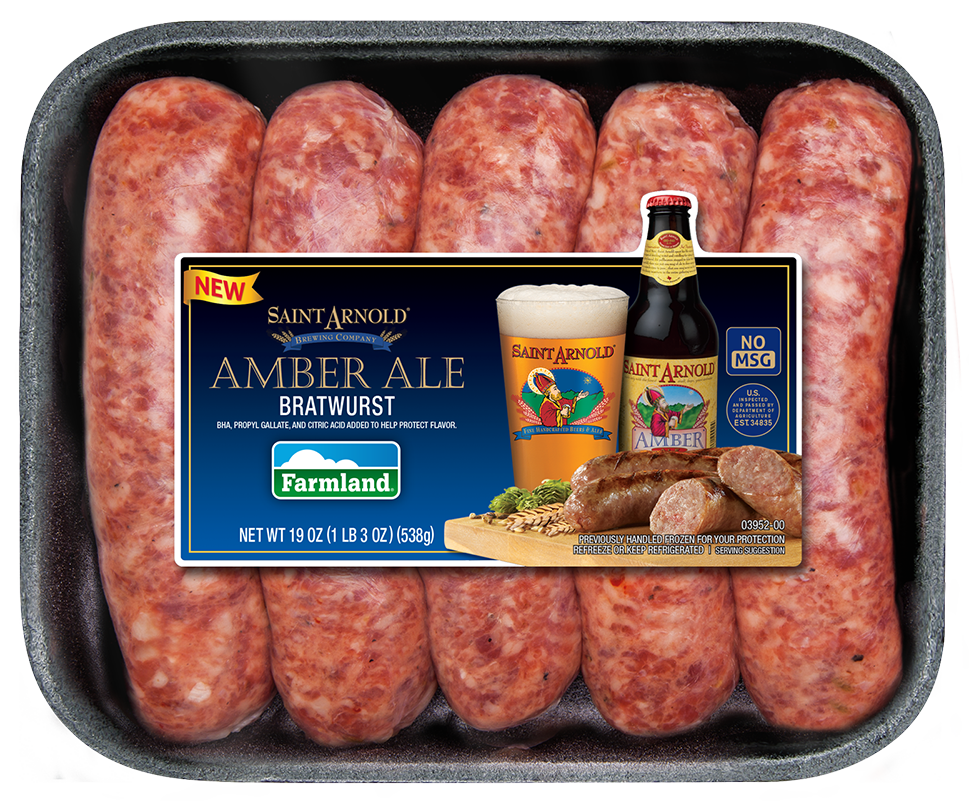 Saint Arnold Brewing Reaches Beyond the Beer Aisle to Pair Beers with Bratwurst
Partners with Farmland Foods to launch beer-brats in time for the "Big Game"
HOUSTON, January 23, 2015 – The classics of football tailgating – beer and brats – are coming together just in time for the biggest game of the year. Saint Arnold Brewing Co. (www.saintarnold.com), the oldest craft brewery in Texas, has partnered with Farmland Foods to introduce Saint Arnold Amber Ale Bratwurst and Saint Arnold Santo Bratwurst. Both are rolling out to HEB and Central Market stores throughout Texas.
Saint Arnold Executive Chef Ryan Savoie traveled to Kansas City to test and refine the bratwurst recipes with Smithfield-Farmland, the largest pork producer in the United States. Saint Arnold provided Farmland with a broad range of different beers to test. They selected Saint Arnold Amber Ale and Santo because their respective flavors enhanced the flavor of the meat, delivering tender, meaty brats.
"When we decided to make these Saint Arnold brats, our focus was ensuring that the final product was something we were excited about," said Brock Wagner, founder of Saint Arnold Brewing. "Rather than just send a couple of beers to Farmland, chef Ryan took an active role in working with their team in Kansas City to determine which brews would result in the best taste and experience. We are all very proud of how it turned out."
Saint Arnold Beer Brats are made with high-quality USDA-inspected cuts of domestic pork and two of Saint Arnold's most popular beers – shipped fresh from Texas. The brats also contain no MSG.
"We are excited to partner with Saint Arnold because their passion for brewing great craft beer is right in line with our passion for producing high-quality pork products," said Tom Danneker, VP and GM Fresh Sausage with Smithfield Farmland. "Saint Arnold's full-flavored beers are a great match for Farmland's tender, high quality brats – both as an ingredient and as an accompanying beverage!"
Saint Arnold Amber Ale features a rich, malty body with a pleasant caramel character, producing an all-around flavorful brat. The brewery's Santo invented the concept of a black Kölsch, with a dark malt flavor, resulting in a brat with a hint of roast.
Saint Arnold has long encouraged cooks to experiment with craft beer as an ingredient in their cooking. After all, the variety of flavors among craft beers makes it an ideal candidate for a cooking liquid, providing similar cooking properties to wine, but with an even larger array of flavors. On Sunday, Saint Arnold will host its seventh annual One Pot Showdown, a cook-off that challenges teams to create recipes using a single pot and Saint Arnold beer as an ingredient. The sold out event starts at 1 p.m.
Photos available for download: • http://saintarnold.com/images/amber_ale_brats.png • http://saintarnold.com/images/santo_brats.png
Twitter: @saintarnold Facebook: www.facebook.com/saintarnold Instagram: @saintarnoldbrewing
About Farmland
At Farmland, we are passionate about pork. We have been since 1959, when we first started working side-by-side with American farm families to offer the best quality pork cuts. More than50 years later, our unsurpassed passion and pride are stronger than ever, serving retail and foodservice customers across the United States and in 25 countries on five continents. Our natural, fresh pork products — bacon, chops, loins, ribs, sausage and ham — are tender, flavorful and made with the highest quality ingredients. Headquartered in Kansas City, MO, Farmland is a brand of Smithfield-Farmland, a subsidiary of Smithfield Foods. To learn more about Farmland's passion for pork, please visit www.FarmlandFoods.com and www.Facebook.com/FarmlandFoods.
About Saint Arnold Brewing Company
Saint Arnold Brewing's 16 brews are made and sold by the company's staff of 70 dedicated employees. Ranked 45th on the Brewers Association list of top craft breweries, Saint Arnold was listed by USA Today as one of the "10 great places to see what's brewing in beer," and Smart Meetings magazine named it among the "Top 5 breweries to host an event." Saint Arnold is located at 2000 Lyons Avenue and its brewery tour and tasting is offered every weekday at 3:00 P.M. and Saturdays starting at 11 A.M. For more information on Saint Arnold's eight year-round and five seasonal beers as well as root beer, log on to www.saintarnold.com.
Contact Info
Company: DPK Public Relations
Contact: Daniel Keeney
Email: dan@dpkpr.com