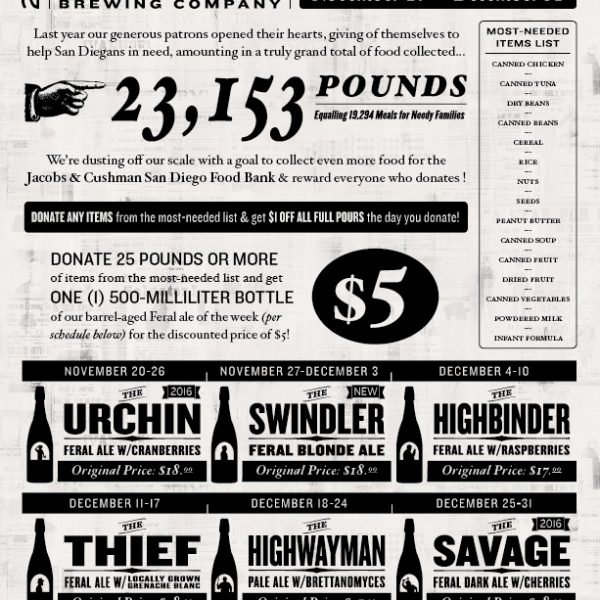 Societe Brewing Aims to Collect Over 23,000 Pounds of Food
SAN DIEGO, CA —Last year, Kearny Mesa-based Societe Brewing Company collected a whopping 23,193 pounds of provisions for the Jacobs & Cushman San Diego Food Bank, earning a Corporate Partner Award from the non-profit organization for the second straight year. The 2016 drive saw an overwhelming 366% increase in donations from the previous year's campaign as a result of an array of innovative beer-related incentives presented to Societe patrons. Among those were a limited-edition $50 beer being sold to individuals who donated 50 pounds of food for a mere $5, offering $1 off all beers to customers who donated any amount from the Food Bank's "most-needed items" list, and permanently decreasing the price of the brewery's bottled barrel-aged beers from $20 to $18. Though challenging, the brewery will attempt to collect even more food than last year and, again, it will use its beer as a catalyst for good will.
"The results of last year's food drive surpassed our wildest hopes," says Lorah Smith, Societe's Director of Charitable Giving. "That time around, we mainly focused on a single barrel-aged beer, but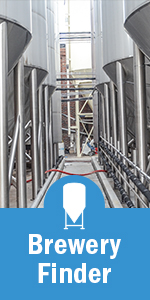 this year we're expanding our discounts to involve all of the bottled, barrel-aged beers we have in stock, including two 2016 vintages and a newly released barrel-aged blonde ale."
From November 20 through December 31, Societe is lowering the price of all of its $17-$18 barrel-aged beers to just $5 if customers donate 25 pounds of food, translating to one discount bottle for every 25 pounds someone contributes. This deal will be applied to one barrel-aged Societe "Feral" ale per week over the course of the drive (see schedule on following page). Additionally, Societe will once again take $1 off all full-beer orders for patrons who donate any amount of food from the most-needed list the day of their donation. The following is the San Diego Food Bank's most-needed items list:
Canned Meats & Tuna
Canned Soups
Canned Fruits & Vegetables
Canned or Dried Beans
Dry Cereal
Rice
Macaroni & Cheese
Spaghetti
Infant Formula
Peanut Butter
Powdered Milk
"It would be easy to give our egos a boost by pretending our beer is the sole reason we raised more than 11 tons of food last year, but we know that it really came down to the generous spirit of San Diegans who wanted to make a positive difference for our friends and neighbors in need," says Societe CEO Douglas Constantiner. "It's about them and their kindness, not us. We just try to provide a fun way to reward people for doing the right thing and lending a hand to folks who can use it. Whether we collect 25,000 pounds this year, or 2,500, the needle will be moved in the right direction…but 25,000 pounds sure would be something!"
To that end, if the total from 2016's drive is surpassed, Societe will take $1 off all full-beer orders for all customers the entire month of January 2018. The Holiday Food Drive is a cornerstone of Societe Gives Back, the company's year-round program, which sees it team with monthly charity partners, assist local factions of national campaigns such as Ales for ALS and Pints for Prostates, and assist humanitarian causes in a variety of other ways. Information on Societe Gives Back can be found on the company's website.
2017 SOCIETE HOLIDAY FOOD DRIVE
Time Frame: Monday, November 20 – Sunday, December 31, 2017
Partner: Jacobs & Cushman San Diego Food Bank
Incentives:
$5 Bottles of Barrel-Aged Beers: Every 25 pounds of food contributed entitles donors to purchase one bottle of the Societe Feral ale being offered at a reduced price for that particular week (see schedule at right) for the discounted price of $5 (versus the normal price of $17-$18/bottle).
$1 Off All Beers for a Day: Food donation of any quantity entitles donors to $1 off all full-beer purchases on date of donation.
$1 Off All Beers for a Month: If Societe surpasses last year's donation total of 23,193 pounds of food, it will offer $1 off all full pours to customers for the entire month of January 2018.
Weekly Discounted Feral Ale Schedule:
November 20-26: The Urchin Feral Ale with Cranberries (2016 vintage, retail price: $18)
November 27-December 3: The Swindler Feral Blonde Ale (new vintage, retail price: $18)
December 4-10: The Highbinder Feral Ale with Raspberries (retail price: $17)
December 11-17: The Thief Feral Ale with Locally Grown Grenache Blanc Grapes (retail price: $18)
December 18-24: The Highwayman Pale Ale with Brettanomyces (retail price: $17)
December 25-31: The Savage Feral Dark Ale with Cherries (2016 vintage, retail price: $18)
History: This is Societe's fifth year partnering with Jacobs & Cushman San Diego Food Bank. In 2013, Societe's drive resulted in collection of 263 pounds of food. In 2014, the brewery collected 633 pounds, followed by 4,972 pounds in 2015, and an astonishing 23,193 pounds in 2016. The company was honored with a Community Partner Award and Corporate Partner Award in 2015 and 2016, respectively. In addition to the Holiday Food Drive, Societe employees volunteer their time at the Food Bank's headquarters in Miramar.
ABOUT SOCIETE BREWING COMPANY: An independently-owned-and-operated production brewery founded by a pair of professional brewers in 2012, Societe Brewing Company produces an array of almost-exclusively draft offerings ranging from hoppy "Out West" ales, to Belgian-inspired and continental "Old World" ales and lagers, and dark "Stygian" beers. The brewery also features a 1,500-square-foot, temperature-controlled room housing used wine barrels filled with a maturing stock of "Feral" (barrel-aged sour) ales. Proud to be part of the hotbed of brewing innovation that is San Diego, California, Societe distributes its beers to finer bars and beer-centric restaurants and retailers throughout its home county. The brewery has earned medals in multiple style categories at the Great American Beer Festival, World Beer Cup and San Diego International Beer Festival competitions, and its multifarious portfolio of beers includes The Pupil and The Apprentice IPAs, The Coachman Really Small IPA, The Statesman Pale Ale, The Harlot Belgian-style Blonde Ale, The Heiress Czech-style Pilsner, The Pugilist Dry Stout and The Butcher Imperial Stout. For more information, visit the company's official website—www.societebrewing.com—or follow Societe via social media on Facebook, Twitter or Instagram (@societebrewing).
Contact Info
Company: Societe Brewing Co.
Contact: Brandon Hernández
Email: brandon@societebrewing.com