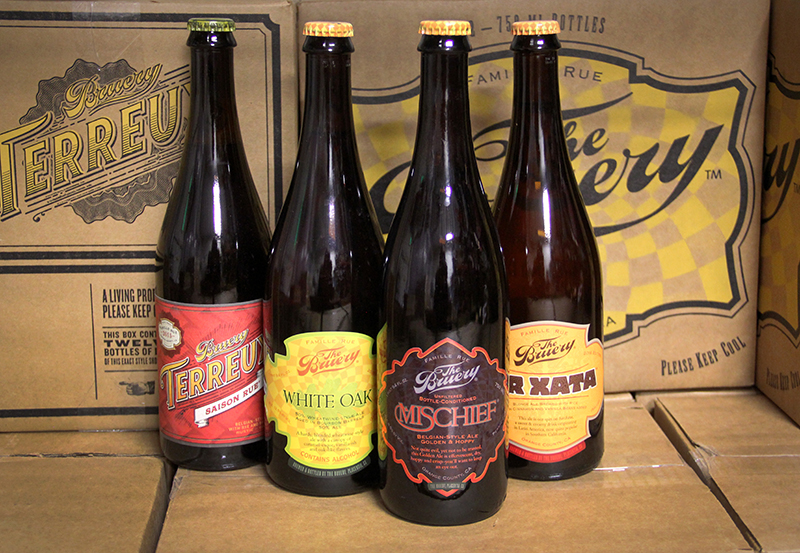 The Bruery® and Bruery Terreux® Launch Distribution in Texas with Andrews Distributing and Flood Distribution
PRESS RELEASE
For the first time ever, The Bruery® and Bruery Terreux® beers will see distribution in Texas starting in April 2016.
February 29, 2016 — At long last, California's The Bruery® and Bruery Terreux® will increase their distribution footprint to include Austin and North Texas via Flood Distribution and Andrews Distributing, respectively.
"I've wanted our beer in Texas for many years, but we've never been large enough for that to make sense.  Now, we've increased our production, and more importantly, many of the passionate beer enthusiasts know who we are, and want our beer!" said Patrick Rue, Founder & CEO of The Bruery and Bruery Terreux. "I'm looking forward to being a small part of the thriving Texas craft beer scene."
The Bruery was founded in 2008 by Rue, now a Master Cicerone®, after he found homebrewing to be of greater interest than law school. Seven years later in 2015, The Bruery divided its operations into two separate projects, creating its sour and wild ale co-brand, Bruery Terreux.
Based in Placentia, CA, The Bruery focuses on barrel-aged and experimental beers at its original site. Three miles away in Anaheim, CA, Bruery Terreux concentrates exclusively on sour and wild beers fermented, cellared, and packaged by dedicated staff at this separate building. With specialized equipment recently added to both facilities, including a new GEA Craft-Star™ brewhouse and two 250 BBL foeders, The Bruery and Bruery Terreux are prepared now, more than ever before, to enter the Texas market.
"We've had people asking us to distribute to Texas for years, and for a number of reasons it was never quite 'the right time.'  We're happy to have found great partners like Andrews and Flood, who share our passion and excitement for the world of better beer, at an appropriate time for our brewery to enter the rapidly growing Texas market," said Jonas Nemura, Sr. Director of Distribution & Operations. "Andrews clearly demonstrates their focus on education through their extensive partnership with the Cicerone® Certification Program, and their focus on operational excellence through innovative programs like Force 4 and Love Beer. With Flood Distribution, we know we will be front-of-mind with their staff, and look forward to growing with them as they expand their operations."
At launch, Austin and North Texas will see an assortment of beers from The Bruery including Mischief®, Or Xata® and White Oak,  as well as a growing portfolio of Bruery Terreux products including Saison Rue®. More styles and seasonals from both brands will continue to enter the market in the coming months. In April, Texas fans will have the opportunity to meet Patrick Rue, Jonas Nemura, and company staff as they visit the state for select launch events.
For updates about launch events and beer releases, follow @thebruery and @brueryterreux on Facebook, Twitter, and Instagram.
###
Graphics and images available at thebruery.com/media and brueryterreux.com/media
Releases from The Bruery
Or Xata®, horchata-inspired blonde ale with cinnamon, vanilla, rice, lactose. Spring seasonal, released in limited supply.
Mischief®, hoppy Belgian-style golden strong ale. Released year round.
White Oak, bourbon barrel-aged wheatwine-style and golden ale blend
Releases from Bruery Terreux
Saison Rue®, farmhouse-style ale brewed with rye and fermented with brettanomyces. Released year round.
Additional releases will come to market in forthcoming orders, and also be featured at select launch events.
Contact Info
Company: The Bruery and Bruery Terreux
Contact: Cambria Griffith
Email: cambria@thebruery.com