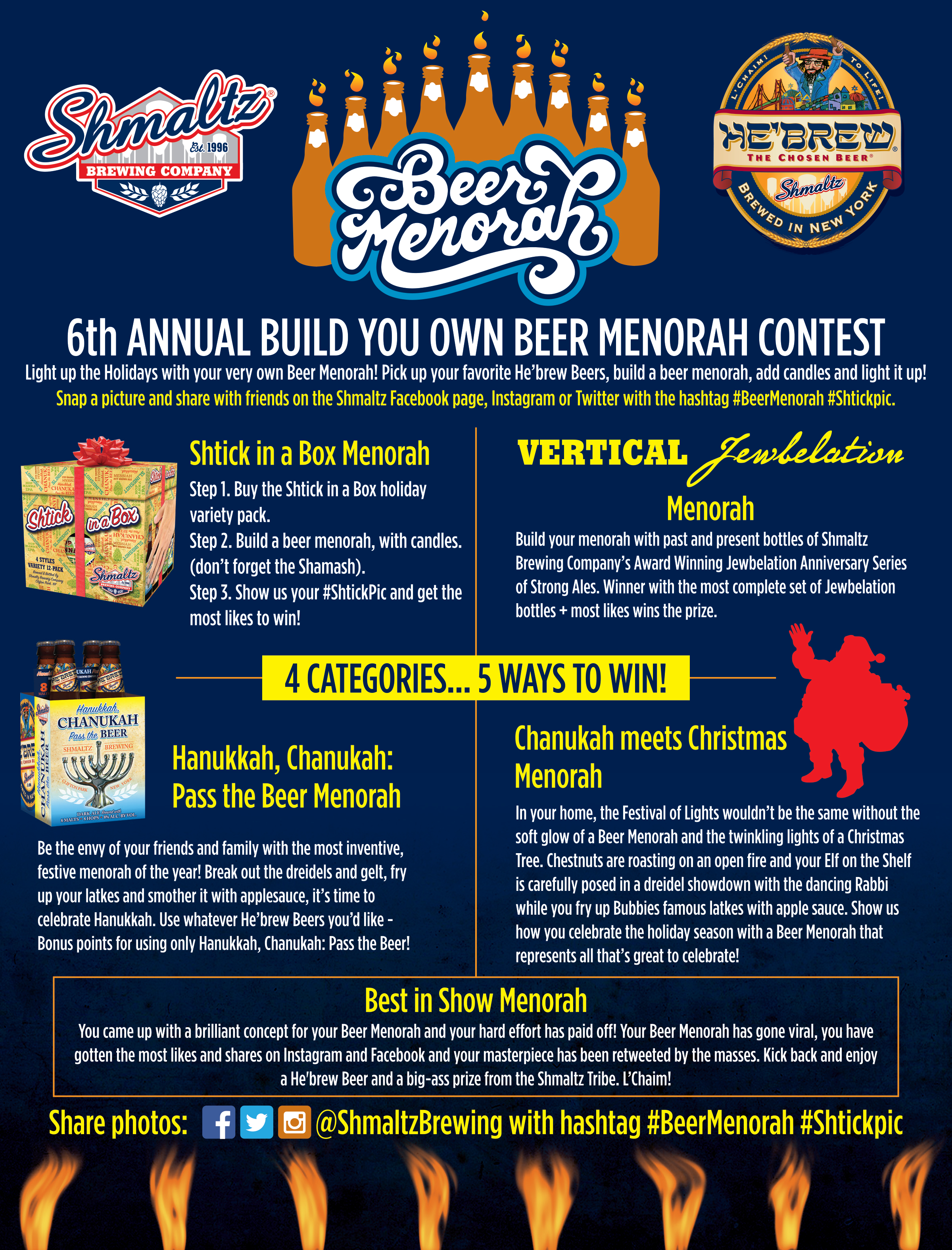 The Shmaltz Brewing 6th Annual Beer Menorah Contest Starts Now! LIGHT ONE UP!
Get your Chanukah candles and He'brew Beer bottles ready, Shmaltz Brewing Company announces today the kick-off to the 6th Annual Build Your Own Beer Menorah Contest. This year's photo contest is bigger and better than ever before with 5 ways to win, so light up the Holidays with your very own He'brew Beer Menorah. You're only two steps away from constructing the best Beer Menorah. First, select which one to build: Shtick in a Box Menorah, Vertical Jewbelation Menorah, Hanukkah, Chanukah: Pass the Beer Menorah, Chanukah Meets Christmas Menorah, and Best in Show Menorah.
Step two, once you've built your Menorah, add candles and light 'em up, snap a picture and share it with friends on the Shmaltz Facebook page, Instagram or Twitter with the hashtag: #BeerMenorah #Shtickpic. The contest winner with the most "likes" will be awarded an extra special package of Shmaltz swag; if you live in New York State, you'll also win a brewery tour and private tasting at Shmaltz Brewing in Clifton Park, NY.
Let the Games Begin! Here are 2015's Beer Menorah Categories:
Shtick in a Box Menorah: Step 1: Buy the Shtick In A Box holiday variety pack. Step 2: Build a beer menorah, with candles (don't forget the Shamash). Step 3: Post your #ShtickPic and get the most likes to win!
Shtick In A Box® features three 12 oz. bottles of four different styles from the microbrewery's award-winning portfolio. Shmaltz's tribute to the little guy and affable underdog, Slingshot American Craft Lager is guaranteed to hit the craft beer bulls eye every time. Hop Manna IPA is the answer to hop heads' prayers for a delicious IPA bearing floral and citrus flavors. Messiah Nut Brown Ale is the brown ale you've been waiting for with a complex yet smooth blend of bold dark malts revealing hints of chocolate, coffee and toffee paired with a lovely hop character. For Chanukah 2015, candles won't be the only thing getting lit. Shmaltz releases Hannukah, Chanukah: Pass The Beer, a Dark Ale brewed with 8 malts, 8 hops and 8% ABV in homage of those 8 crazy nights.
Vertical Jewbelation Menorah: Build your menorah with past and present bottles of Shmaltz's award-winning Jewbelation® Anniversary Series of Strong Ales. Shmaltz's latest release has a new take on the Jewbelation series with Jewbelation 19 (brewed with 10 malts, 9 hops, and a smooth 11.9% ABV), which is now legal in all 50 states including Ohio. Jewbelation 19 pairs well with a decadent dessert or shared with friends over a hearty winter meal. Winner with the most complete set of Jewbelation bottles and the most "likes" wins the prize.
Hanukkah, Chanukah: Pass the Beer Menorah: By far the most inventive and festive menorah of the year, it'll certainly gain the envy of friends and family! The official Chosen Beer of this holiday season, Hanukkah, Chanukah: Pass The Beer is a Dark Ale brewed with 8 malts, 8 hops, and heats up at 8% ABV. Break out the dreidels and gelt, fry up your latkes and smother it with applesauce, it's time to celebrate Hanukah. To build the menorah, use whatever He'brew Beer of your choice and receive bonus points for only using Hanukah, Chanukah: Pass the Beer.
Chanukah Meets Christmas Menorah: The Festival of Lights wouldn't be the same without the soft glow of a Beer Menorah and the twinkling lights of a Christmas Tree. Chestnuts are roasting on an open fire and your Elf on the Shelf is carefully posed in a dreidel showdown with the dancing Rabbi while you fry up Bubbies famous latkes with applesauce. Show the world what makes your holiday season a festive occasion with a Beer Menorah that represents all that's great to celebrate.
Best in Show Menorah: The Beer Menorah that goes viral by receiving the most "likes" and "shares" on social media will win the Best in Show Menorah category. The winner will have a chance to kick back, enjoy a He'brew Beer and a big-ass prize from the Shmaltz Tribe.
L'Chaim!
Contact Info
Company: Shmaltz Brewing
Contact: Shelby Schneider
Email: shelby@shmaltzbrewing.com