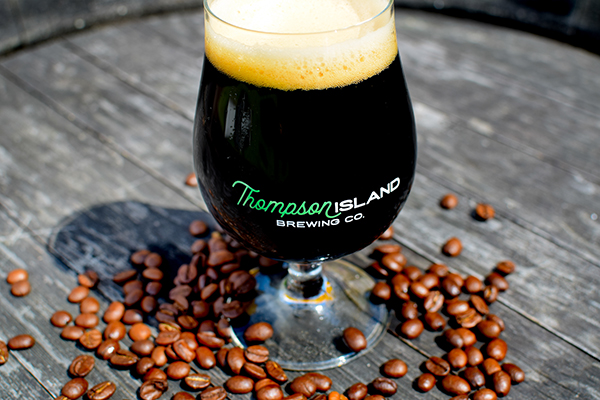 Thompson Island Brewing Co. Features Swell Joe Coffee in Basil Hayden Barrel-Aged Stout
REHOBOTH BEACH, DEL. (Sept. 2, 2020) — On Saturday, Sept. 12, Thompson Island Brewing Company in Rehoboth Beach will release four variations of Canyons Stout, a beer aged in Basil Hayden's whiskey barrels. 
"We released Canyons Stout — which we named for the ocean canyons — a while back, and it was so popular that we reserved some of the beer to age in Basil Hayden's barrels," explained Matt Patton, director of operations for SoDel Concepts. 
Patton oversees the beer program for the hospitality group, which owns Thompson Island Brewing Company and 11 other restaurants in coastal Delaware.
One of the variations features cacao nibs and AWAKE, a popular single-origin coffee roast from Lewes-based Swell Joe Coffee.
"We used AWAKE to condition the beer before kegging," said Jimmy Valm, the head brewmaster at Thompson Island. "The medium-roasted Guatemalan bean has notes of cherry, brown sugar and milk chocolate."
Locals and visitors to the beaches often ask Swell Joe's owners about coffee stouts, "perhaps because Swell Joe is smack dab in the middle of so many wonderful craft breweries," said Karen Johnson, co-owner of the coffee roastery.
"We are especially stoked about our collaboration with Thompson Island Brewing Company," said Johnson, whose team will participate in the first pour on Sept. 12. "This is a special limited-run stout, so we plan to get to the brewpub early."
The other three Canyons Stout variations:
BBA Canyons (aged in Basil Hayden's barrels for eight months)
Double BBA (made with Basil Hayden's-soaked oak chips)
Vanilla Bean
The limited-edition stout is only available at Thompson Island Brewing Company. 
SoDel Concepts' 12 restaurants are open for dine-in service or carryout. For more information about SoDel Concepts, visit sodelconcepts.com.
About SoDel Concepts
Based in Rehoboth Beach, Delaware, SoDel Concepts is a multifaceted, award-winning hospitality group with 12 coastal restaurants: Fish On and Matt's Fish Camp in Lewes; The Clubhouse at Baywood in Millsboro; Crust & Craft, Bluecoast Seafood Grill + Raw Bar, Thompson Island Brewing Company and Lupo Italian Kitchen in Rehoboth; Matt's Fish Camp and Bluecoast Seafood Grill + Raw Bar in Bethany Beach; NorthEast Seafood Kitchen in Ocean View; and Catch 54 and Papa Grande's Coastal Taqueria in Fenwick Island.
SoDel Concepts' divisions include Haley/Kammerer, a hospitality consulting firm, and Highwater Management, a hospitality management company, as well as SoDel Films, Matt's Homemade Soda Co., a line of artisanal sodas, and SoDel Salts, a line of chef-inspired gourmet seasonings.
Chef Matt Haley, the recipient of the James Beard Foundation's 2014 Humanitarian of the Year Award, founded SoDel Concepts in 2004. After his death in 2014, Scott Kammerer, president of SoDel Concepts, started the SoDel Cares Fund in his honor. The nonprofit supports local organizations that assist children, at-risk youth and adults, and the elderly. SoDel Care's primary mission is to contribute in a positive way to the communities in which SoDel Concepts does business. For additional information, visit sodelconcepts.com.
Contact Info
Company: Thompson Island Brewing Company
Contact: Lauren Bigelow
Email: bigelow.lauren@gmail.com